One Victim's Battle to End Sexual Violence Against Journalists
Eleven years after she was drugged, kidnapped, and gang-raped, a Colombian journalist is seeking justice - for women, for journalists, and for herself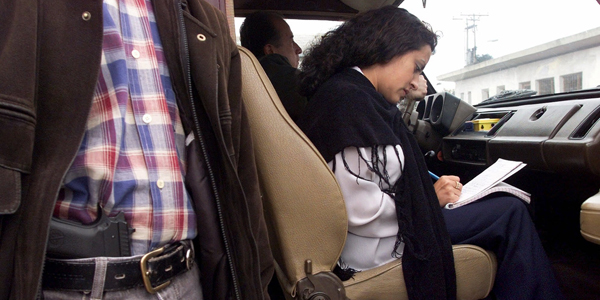 This December 2000 photo shows Jineth Bedoya taking notes under the watch of a bodyguard as she prepares to leave her newspaper's building in Bogota in an armored car, a few months after she was attacked / AP
Jineth Bedoya Lima hooked her eyes on the middle distance and gave a look of contempt. She was tucked in a seat at a hearing of the Inter-American Commission on Human Rights, where she made a surprise statement one morning last week. A small woman bundled in a black winter coat and generous white scarf, Bedoya tore into her audience -- officials from the Colombian government and commission representatives.
"When you look at my face," she told them, "make sure you see the thousands and thousands of Colombian women who do not have the opportunity to speak to you today."
As a journalist who was kidnapped, tortured, and violently gang-raped 11 years ago, when she was 26, Bedoya had finally gotten the chance she'd been waiting for, one that most women who've endured what she has will never get. After 11 years of her case lying motionless at Colombia's attorney general's office, she has the prospect of seeing some justice at the international level.
During a morning visit to Bogota's maximum-security La Modelo prison in May 2000, as part of a newspaper investigation into alleged arms trafficking involving state officials and members of the right-wing paramilitary group United Self-Defense Forces of Colombia (AUC), she was grabbed, drugged, and driven hours away. Three men repeatedly raped her and left her bound in a garbage dump at the side of a road, where a taxi driver discovered her that evening.
Later Bedoya told the news media how her kidnappers had gripped her hair and told her to "pay attention" as they tortured her. "We are sending a message to the press in Colombia," they said.

After so many years of waiting on the Colombian justice system to investigate her attack, Bedoya is in D.C. to advance her case at the Inter-American Commission. The Pan-American human rights body will take up a case when all options have been exhausted on the country level or when a country has failed to bring justice in a reasonable amount of time. Bedoya and her lawyers appear to have banked and won on the latter.
All the inaction has taken its toll. When I asked after the hearing whether the look she's had on her face all morning is anger, Bedoya answered quickly: "No, what you see is an expression of deep pain."
Bedoya, as a journalist who has survived targeted sexual violence, is in a unique position. She is one of a handful of such journalists who have ever spoken out about their experience and she may be the only one who is publicly seeking justice. Of the more than 50 journalists I interviewed when I was senior editor of the Committee to Protect Journalists, more than a dozen said they'd experienced rape or a serious sexual assault, such as forced penetration by hands. Of those, very few were willing to go on the record for my June report, "The Silencing Crime." And even fewer were directly targeted with retribution specifically because of their reporting, as Bedoya was.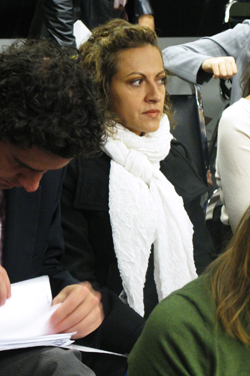 Bedoya in Washington / Lauren Wolfe
Yet in the U.S. and much of the world, everyone knows Lara Logan's name, not Bedoya's. The February attack on CBS correspondent Logan in Cairo's Tahrir Square cracked the bedrock that had kept the issue quietly underground. The incident was quickly followed by stories such as Lynsey Addario's, a New York Times photographer who was repeatedly, violently groped while held in Libya in March with three colleagues; or the story of a West African journalist, who described to me how she'd been beaten and gang-raped by members of an armed rebel group while on assignment in 2007. She'd chosen not to tell her editor or report the attack to police, thinking they would not take it seriously, or might even mock her or ask for a bribe. Before we'd talked, she had only ever told her doctor about her ordeal. We also learned of stories of forced sodomy. Pakistani journalist Umar Cheema revealed he'd been stripped naked by men in police uniforms and violated with a wooden pole in 2010.
Journalists around the world face intimidation every day, at times including the especially horrific and invasive threat of sexual violence, which definitively silences the press in some cases. Bedoya told me that four of her colleagues had been covering the Colombian prison story, too, but all dropped it after she was raped.
"Sexual assault and rape are not about sex," said Columbia University journalism professor Helen Benedict, who has written extensively on rape and the military, in "The Silencing Crime." "It's about humiliation and degradation and power."
Justice is elusive around the world because of corrupt police or legal systems as well as cultural biases, my CPJ report found. But even without legal recourse, over and over, women journalists told me that they had chosen to stay quiet until recently, inspired by Logan, who has opened up space for them to say that they too have been sexually assaulted in the course of their reporting.
The telling itself is a step forward in a profession in which women have long had to prove that they can hold their own among men. "Women need to know what to avoid so it won't happen again," said MaryAnne Golon, who was a photo editor at Time magazine for 24 years.
The sense I found among women journalists is that they have struggled to be taken seriously; speaking about sexual violence, they fear, would only lessen their standing among newsroom higher-ups. "They don't want you to be a liability," said Thailand-based senior Getty Images photographer Paula Bronstein, repeating something that many journalists have told me. "They don't want to worry about you any more than they have to -- about you being raped or molested. It's just something they'd rather not think about."
This is perhaps why Logan has worked so hard to make clear that even a single act of sexual violence against a journalist is in fact an attack on the entire fourth estate and the public at large.
"My attack was retribution against the free press in general and the flow of information -- it was meant to discredit the revolution," Logan told me. "It had a much bigger purpose to it."
Logan said of Bedoya, "An attack in retribution for your reporting speaks directly to the First Amendment. It's terrifying in a different way. In her case, justice is critical because if you're allowed to attack journalists with impunity, there will be no free press, especially if the government is involved."
Bedoya is still reporting in Colombia, now for newspaper El Tiempo. Three bodyguards accompany her on reporting assignments, and now the Colombian government will give her a bulletproof car because of her increased visibility, she said. She's nervous and has reason to be. She receives threats regularly, has already fled the country once, and once found the lock to her house forced open.
In May, a paramilitary soldier confessed to having been one of Bedoya's rapists. When I asked her about this, she went silent. "Did you see their faces?" I asked.
She nodded, groaning quietly and dropping her head to the table.
"After what happened to me ... my life was broken into before and after," she said. "There's a distinction between what happened to you as a journalist and what happened to you as a woman. Before there was the risk -- we always had a fear of something happening to us when we covered conflict, but now I have the additional fear of what can happen to me because I'm a woman, the specific vulnerability of what can happen to my body because I'm a woman."
Bedoya is waiting for yet another investigation to advance. In the meantime, she works -- with her three bodyguards, her bulletproof car, and her belief that after 11 years, her fight against her attackers will matter, if only in the sense that she is now the public face of sexual violence in Colombia. She may now also be, like Lara Logan, a face of sexual violence against the media. If all goes as she hopes, Bedoya may come to represent journalists, and women, who fight for justice until they win.