Nation of Georgia Marks Independence Anniversary With Bronze Reagan Statue
The post-Soviet satellite will unveil the statue -- not far from George W. Bush street -- on Wednesday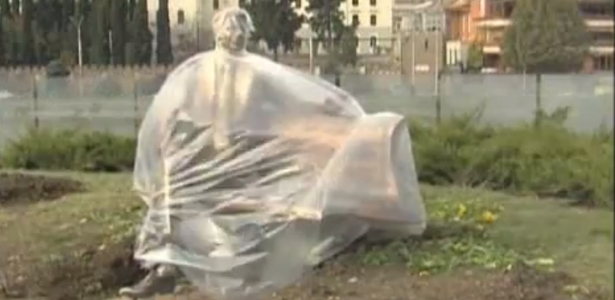 A bronze statue of former U.S. President Ronald Reagan sits on a bench in Tbilisi / YouTube
This year, the world marks the 20th anniversary of the Soviet empire going belly up. No less importantly, on November 23, Georgia will be marking St. George's Day and the eighth anniversary of the 2003 Rose Revolution. So, what better way to celebrate all three events than to unveil a monument to Ronald Reagan in downtown Tbilisi?
Tbilisi residents strolling in one downtown park will soon find the crusader against the "evil empire" sitting casually on a bench with crossed legs, and gesturing for passers-by to join him for a chat; probably on the ills of Communism or the merits of economic deregulation.
Both topics have many a fan in the Georgian government and sympathetic circles -- could we be seeing soon some familiar faces seated alongside the 40th US president?
There is definitely enough room on the bronze bench for enthusiasts to sit down and take photos with the life-size monument, as the pro-government Rustavi2 national broadcaster encouragingly notes. The sculpture is emblazoned with the Reagan-attributed quote "Freedom Is Never More than One Generation Away from Extinction."
Granted, other ex-Communist countries also have commemorated Reagan, but Georgia clearly has a thing for US presidents, dead or alive.
Travelers arrive and leave eastern Tbilisi via George W. Bush Street, which features the 43rd president waving a hand from a placard to outbound traffic. George W. may have earned the honor largely for swinging by in 2005 to say hi to Georgia as a "beacon of democracy," in his own words.
To balance out the message-making, though, you might think that Georgia, which counts heavily on diplomatic support from Washington, some day might need a wave from or a chat with a Democratic US president, too. But, as of now, no news about plans for an Obama turnpike or a JFK bust.