More Syrians Are Calling for a No-Fly Zone—Should We Take it Seriously?
What a Western air mission might achieve, what it probably wouldn't, and why some Syrian protesters seem increasingly interested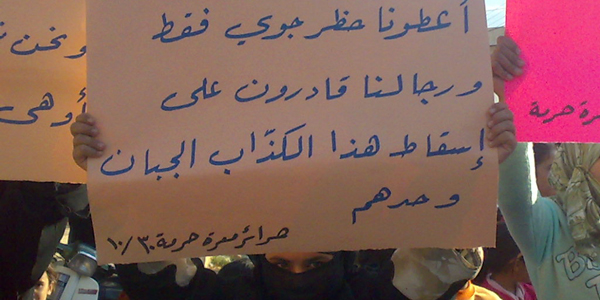 Demonstrators protesting against Syria's President Bashar al-Assad march through the streets of Marrat Harma. The sign reads, "Give us a no fly zone and our men alone are capable of toppling this cowardly liar." / Reuters
Last week, Syrian opposition activists agreed on the theme of their customary end-of-week protests: "No-Fly Zone Friday." However, protests on the streets throughout Syria were less clear-cut in their demands. Protestors in Homs shouted to the international community, "God, Syria, we want a no-fly zone," while others in Damascus chanted, "people want a ban on flying." Some signs in Homs read, "A no-fly zone is a legitimate demand for Homs," or simply depicted the universal symbol of a plane within a circle, slashed through by a red line.
---

MORE FROM THE COUNCIL ON FOREIGN RELATIONS:
The Corrective Revolution
Questions for Pakistan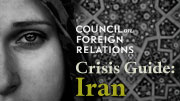 ---
On No-Fly Zone Friday, government security forces killed approximately forty-four anti-regime protestors, the most in a single day since May 6, 2011. According to United Nations estimates, well over 3,000 people have been killed since the uprising began in mid-March. Notably, none of the nonviolent protestors were killed or injured by airpower.
The escalating demands for an international no-fly zone (NFZ) over Syria is puzzling, since, as I pointed out in an earlier piece, it would do nothing to protect civilians who are dying in cities by soldiers on the ground, tanks, short-range artillery, and snipers.
However, recent statements from anti-regime groups have provided further insight into what they believe a NFZ could achieve in Syria. Notably, these include many second-order effects, unrelated to the specific military mission of a NFZ: the prohibition of aircraft over a specified geographic area.
- The Syrian Revolution 2011 opposition group, stated on its Facebook page: "We call on the international community to impose a no-fly zone so that the Syrian Free Army can function with greater freedom."

- Malik al-Abdeh, a London-based opposition figure, added, "People want at the very least some kind of no-fly zone that legitimizes an armed uprising against Bashar, or maybe some other kind of intervention that will encourage people in the regime to jump ship.

- Salih al-Hamawi of the General Commission for the Syrian Revolution, told Al Jazeera: "We ask the international community to fulfill our right to enforce the law that was implemented in Libya two weeks after the revolution broke out...we call for implementing the international law. If the international law stipulates a no-fly zone, we want that."

- Muhammad Sarmini of the Syrian National Council, told Al-Sharq al-Awsat, "the main aim from calling for a no fly zone is to secure protection for the civilians after it has been proved that the regime is using warplanes to suppress the demonstrators." (To repeat, there is no evidence that Syria's warplanes have been used in this manner. There have been fewer than a handful of instances where helicopter gunships were used against civilian protestors.) Sarmini went further, adding: "imposing a no fly zone will have several benefits, in terms of blockading the regime and restricting its movements...It will provide a safe opportunity for more defections in several army branches, particularly as we have received information that many members want to defect but fear their positions would be bombarded by aircraft."
In summary, according to anti-regime activists, a NFZ over Syria would protect the armed opposition groups; provide international legitimacy for an armed uprising; encourage defections from regime security forces; and fulfill the international community's responsibility, since Libyan anti-regime were extended a NFZ.
It is highly unlikely that all, if any, of these objectives would be met by an internationally mandated NFZ over Syria. Indeed, these objectives would certainly require a much larger commitment of military force, including air strikes and the associated forward air controllers that are required to guide the bombs.
Beyond Syria, anti-regime groups in Darfur, South Sudan, Somalia, and Libya have demanded NFZs from the international community because they appeal to multiple audiences. The intervening force--billed initially at low costs--can attempt to coerce a targeted regime to change its behavior with the threat of escalation. Meanwhile, opposition groups can maintain ownership of the resistance by claiming that they oppose foreign military intervention in the form of boots on the ground.
Despite the rising death toll, it is unlikely that the international community will intervene militarily in Syria. Earlier today, while traveling to Tripoli, NATO Secretary General Anders Fogh Rasmussen was asked if the alliance would lead a NFZ over Syria. He replied: "It's totally ruled out. We have no intention whatsoever to intervene in Syria." Thus, for now the demands of protestors will be ignored. But, given how quickly things could change, the international community should think through the operational requirements and realistic objectives of a NFZ over Syria.
This article originally appeared at CFR.org, an Atlantic partner site.