Middle East Envoy Dennis Ross: Symbol of a Failed Policy
Ross, an experienced and high-level adviser to the Obama administration, announced he will be leaving government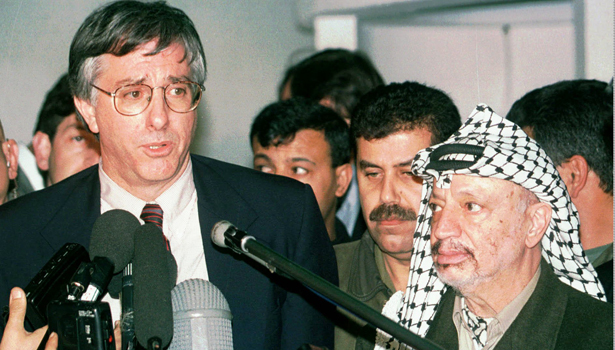 U.S. envoy Dennis Ross talks to the press following his meeting with Palestinian Leader Yasser Arafat in Gaza, Sunday night March 29, 1998. The meeting, their third in three days, concentrated on Ross' efforts to try and revive the stalled Israel-Palestinian peace talks / AP
Dennis Ross, during his tenure as a highly respected Mideast envoy back in the then-hopeful 1990s, was a visible if soft-spoken presence in Washington and around the world. He looked in control and held fairly regular news conferences, as public officials are wont to do when they have some progress to report.
He talked regularly to reporters. This time around, serving first in Hillary Rodham Clinton's State Department and then as President Obama's adviser in the White House, Ross was the invisible man.
An invisible man running what was virtually an invisible policy. And now, Ross is leaving an empty stage virtually without footprints.
The quiet departure of the 62-year-old career diplomat, who is returning to his old think-tank perch at the Washington Institute for Near East Policy, follows only five months after the resignation of George Mitchell, Obama's official Mideast envoy. In the interim, Ross had taken over what was left of Mitchell's portfolio. It wasn't much, given the nonexistent peace process between Israelis and Palestinians. He also led a final, mostly failed effort to prevent a unilateral bid for Palestinian statehood at the U.N.
For much of the rest of his tenure, Ross had attempted to develop a policy to stop an Iranian nuclear weapon, a plan that never quite jelled. Indeed, the last time I can recall Ross being trotted out to talk to a large group of reporters was in late 2009, when the administration voiced hopes that its "outstretched hand" to Tehran would bring Iran back to negotiations. That never happened, and today, after spending the last two years dribbling out a series of new sanctions against Iran, the administration has failed to lead any known coordinated effort to halt Tehran's nuclear program. The technical difficulties experienced by the Iranians in the last couple of years, said to be related to the mysterious Stuxnet computer virus -- and attributed by some experts to the Americans -- may have bought Obama some time. But a new report by the International Atomic Energy Association indicates that Iran's secret nuclear development program is likely still under way.
Ross's tenure with the Obama administration began in confusion and ended in virtual silence. In an embarrassing moment in January 2009, the Washington Institute issued an announcement describing him as the new Obama administration's "ambassador at large" and Secretary of State-designate Clinton's top adviser "on a wide range of Middle East issues, from the Arab-Israeli peace process to Iran." But thanks to infighting, Ross's portfolio was later narrowed down to Iran. According to a former Clinton administration official who served with Ross, his precise role was never clear. "It was very different from the Clinton administration, where you had free rein over one portfolio. He had more than one portfolio this time but without any of the control," said the former official, who would speak about Ross only on condition of anonymity. "And there were personality tensions between him and Mitchell."
It's something of a sad denouement for Ross, who is widely considered one of the most knowledgeable and able Mideast diplomats in recent U.S. history. The Obama administration began with high hopes of reviving a moribund peace process, putting intense pressure on Israeli Prime Minister Benjamin Netanyahu to halt settlement-building on the West Bank as an enticement to the Palestinians. But the intractable problem of the split between Hamas, the terrorist organization in control of the West Bank, with which the Israelis refuse to negotiate, and the Palestinian Authority killed any prospect of talks. There was, in the end, little that either Mitchell or Ross could do.
In his writings, Ross offered up some clues as to his frustrations over nearly two decades of trying to foster peace in the Mideast and failing. In his 840-page 2004 memoir, The Missing Peace: The Inside Story of the Fight for Middle East Peace, Ross harshly criticized both Netanyahu (whom Ross said was "insufferable" during his first tenure as prime minister, in the 1990s, because of his uncompromising views) and then-Palestinian leader Yasir Arafat for failing to relinquish their mutual "myths." Both hoped unrealistically to hold onto lands and rights that neither could retain if there was to be a deal, Ross wrote. In his most recent book, from 2007, Statecraft: And How to Restore America's Standing in the World, Ross rebuked the Bush administration for turning traditional diplomacy into a "lost art."
Sadly, it seems to have remained a lost art over the last few years, at least in the Mideast and Iran.