In China, 'Time Is Not Ripe' for Honest Air Pollution Readings
As noted in two previous reports on the recent air-quality emergency in China, the Chinese government still does not provide any data on the most damaging form of air pollution, the small particulates called "PM 2.5." The only public readings of PM 2.5 levels come from a monitor on the roof of the US Embassy in Beijing. The Chinese government has complained about the existence of this site, although it has recently indicated that it might start providing its own measures too.
Here's a NASA map of satellite readings of average PM2.5 levels from 2001-2006 around the world. The high levels over the Sahara and the Arabian peninsula are mainly dust. Those in eastern China are mainly from coal-burning power plants and other industrial emissions.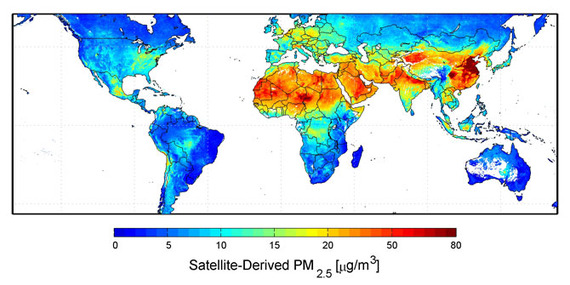 Just now a reader in China sends in this update:
As a runner living in Beijing, I follow the American AQI as my one-and-only guide to outdoor activity, and as you know, it's the only public source for PM2.5 data in the city. I am very thankful for this service. I have recently joined Weibo [China's counterpart to Twitter], and over the last week of so-called "fog," I discovered many Chinese users were sending around screenshots of the American embassy statistics. The opportunity for public sharing provided by Weibo is a story in and of itself.

But I write you to bring attention to some Chinese sources. Specifically, recent media developments I've noticed since this morning (I'm just getting off work).

From the Nov 1 statement by Du Shaozhong's: "China's air quality should not be judged from data released by foreign embassies in Beijing"

To a segment on CCTV this morning where they explain China's current standard and the CEPA [Chinese EPA] interviewee states that China will change its standard as its national character changes. (link to Chinese broadcast here, screen shot below) New policies perhaps will include PM2.5 before the end of the year. Seems the EPA is in an explanatory posture, at best.




This all lead me to look up more in the Chinese media. A very critical piece was released by a Li Long from Guangzhou Daily (the mouthpiece of the Guangzhou municipal party).

In this article, the journalist interviews an anonymous source at the Chinese EPA. The main points of his article are as follows:


Beijing and Shanghai already measure PM2.5 levels
These figures are not released because "the time is not ripe" "时机不成熟"
Why is the time not right? The anonymous source states the reason:

"如果制定实施PM2.5的环境空气质量标准,各地将大范围超标"。
If we were required to implement PM2.5 air quality standards, many places would exceed standards by a large margin"

Journalists judgement of this practice:

这只是自欺欺人的选择性失明。
This is pure self-deception, selective blindness.

Take-home points for now:
- This is really a big problem for China, which the government is beginning to grapple with;


- There is much more internal protest and contention about the government's "selective blindness" on environmental issues than outsiders usually recognize. Good for the Chinese journalists, scientists, citizens, and some government officials pushing for change.