How the U.S. Can Stay Relevant in Asia
Open up trade, work with China, and don't forget about Southeast Asia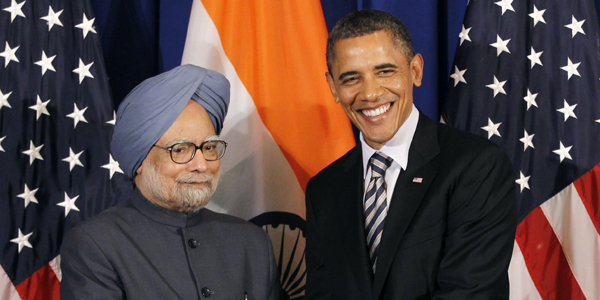 U.S. President Barack Obama shakes hands with Indian Prime Minister Manmohan Singh in Nusa Dua, Bali / Reuters
---

MORE FROM THE COUNCIL ON FOREIGN RELATIONS:
Greece's Risky Eurozone Maneuver
Greece's Debt Crisis
Muddling Through Greece's Tremors
Don't Blame the Euro for Greece's Woes
---
As President Barack Obama tours Asia this week to signal U.S. commitment to the region, his final stop is in Bali, Indonesia, where he will be the first U.S. president to attend the East Asia Summit (EAS). China's growing economic and military strength has been the subtext throughout the trip as Washington announced plans to expand defense ties with Australia and pushed for a multilateral free trade deal, which excludes China. The EAS summit is likely to focus on the nuclear threat from North Korea and cooperation in the disputed South China Sea, the latter arousing concerns in Beijing, which has expressed its reluctance to discuss it at the meeting.
What's at Stake
EAS is an annual gathering of
Association of Southeast Asian Nations (ASEAN)
member countries plus Australia, China, India, Japan, South Korea, and New Zealand to promote security and prosperity in the region. With economic troubles at home, Obama sees this region, which has emerged as the economic engine of the world, as central to boosting economic growth and creating jobs.
The diplomatic offensive in the region, say U.S. officials, is also a result of desire from
regional allies who look to Washington
for assurance against China's troubling economic policies and military build-up, including its increasing territorial claims in the East and South China Seas. Obama has warned that Beijing must "
play by the rules
" as its international influence increases. But focusing only on
Sino-American dynamics
, says Southeast Asia expert Ann Marie Murphy, misses the role played by smaller countries. For instance, Vietnam, she says, used its position as ASEAN chair to put the South China Sea on the agenda and lobbied Washington to take a strong stand. At the same time, she adds, "ASEAN members do not want tension between the United States and China to increase to the point at which it threatens regional stability and creates pressure to choose sides."
The Debate
Even as President Obama seeks to reassure its allies that its looming defense cuts will not affect its military commitment to the region, some policymakers such as
Representative Barney Frank (D-MA)
, say Washington overstates the threat from China and should draw down its presence in Asia. Clyde Prestowitz, president of the Washington-based Economic Strategy Institute, argues the United States needs to focus on its domestic economy rather than a grand strategy in Asia. "America needs to make
wealth not war"
, he writes.
But others like CFR's adjunct senior fellow
Evan A. Feigenbaum
say it is in U.S. interests to ensure a stable security environment in Asia so that it can benefit from the economic opportunities.
Policy Options
China's claim of "peaceful rise" is
increasingly being questioned
around the world, say experts like Fareed Zakaria. It is China's actions and refusal to listen to the concerns of its neighbors that have created an opening for the United States to increase its involvement, argues
Shi Yinhong at the Renmin University in Beijing
. This has been the biggest shortcoming of China's foreign policy, which seems to have "lost its way," says CFR's
Elizabeth C. Economy
. She adds that it remains uncertain what the Chinese are prepared to do to change their orientation.
For the United States to remain relevant in Asia, Feigenbaum says, it must be a leader on trade liberalization. Economy writes the United States will need to "
get its economic house in order
both to maintain a serious military presence and to help drive regional economic growth."
This article originally appeared at CFR.org, an Atlantic partner site.