High Stakes and Bad Options for New Greek Leader
Technocrat Lucas Papademos is taking over as Greece's new prime minister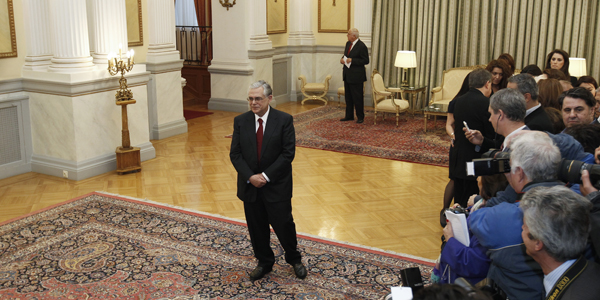 Newly appointed Prime Minister Lucas Papademos is seen at the Presidential Palace / Reuters
---

MORE FROM THE COUNCIL ON FOREIGN RELATIONS:
Greece's Risky Eurozone Maneuver
Greece's Debt Crisis
Muddling Through Greece's Tremors
Don't Blame the Euro for Greece's Woes
---
After days of political wrangling, Greece named Lucas Papademos as its next prime minister, a technocrat and former European Central Bank vice president who Athens hopes will be able to shepherd the country through a thicket of fiscal austerity measures and preserve its membership in the eurozone (NYT). Papademos, who replaced embattled Prime Minister George Papandreou, said his "transitional" administration will be focused intently on restoring confidence in the country's primary financiers--the European Commission, the European Central Bank, and the IMF--in order to secure another crucial round of bailouts.
What's at Stake?
Papademos faces the task of staving off a Greek bankruptcy in December when big debt repayments become due. This will require him to gain parliamentary approval for a second EU bailout, push through the country's 2012 budget, and secure the latest $5.73 billion installment of the original rescue package. The fiscal collapse of Greece, only a small part of the eurozone economy, would also raise questions as to the EU's ability to manage potential crises in the far bigger Italian or Spanish economies, reports Deutsche Welle. Italian Prime Minister Silvio Berlusconi added to the continent's political tumult on Wednesday, agreeing to resign after the country's ten-year government bonds hit levels not seen since the establishment of the euro.
Greece is expected to swear in Papademos on Friday, upon which his administration will put forward a plan to implement its commitments under the new bailout agreement. Analysts expect a vote of confidence (WSJ) on these policies as early as next week.
What's the Debate?
According to the Economist, most global executives feel business sentiment is worse now than on the eve of the 2008 financial crisis, and one in five think the eurozone will fragment. European leaders agreed to a three-pronged approach to the debt crisis in late October, including a "voluntary" 50 percent loss to be incurred by banks holding Greek debt. In October, writing for Vox, Papademos argued that restructuring Greek debt will yield only a modest marginal benefit, and recommended a substantial increase in the resources and operational flexibility of the European Financial Stability Facility to address the pressures in the debt markets. In a joint statement from Brussels, European Council President Herman Van Rompuy and European Commission President Jose Manuel Barroso called on Greece (AP) to send a "strong cross-party message of reassurance to its European partners that it is committed to doing what it takes to set its debt on a steady downward path."
What are the Policy Options?
Domenico Lombardi at the Brookings Institution says the uncertainty in Europe is delaying new hiring and investment in the United States, as well as affecting U.S. exports to the continent.  He says that although Washington has been "proactive" in addressing the European crisis, "there is no way, in the end, to force sovereign governments to do something that they do not want to do." For the Australian, Oliver Marc Hartwich writes, "Greece's place is not in the eurozone. It should exit and introduce a new drachma." With a low-productivity economy, Greece is unable to rationalize its high price level associated with the euro, he says. The Peterson Institute's Nicolas Veron writes that banking dysfunction has been central to eurozone woes, adding that the creation of "a truly federal euro area banking policy framework" is needed.
This article originally appeared at CFR.org, an Atlantic partner site.