First Signs of Hope—and Civil War—in Syria
Though the uprising had long appeared doomed, regional allies and security forces are turning against the regime. But it will likely be a civil war before it's a revolution.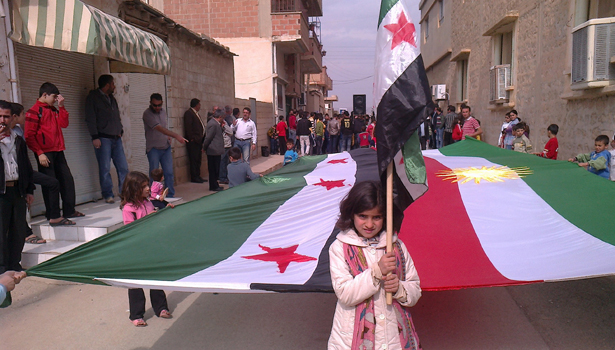 Demonstrators protesting against Syria's President Bashar al-Assad march through the streets after Friday prayers in Amude / Reuters
Two incredible things happened today that, though not enough on their own to change the one-sided Syrian conflict in which Bashar al-Assad's regime has already killed an estimated 3,500 civilians or more, might signal a larger shift in the Syrian uprising that had seemed utterly hopeless from the beginning. First, the Arab League called for "urgent measures to end Syrian bloodshed" in a summit meeting with Turkish representatives in Morocco, an historic move for the pan-Arab body, which before this year has either ignored regime abuses or defended them. Second, Syrian rebels attacked a large military complex outside of Damascus in what may be the largest anti-government strike since the uprising began.
The Syrian conflict still appears stacked enormously in favor of Assad holding on to power, but for the first time since violence began there in March, it looks possible -- however unlikely -- that protesters could actually succeed in bringing revolution to their country. Here's why, how it happened, and the tremendous hurdles between today's very small victories and the goal of a free Syria.
The biggest reason that Syria has looked so hopeless is that there's little the outside world can do. The U.S. and European Union already had strong sanctions in place, and while the new sanctions are collapsing Syria's economy, the regime only needs pennies on the dollar to keep sending tanks and helicopters against protesters. So the West can't do much -- except make it easier for other Middle Eastern states to follow the West and turn against Assad. Today's Arab League condemnation is not immediately very meaningful -- the Arab League has few real tools here except to call for United Nations Security Council action, and their statement insisted they won't support intervention. Still, their turn against Assad -- something that would have likely been impossible only a few years ago -- suggests that Arab leaders are more responsive to public opinion, which has also turned sharply against Assad.
Even if the world still has few options for tipping the balance against Assad, regional and global leaders have clearly announced they won't be helping Assad, either, something that's unlikely to change with Arab public opinion so hostile toward the Syrian leader. Jordan's king called on him to step down, Saudi Prince Turki bin Faisal Al Saud argued resignation was Assad's only choice, and Turkey's diplomats are getting so aggressive with Assad that they've suggested they might cut off electricity to the country. Even Iran, his most important ally, is allegedly meeting with Syrian opposition leaders (although the Iranian embassy in Syria denies this). Assad is all alone. This means that if his military turns against him or refuses orders to continue shooting civilians, his rule will collapse.
Assad's backers in the government, the Syrian military, and in Syrian society must now all understand this new reality. That's going to make them less likely to continue abetting the regime's atrocities and more likely to jump ship. This is how an autocratic government collapse can be like a bank run: the more likely regime collapse looks, the greater incentive that supporters and officials have for defecting, which in turn increases the chance of collapse. This may be why military defections seem to be increasing, a process that could accelerate in the coming weeks.
There is little reason to believe that Assad or his military leadership, galvanized against surrender by hostile neighbors and the awful death of Muammar Qaddafi, will stop firing on protesters or that the world will intervene militarily in Syria. An intervention would require an Iraq-style ground invasion; unlike in Libya, where the desert geography made an air campaign relatively easy and low-risk, Syria's fighting is mostly in dense urban areas. Senior military leaders are unlikely to attempt a coup as they must understand that their role in the crackdown so far means that neither protesters nor neighboring states would tolerate them in power. So the only foreseeable way for this conflict to end (other than an outright victory by Assad, which is sadly plausible) would be for mid- and low-level military defectors to lead an armed rebellion against the regime. And that's beginning to happen.
The rebel attacks against military facilities around Damascus reportedly lasted 90 minutes, an extraordinarily long time given how tightly the military controlled the country as recently as a few weeks ago. Defectors are organizing themselves into what they call the Free Syrian Army. Some leaders of the rebel group say they are planning to ramp up a coordinated assault against the government. While they might have some success in more rebellious towns such as Homs and Hama, the fighters would need to take Damascus and Aleppo to win. The leadership is based in those two cities, where it has much tighter control; though protests in neighboring towns have been escalating, residents of those two major cities appear too terrified -- understandably -- to follow.
As in Libya, if the rebel opposition wants to take the country, it will have to first clear out and hold some smaller cities so that it could have a base of operations from which to Damascus and Aleppo. Even then, they would almost certainly lack the same level of outside support that the Libyan rebels enjoyed. Even if the world could find the will to intervene on their behalf -- doubtful for now, as Russia remains absolutely opposed and European states exhausted by the Libya mission and the eurozone crisis -- Syria's dense geography would make an air-support campaign less likely to succeed and more likely to cause accidental deaths, which would turn many Syrians against the uprising. The Syrian opposition would likely turn into a civil war that would be longer and bloodier than the months-long conflict in Libya. And, as conflict expert Daniel Serwer notes on Twitter, the worse that fighting gets, the less likely rebels would have support. "It will reduce public participation, cause social cleavage, play to regime strength," he wrote.
For an armed uprising to succeed, then, would take more than just individual military defectors. The regime has tanks and helicopters, after all; Syrian rebels could resist but not defeat that kind of force. Eastern Libya fell to the rebels not just when defectors picked up assault rifles, but when officers in charge of bases and heavy hardware walked away from their posts. It's not clear exactly how that might happen in Syria, where many officers in important positions belong to the same Alawite minority as Assad. Many Alawites are terrified -- and probably with good reason -- that they will be targeted for revenge if Assad, their protector, falls. For these officers to abdicate, and thus make rebel advances possible, they'll have to believe that they could have a future in a post-Assad Syria. It's not clear how the Syrian opposition, which is fragmented and decentralized, could assure Alawites that it's safe for them to talk away. Alawites and other regime loyalists would have to take it on faith and conscience, two things that don't appear in great supply in Syria right now.
What has for so long seemed impossible -- the ouster of Syrian President Bashar al-Assad -- now seems to be merely extremely unlikely. And that's great news -- Assad's crackdown has been one of the worst government-sponsored human rights abuses since the end of the Cold War, eclipsed perhaps only by the massacres at Darfur and Srebrenica. If it's going to end, the Arab League's unified stand against Assad is a good start, as are the increasing defections from security forces. But those two small miracles are going to have to be followed by some much bigger miracles if Syria's uprising is going to succeed. Either way, the violence will continue.