Dictator Pledges to Step Down, but Yemen's Crisis Is Not Over
Yemeni President Ali Abdullah Saleh finally agreed to leave office, beginning the country's difficult and dangerous path to transition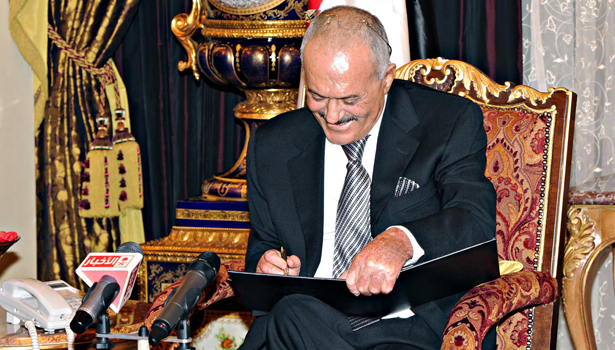 Saleh signs an agreement to step down from power / Saudi Press Agency
After ten months of protests, Ali Abdullah Saleh, the president of Yemen, has yielded to a popular movement calling on him to step down. On Wednesday, he signed an agreement brokered by the Gulf Cooperation Council that would transfer the powers of the presidency to his vice president, Abd Rabu Mansur Hadi, and begin a process moving toward elections, in exchange for Saleh's immunity from prosecution. He will retain the title of president during an interim period.
Saleh smiled as he signed the agreement. On finishing, he clapped politely with his now discolored hands. The signing ceremony was Saleh's first major public appearance without the medical compression gloves he's worn since early June, when he sustained burns in an attack. The GCC agreement was being discussed then, too. It was first introduced in April, and over the course of a month, Saleh agreed to sign the document no fewer than three times, only to refuse at the last moment on each occasion. When he refused again in late May, it touched off a series of street battles between government military forces and tribal militias loyal to Sheikh Sadiq al Ahmar, the head of the largest tribal bloc in the country. Days later, a bomb was detonated in Saleh's private mosque and he was evacuated to Saudi Arabia for medical treatment.
Saleh was always regarded as a notoriously resilient leader. He weathered 33 years in office, first as the dictator of the Yemen Arab Republic. He maintained his power despite a unification agreement with South Yemen in 1990 and a civil war in 1994. He was famous for his ability to manipulate tribal rivalries to direct popular ire away from his office. Perhaps his most impressive feat, though, was his improbable return to Yemen in September after nearly three months of medical treatment in Saudi Arabia, even as protests against his regime continued. Despite his return to Sanaa and months of trying to divide the protest movements, Saleh could not outlast them.
The agreement will not satisfy all of the protesters; many will likely be disappointed by the amnesty provision. The uprising has been bloody. Hundreds of protesters, soldiers, and tribal militants have been killed; the massacre of more than 50 protesters in March prompted the defections of government and military officials, and intermittent violence has continued since. Many protesters had insisted that Saleh stand trial, but there are other concerns facing the country.
Yemen is now wracked with several domestic conflicts. The government has fought against various tribal groups, including al Ahmar's tribal militia and rebellious tribes in Arhab province; against protesters in the anti-regime town of Ta'iz; and against Islamist militants affiliated with al-Qaeda in the south. Violence has displaced many Yemenis from their homes. Because Yemen already hosts many refugees from the Horn of Africa, it is struggling to find more resources to house and feed displaced Yemenis. Yemen also faces a dire water crisis, an oil crisis, and an economic crisis. None of these problems has gotten much attention during the government's legitimacy crisis.
The revolution isn't over yet. The agreement stipulates that Saleh must delegate his executive authority to Hadi in the next 30 days and begin a transition that will lead to new elections. There is still plenty of time for stalling. United Nations Secretary General Ban Ki-Moon said that he was told Saleh was planning to seek medical treatment in New York, but Saleh's D.C. spokesman has since said that those plans are on hold for now; Saleh's plans remain unknown. Ginny Hill, a Yemen expert at Chatham House, speculated on Twitter that Saleh finally signed the deal to avert a freeze on his assets. Indeed, Saleh could still be buying time.
It is also unclear how the powerbrokers in Yemen will respond. Hadi has never been known as a particularly forceful political figure; the implementation of the transition will rely on three men still in Sanaa -- Sheikh Sadiq al Ahmar, the leader of the powerful Hashid Tribal Federation; Ali Mohsen al Ahmar (no relation to Sadiq), the commander of the defected 1st Armored Division; and Ahmed Saleh, the president's son and commander of the Republican Guard. Gregory Johnsen, a doctoral candidate at Princeton University, observed on Twitter that while Hadi may nominally have the power of the presidency, the rivals are each backed by armed supporters. If these three leaders don't come together, their disagreements could lead to more violence.
The deal does provide some reason for guarded optimism. The process of effecting a transition in Yemen was always going to be slow and difficult, but the first step has always been to end Saleh's tenure as president. He may still try to find ways to evade his obligations, but there is a signature now, ink on paper, committing him to step down. New battles may be waged for the control of the Yemeni government, but that will be part of the process, a process that can now, finally, begin.