Clinton's Dubious Plan to Save Afghanistan With a 'New Silk Road'
Most analysts seem to agree that the antiquity-era trade route is never coming back, so why is it America's new favorite idea for Central Asia?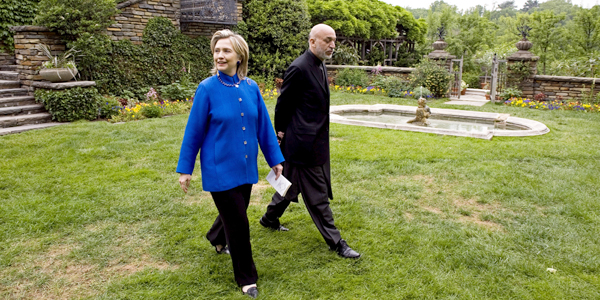 Afghan President Karzai and U.S. Secretary of State Clinton meet in Washington / Reuters
When foreign ministers from Afghanistan, its neighbors, and several European countries meet today in Istanbul, U.S. diplomats will be pushing them to sign on to an ambitious plan for the future of Central Asia. The "New Silk Road," as the State Department is calling their strategy, would link the infrastructure -- roads, railways, power lines -- of the 'Stans of post-Soviet Central Asia southward through Afghanistan, Pakistan, and India. At the same time, they would work with the governments to reduce legal and bureaucratic impediments to trade, like corrupt border crossings.
The hope is that this would produce a flowering of East-West overland trade akin to the original Silk Road, by which China traded with the Middle East via Central Asian trade centers like Kashgar, Bukhara, and Samarkand. "Turkmen gas fields could help meet both Pakistan's and India's growing energy needs and provide significant transit revenues for both Afghanistan and Pakistan," Secretary of State Hillary Clinton said in a speech outlining the vision. "Tajik cotton could be turned into Indian linens. Furniture and fruit from Afghanistan could find its way to the markets of Astana or Mumbai and beyond." (Clinton was originally scheduled to pitch her counterparts in Istanbul, but the death of her mother forced her to cancel the trip.)

But hope may be the only thing driving on the New Silk Road. The State Department has few good options in Afghanistan, and the U.S. doesn't want to leave (or at least wants to seem like they won't leave) a disaster behind once it starts pulling troops out in 2014. So it cast about for ideas and found the New Silk Road proposal, which had been bouncing around the post-Soviet think tank circuit in Washington since the mid-oughts.
The plan's architect is Fred Starr, the chair of the Central Asia-Caucasus Institute, a small Washington, D.C. think tank, with the backing of the Center for Strategic and International Studies. State Department officials have long been wary of the plan, initially dismissing it as unworkable. But it began to gain favor last year at U.S. Central Command, and with its commander at the time, General David Petraeus. Since Marc Grossman became President Obama's special envoy to Afghanistan and Pakistan earlier this year, replacing the late Richard Holbrooke, the State Department has come around to support the strategy. And Clinton has appeared to embrace it as the economic foundation of the U.S.'s post-2014 strategy for Afghanistan, promoting it in her meetings last month with the presidents of three of Afghanistan's neighbors: Pakistan, Tajikistan, and Uzbekistan.
The origins of the plan, however, lie in geopolitics rather than economics. In the mid-oughts, there were a variety of programs by which the U.S. tried to unite South and Central Asia, including an effort to tie together the electrical grids of Tajikistan and Kyrgyzstan with those of Afghanistan and Pakistan. Authority for the Central Asian countries were also moved under a new State Department bureau, taking them out of the Europen bureau with the rest of the post-Soviet republics and connecting them with South Asia. What these schemes all have in common is that they attempt to weaken the economic (and as a result, political) monopoly that Russia, by dint of the centralized Soviet infrastructure, has on these countries.
As Marlene Laruelle writes in a new book, Mapping Central Asia, which includes a great chapter on the revived metaphor of the New Silk Road: "The underlying geo-economic rationales of these Roads is to exclude Moscow from new geopolitical configurations."
The State Department doesn't say this, of course, and it's possible (even likely) that the people now implementing the strategy don't think of it as such. Clinton even implied that there could be some sort of connection with the Russia-led Customs Union with Kazakhstan and Belarus, which is the basis for Vladimir Putin's notorious Eurasian Union.
But this geopolitical vestige lives on in the current iteration of the New Silk Road. Look at a map of South and Central Asia -- ideally, one where you can see topography and the quality of roads -- and it's apparent that the most sensible way to ship goods from India west is not the northern route over the massive mountain passes and crumbling roads of Central Asia. It's the southern route, through Iran and Turkey. But, obviously, a U.S.-backed plan can't include Iran.
There are also political barriers to inter-Central Asian trade. George Gavrilis, an expert on Central Asia and borders, described them in a recent piece in Foreign Affairs. Many of the countries in the region, he notes, have persistent problems with their neighbors: Pakistan with Afghanistan and India, Uzbekistan with Tajikistan and Kyrgyzstan. Trade agreements are fragile and susceptible to political difficulties; the border between Uzbekistan and Kyrgyzstan was closed for 18 months following last summer's violence in southern Kyrgyzstan. More fundamentally, a region-wide strategy would be unlikely to work because the countries that surround Afghanistan -- China, Pakistan, Iran and the 'stans -- all have very different interests and little desire to cooperate with one another. "I love the idea," Gavrilis told me when I asked about the New Silk Road. "But I just don't see how it can be implemented,"
Notwithstanding the romance of the original Silk Road, Laruelle notes in her book, the geopolitical situation has changed quite a bit in the centuries since. "The border divisions of the 20th century have transformed these ancient trans-continental routes into cul-de-sacs of nation-states and no simple political will to declare a zone a 'crossroads' can suffice to influence the reality of being in the margins," she writes.
And the reason the first Silk Road died out? Sea transport became much cheaper, which is still true today. So plans, she continues, "to modify in depth the status quo of global trade, three-quarters of which is carried out by sea, by replacing it with continental trade on the pretext that, once upon a time, caravans used to travel along these routes, can not be taken seriously."
The State Department, in its public statements on the plan, highlights a handful of existing or proposed projects on which the New Silk Road could be modeled, including a free-trade agreement signed last year between Pakistan and Afghanistan and the Turkmenistan-Afghanistan-Pakistan-India (TAPI) natural gas pipeline. But they give little reason for optimism. The Pakistan-Afghanistan agreement was laboriously, personally brokered by Holbrooke but has yet to be implemented, and with relations between the two countries suffering, may never actually happen.
The TAPI pipeline has been discussed since the 1990s, but as with similar schemes, insecurity in Afghanistan has scared away companies that might have the capital to build such a pipeline. With U.S. and NATO troops departing, the security situation is likely to decline even further, a problem that the plan's boosters acknowledge. "We have continued insecurity and instability in Afghanistan," Sham Bathija, senior economic adviser to President Hamid Karzai of Afghanistan, said at a recent conference in Washington on the strategy. "Yet we have no choice but to forge ahead."
It's not clear what eventually convinced the State Department to embrace the New Silk Road. Starr is an eloquent proponent, and his enthusiasm can be infectious. But more than anything, the adoption of the plan speaks, as Bathija suggests, to the lack of good options for post-2014 Afghanistan. If this is the best Washington can come up with, the future for Afghanistan looks bleak.
But that's not to say that there are no other choices. Instead of pushing an ambitious multilateral plan for Afghanistan, Gavrilis' article suggests the U.S. should work with the countries it can actually do something with, tailoring individual strategies to each particular country's interest: "Resuscitating region-wide approaches is a fool's errand that will not save Afghanistan. It is time for the international community to dump diplomatic niceties and work with those neighbors whose policies could be molded to Afghanistan's benefit."
This lacks the romance of the Silk Road and the ambitious vision of a thriving Europe-Asia trade corridor. But it has a lot better chance of succeeding.