A Central Asian Autocracy's Misadventures in Internet Freedom
The government of Uzbekistan is finally opening up internet access -- but they're also using it to snoop on citizens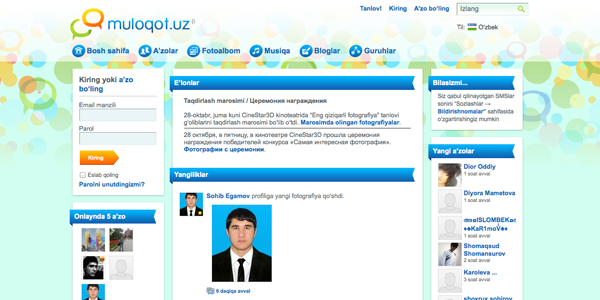 The Uzbek government recently launched Muloqot.uz ("Conversation"), a social networking Website for Uzbek youths. All users must provide Uzbek mobile phone numbers, ensuring they are easy to trace.
When officials in Uzbekistan announced a contest to crown the country's best Internet cafe, Diyorbek, an owner of a thriving spot in Andijan, entered, and, believing his business fulfilled all the criteria, he gave himself a decent shot at winning. Apart from having a dozen workstations in three well-furnished rooms, he blocks access to all "political, religious and porno websites." In the end, Diyorbek's bid fell short, but the mere fact the contest occurred last summer signaled to him that authorities are reassessing their relationship with cyberspace.
Tashkent has earned a reputation for being an "Internet Enemy," as the Paris-based watchdog Reporters Without Borders (RSF) puts it. More than 250 websites deemed unfriendly to the state are blocked inside the country. They are mostly opposition websites and foreign news outlets, including EurasiaNet.org, The New York Times and many Russian newspapers (even RSF's webpage is blocked).
Despite the strict controls, Internet usage is steadily growing. In early August 2011, the Uzbek State Agency for Communication and Information (UzSACI), the government body that regulates media outlets including the Internet, said 7.7 million people are online in Uzbekistan (more than half of these users access the web through their mobile phones). By comparison, there were 137,000 Internet users in 2001, according to the agency, out of an overall population of 28 million. Moreover, the overall connection speed has increased by 98.4 percent and fees have dropped 22 percent since 2010.
A majority of Internet users are young people in urban areas. At dozens of Internet cafes in Tashkent, Ferghana and Andijan, young men and women download music, watch films, and surf social-networking sites. Odnoklassniki.ru, a Russian outlet, and Facebook are popular. According to UzSACI, Odnoklassniki has 350,000-400,000 registered users in Uzbekistan. Facebook has over 82,000 members in the country, according to the site's marketing statistics.
The rapid growth of social networking, a phenomenon that Tashkent blames for fueling protests across the Arab world in early 2011, has set President Islam Karimov's administration on edge. "We must pay attention to the fact that some destructive forces are seeking to control young minds and use the Internet in their own narrow goals, and this leads to negative consequences," Karimov said in late June. Shortly after his speech, more websites became inaccessible.
"The Arab Spring events have stirred various anxieties and discussions [online] in our country," explained an Uzbek diplomat speaking on condition of anonymity according to protocol.
But government fears that social-networking sites might foment political dissent in Uzbekistan appear overblown - at least so far. For example, in late June, a group of young Uzbek opposition activists founded a youth movement, Yetar! (Enough!), modeling it on similar groups in Ukraine, Georgia and Kyrgyzstan. Likely fearing government retribution, not one activist showed up for the July 1 rally on Tashkent's main square, that the group had publicized through Facebook and other social networking sites.
"I am afraid to write about political issues on Facebook, let alone participate in [opposition] activities," said Ikromjon, a student in a Ferghana Internet café. He operates under the belief that security officials closely monitor activity on social-networking sites.
Despite Karimov's clear wariness of cyberspace, some influential Uzbek public figures are aggressively promoting the Internet and trying to harness its popularity.
One proponent happens to be Gulnara Karimova, the president's jet-setting daughter, who serves as Uzbekistan's ambassador to Spain. In September, her cultural organization Fund Forum Uz sponsored an Internet festival in Tashkent, with the goal of "popularizing the Internet among Uzbeks, promoting development of the national online content and expanding use of the Uzbek language on the Internet," according to a report distributed by the official UzA news agency.
As expected, given Karimova's participation, Uzbek media outlets hyped the event. "The festival has demonstrated that under the leadership of President Islam Karimov, the country has undergone large-scale transformation in the information sphere, which includes extensive diffusion of the Internet and its accessibility to various layers of society," said an August 12 broadcast by state television.
That "diffusion" has even led the government to introduce its own social-networking site.
Launched in early September, Muloqot (Conversation) promises to "create conditions [...] for the formation of high morals." Though fewer than 9,000 have registered so far (to register, users must provide Uzbek mobile phone numbers, which, in turn, require a passport, ensuring users are easy to track), the website's affiliation with Uzbektelecom, a subsidiary of UzSACI, allows advantages such as extra storage space for music and photographs. And unlike other social networking websites, Muloqot is unlikely to ever become suddenly inaccessible.
But Muloqot also won't be replacing Facebook anytime soon, if only because security officials find Facebook so useful.
The security services "rely on Facebook and other social media sites to extract information about citizens," said a Tashkent-based journalist who writes about media and technology. The journalist said that when a source was interviewed for a job at the National Security Service (SNB), his interviewers had printed copies of most of his Facebook activity.
This story was written and reported by an author who wishes to remain anonymous for safety reasons. This article originally appeared at EurasiaNet.org, an
Atlantic
partner site.