Syrian activists are increasingly calling for some kind of outside military support, but what are they really asking for and what would it do?

A tank is seen at an army checkpoint at a square in Hula near Homs / Reuters
In mid-August, talk show host Stephen Colbert asked U.S. Ambassador to the United Nations Susan Rice why the United States had not intervened to save the lives of Syrians as it had in Libya. Ambassador Rice replied that Syrian opposition members had told U.S. diplomats, "What they want from the United States is more leadership, political pressure, and sanctions, but very clearly no military intervention."
---

MORE FROM THE COUNCIL ON FOREIGN RELATIONS:
The Corrective Revolution
Egypt's Democratic Quest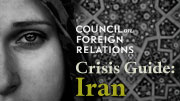 ---
Since then, opposition forces who seek the fall of the Bashar al Assad regime have increased their demands for an international military intervention in the form of a no-fly zone (NFZ) over all or parts of Syria. However, as was true in Libya, the military mission that is actually required is one of close air support. It is important for the international community to correctly assess the situation on the ground and understand the distinctions between NFZs and close air support before exploring the use of military force in Syria.
Three things have happened in Syria in the past few months that explain the increased demands for a NFZ intervention:
First, the use of violent repression by state security forces against overwhelmingly unarmed protestors has continued unabated. According to the United Nations, from mid-August to last Thursday, October 6, the estimated number of civilian casualties has increased, from 2,200 to over 2,900. In addition, opposition forces have faced arbitrary arrests, detentions, and systematic torture, while political activists living abroad have been monitored and harassed by Syrian intelligence agents operating out of diplomatic outposts.