Tunisia's Surprise Success Story—And What He Means for the New Democracy
Three lessons from the curious case of Hachemi Hamdi, a TV magnate who came in fourth out of 100-plus parties despite little expectation of success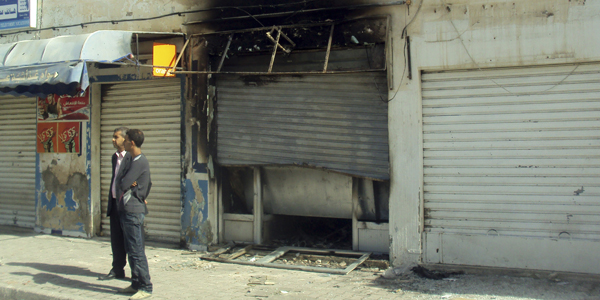 Men in Sidi Bouzid look over the damage from protests that broke out after the election commission cancelled a number of votes here / AP
TUNIS, Tunisia -- On October 23, Tunisians showed up in droves to vote in what were hailed as the Arab world's first free and fair elections. Yet no sooner had international observers and media declared the elections a success than controversy and violence erupted, reminding people of the fragility of Tunisia's transition and the challenges that yet remain. The tensions stemmed from the unexpected triumph of Aridha Chaabia (Popular Petition), a little known party led by a nebulous figure named Hachemi Hamdi. In fact, the success of Mr. Hamdi's party, and the controversy it has provoked, offer a number of lessons about Tunisia's still emerging politics.
Hamdi is a successful London-based businessman and the founder of two conservative satellite television channels. In the 1980s, he was a member of an Islamist opposition party called the Mouvement de Téndances Islamiste (MTI), which later changed its name to al-Nahda and swept last week's election to win 41 percent of the vote. More recently, Hamdi has been accused of cutting deals with the Ben Ali regime and pushing pro-regime rhetoric on his channels. Before the elections, Hamdi barely figured into the political discourse; Aridha Chaabia was expected to perform so poorly that it was left off all public opinion polls. But through populist messages broadcast repeatedly on his satellite channels, in apparent violation of election laws restricting airtime allotted to each party, Aridha captured the attention -- and, ultimately, the votes -- of a large number of Tunisians. It won 19 of the 217 seats in the National Constituent Assembly, which will draft the country's constitution and design its government, making it the fourth best-represented party.
To say that this outcome came as a surprise to most political observers would be a significant understatement. The strong showing of the party shocked many Tunisians, particularly in cosmopolitan Tunis. Those in the secular camp accused the party of being part of an al-Nahda strategy to gain more seats; others accused the party of being supported by old regime elements. Last week, in the middle of its days-long effort to tally votes, the electoral commission decided to invalidate nine of Aridha's seats due to campaign finance violations, which reduced the party's representation in the assembly (it would have been the third-best represented had it kept the votes).
But what Aridha Chaabia's detractors miss is that the party does have a large base of supporters. Last week those supporters made their frustration with the commission's decision to cancel the votes clear. A number of people took the street to protest, sometimes violently, including in Sidi Bouzid, the very city where the revolution began.
It was disappointing to be in Tunisia last week and watch this historic election -- the first of the Arab Spring -- marred by this setback and the angry response. Yet the rise of Hamdi's party, with its popularity outside of metropolitan Tunis, and the controversy it created, reveal three important lessons about Tunisian politics and some of the challenges the country must still overcome in the months and years ahead.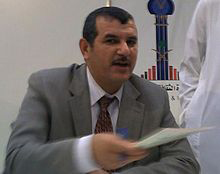 Hachemi Hamdi / Wikimedia
First, the interior of the country matters politically. Contrary to the pre-election political coverage, which focused primarily on debates between secular groups and Islamists, Tunisia's most daunting challenge in the coming years will be to address the inequalities, both economic and social, between the wealthy coastal towns and the impoverished interior. This divide played a crucial role in the election and in Aridha's success. While most political parties paid lip service to this inequality during the campaign, very few actually made a concerted effort to empower the disenfranchised in the south -- where, don't forget, the revolution began. But Hamdi, born and raised in Sidi Bouzid, focused his campaign almost exclusively on the interior. For a population long neglected by the government, it's not surprising that interior Tunisians would support a party who was willing to reach out and listen to their needs.
Second, populist campaigning proved a potent force in the election, which could lead to trouble down the road. For all the political maturity displayed in some aspects of this election, a large number of Tunisian voters, for whom political contests are quite novel, appeared to be swayed more by empty rhetoric than substantive policy discussions. Hamdi did well in part because he made impossible promises: 100 dinars a month for the unemployed, universal health care, and cheap electricity and water for all. Al-Nahda also embraced populism, with members promising every voter a sheep for Eid.
While most of the major parties developed substantive platforms, they also included lofty goals with little explanation of how to achieve them. Stringent campaign regulations, which banned debates and limited each of the approximately 80 parties to three minutes of nightly airtime, meant that parties were not required to explain their platforms anyway. The Constituent Assembly will have a hard time meeting the high expectations set by campaigners and their enthusiastic voters. It's hard to say how voters will react if and when the assembly fails to meet those expectations.
Third, while electoral rules were designed with good intentions, in practice they may have underestimated the difficulties of enforcement. The Independent Higher Authority for Elections (ISIE) did a commendable job in overseeing the electoral process but has yet to gain full credibility and trust. Many Tunisians are now questioning the wisdom of some of its decisions, for example whether it accredited too many parties.
In order to ensure that all voices were represented in post-revolution Tunisia, over 100 political parties were given legal accreditation, which flooded the political landscape and overwhelmed voters. As a consequence, while most parties were extremely restricted in their ability to campaign and fundraise, Hamdi was able to succeed to the degree he did largely because Aridha campaigned constantly on Hamdi's popular satellite channels.
The ISIE's decision to nullify several of Aridha's seats was due in large part to its violation of these electoral restrictions on campaigning. But it was the swiftness of the decision that has drawn suspicion, and it's not hard to see why. Similar allegations against other parties went unaddressed, suggesting that the commission moved against Aridha especially. Some Tunisians suspect this was at least in part because Aridha's victory was such a shock to most Tunis-based observers. ISIE will now have the arduous job of conducting an appeals process for the campaign violations of other parties, and it may learn that it is far harder to enforce these regulations fairly than it is to set them. Moving forward, regulations on partisan activities will probably need to be loosened to allow for more substantive debate among leading parties.
Despite the challenges the Aridha imbroglio highlights for Tunisia's future, one bright spot emerged: the post-election controversy seems to prove once again the capacity of Tunisia's new leaders to manage crises. On Friday, with protestors in Sidi Bouzid attacking al-Nahda's office, the party's leader appeared on television to appeal for calm, rather than exploiting the crisis for political gain.
In fact, calls for moderation and consensus have been a constant feature of the post-election period so far. The election results produced some of the biggest victories for al-Nahda, Congress for the Republic, and Ettakatol (the latter two are leading liberal parties), all of which emphasized cooperation. The parties that pursued excessively negative campaigns -- like the Progressive Democratic Party and the Democratic Modernist Pole -- fared poorly. The importance of a harmonious political climate to Tunisians is a lesson that party leaders seem to recognize, and even those that are disappointed with the election results have focused on improving their own campaign strategies rather than hurling accusations at the victors.
In this way, the surprising emergence of Aridha Chaabia has proven less of a spoiler than it might have been in a more contentious political climate. Instead, it has provided a set of healthy lessons for democratizing Tunisia.