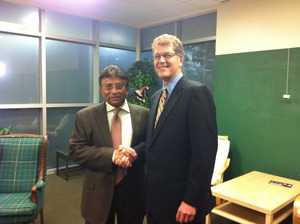 Pervez Musharraf, the former Army general turned (former) President of Pakistan, is a different man than the Musharraf who has now declared that he will again contest for his nation's presidency.  The earlier version of Musharraf would bristle at questions about his respect for democracy, about the relationship of the Taliban to the security organs of the government, and, well, just about anything.  Musharraf, before, was self-confident, a talker more than a listener, and personally intimidating.
The man who spoke to the students of Washington College on the eastern shore of Maryland yesterday evening struck a significant contrast to the man that so many believed had become a de facto dictator during his tenure as Pakistan's president.  Musharraf listened.  He met students and engaged them seriously.  He spoke to them like mature adults who were informed -- and didn't dumb down his commentary.

The former four-star general said that while he grew up "as a man of war", he now knew how to "construct the peace" in his neighborhood, even with India -- though he had a number of testy comments about India and what he considered to be its meddling in Afghanistan and its efforts to create an "anti-Pakistan Afghanistan."