Map: Some African Governments Doing Better Than You Might Think
The Ibrahim Index of African Governance, which measures the quality and success of African national governments, finds a few causes for celebration

Graphic by Lois Parshley
Whether it's widespread anarchy in the wake of Somalia's famine, anti-Christian sectarian violence in Egypt, or the Lord's Resistance Army in Central Africa, it can often seem like all of the news out of Africa is bad. But there is actually a wide divergence in the quality of African governments. Despite popular perceptions that it's all a mess, some regions are doing quite well--in fact, better than ever.
Above is a clickable map based on the Ibrahim Index of African Governance, which measures quality of governance based on 86 indicators aggregated into 14 sub-categories. The scores weighed the effective delivery of public goods and services to citizens, safety and the rule of law, the opportunity for participation in government, protection of human rights, sustainable economic opportunity, and potential for human development. All together, it provides a framework to analyze progress in democratic governance. The greener countries have a higher score, indicating better governance; red countries scored lower.
The Ibrahim Foundation, named for Sudanese billionaire businessman Mo Ibrahim, tracks and encourages the growth of democratic governments in Sub-Saharan Africa. The foundation also gives out the annual Ibrahim Prize, along with a $5 million prize and lifelong stipend, to an African head of state who best promotes good governance and who leaves power democratically and peacefully. This year, the prize went to former Cape Verde President Pedro Verona Pires.
As you can see in the bar graph below, the scores cover an extremely wide range, reflecting the range of effectiveness in African governments.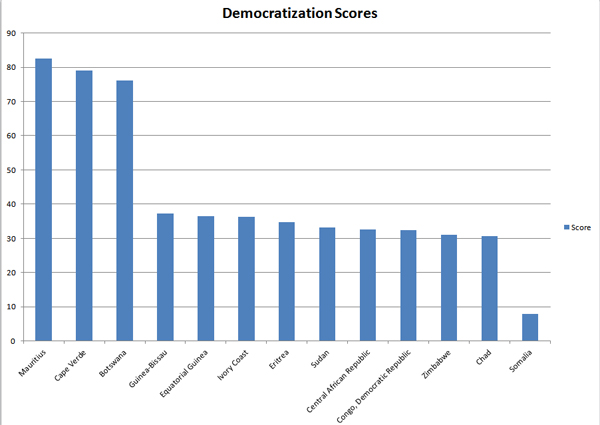 Of course, even democracies have governing problems (hello, looming European fiscal collapse). But this visualization helps demonstrate that there is actually a broad diversity of states in Africa, even though sometimes news about the African governments that work can get overlooked.