The Qatar-based station that began in support of the Libyan uprising now faces, like the nation it covers, large and difficult questions about what comes after Qaddafi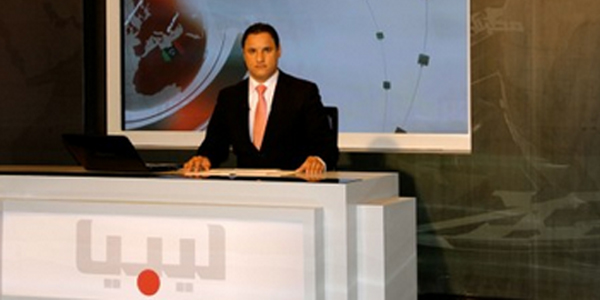 Mohamed Hawas left his job
as an anchor for state-run TV
in February, later joining the new Libya TV, which actively backed the popular uprising / Libya TV
DOHA, Qatar -- When I first visited the offices of the Libyan rebels' television channel, tucked into a corner of the old souk in Doha, Qatar, I expected a ramshackle operation run by a scrappy young crew with jerry-rigged equipment.
Instead, what I found was a small but state-of-the-art TV studio surrounded by a series of bustling offices, littered, like any good newsroom, with doodled-on rough drafts, rattling Blackberries, and cartons of leftover fries from Hardee's.
In the glassed-in main editing room, a woman in a black hijab and matching abaya scooted around in a rolling chair, monitoring a floor-to-ceiling, wall-to-wall panel of television screens, switches, dials, and knobs. Downstairs, in the one-room studio, someone shouted a countdown as music for the five o'clock news hour erupted into the black, sound-proof space. Cameras swooped from dollies and images of Libyan children, their faces painted the green and red of Libya's pre-Qaddafi flag, filled the screen behind the anchor's sparkling desk.
The scene at Libya TV -- efficient, professional, lively -- was just business as usual at Libya's first and only independent satellite channel, which launched last March as the revolution began to gain steam. The operation is funded and hosted by the government of Qatar - the tiny, energy rich state that has made itself an ally to the Libyan rebels -- and began in the Radio Free Europe model, broadcasting both tactical and humanitarian messages to aid the rebels on the ground in ousting Muammar Qaddafi.
Six weeks ago, the station's first mission was complete, at least in part: Qaddafi skipped town, Tripoli fell to rebel forces, and the entire 42-person staff of Libya TV -- a motley assembly of students, teenagers, former political prisoners, and ex-pat journalists, nearly all of whom are Libyan born -- were left first to celebrate, and then to ask, What next? How does a TV channel, founded for the purpose of helping to tear down a government, transition to the much more complicated, and decidedly less glamorous, task of helping to build a new one?
Huda Elserari, the station's well-spoken general manager, sighed at the question. "First, the fighting is not over yet," she said. Indeed, a floor below where we were sitting, in the station's studio, the news vibrated with bloody images of fighting in Sirte and elsewhere. "We will continue doing what we are doing until the whole of Libya is free," she said.
"Second, the revolution is not just about fighting a dictatorship. It's also about changing the culture and mentality of the people after 42 years under Qaddafi," she said. "This is our role also. We have to keep fighting, more and more and more, fighting that very old mentality, old lifestyle, and old work style to create a new Libya."
Senior Producer Mohammed Mseek said the channel is already beginning to transition into the "next phase," as he put it, featuring programming to educate the Libyan people about tolerance, unity, democracy, and diversity within Libyan culture -- topics that were taboo under Qaddafi. Most of Libya TV's viewers have never lived under any other ruler. His potent mix of authoritarianism, surveillance, and social intolerance have done a number on the Libyan state of mind, Mseek said. "Fighting the 'Qaddafi mentality' is our first goal," he said.
"After 42 years, most people don't know what they should do. They are asking, 'What is a ministry? What is the meaning of a free media?' We have to start from nothing, from zero, and build our country step by step," he said. "We're going to have to teach people about politics, health care, culture, and education to prepare them for how to act in a free government."
The channel recently launched an Amazigh language program, which, for the first time since Qaddafi took power in 1969, provides Libyan Berbers with a forum to speak, teach -- and broadcast -- in their native language. Amazigh-speaking Berbers, a minority across North Africa, are estimated at around 300,000 in Libya, about five percent of the population. The channel has also hosted a delegation of Libyan tribal leaders, members of the transitional council, and brought on youth activists as hosts who can, as Elserari said, "speak in the same style as the youths in Libya, so they understand each other and listen."
Educating an entire populace about democracy, civil society, and national unity may seem a lofty goal for a small TV channel, but both Mseek and Elserari say the station has already built the foundation for a successful transition to their post-Qaddafi broadcast plan. Over the last six months, Libya TV has become the most-watched channel in Libya -- out-stripping the wildly popular Al Jazeera, the management at Libya TV claims. "We have been with them throughout the revolution. They know us, they recognize our faces," Elserari said.  "They trust us."
Khaled Othman, an anchor at Libya TV, said showing Libyans the power of transparency and good journalism has been key to their success. When he hosted a television show under Qaddafi -- there were only three channels, all of them state-run -- outspoken friends and colleagues sometimes disappeared, only to show up dead later. Occasionally, if Othman asked one of Qaddafi's ministers what he calls "a big question," he would be unable to sleep that night for fear of retribution. "I think, I'm crazy! Why did I do that? May God help me," he said, laughing. "But now, I can ask anyone anything. I am not afraid. People in Libya can see that."
Most of the logistical details -- where will the station be based and who will fund it? -- remain undecided. Mseek says there are two options on the table: either move the whole production to Tripoli and make it a Libya-only channel, by the people, for the people; or keep it in Doha, and make it a channel for the whole Arab world, "with a priority on Libya." The station's founder, Mahmud Shammam, a prominent Libyan expatriate journalist, is expected to make the decision soon, Mseek said.
Since fleeing Libya in the 1970s, Shammam has developed close friendships with the Qatari ruling elite, and served on the board of Al Jazeera, which is also funded by the emir. Both the Qatari emir and his second wife, Sheikha Mozafh bint Nasser al-Misned, whose father worked in Libya, claim close ties with Libya. Those personal connections may have played a role in Qatar's overwhelming, and unprecedented, military support for the rebels, and for its support for projects like Libya TV. Qatar was also the first Arab state to recognize the National Transition Council as the legitimate government of Libya.
Libya TV's current offices belong to Al Rayyan, a TV channel focused on Qatari culture, which has been on hold since March. The emir has paid for all the station's expenses, and provided the staff with monthly stipends. The set-up, however, was always intended to be temporary, Elserari said. "There is no sense in us staying here after Libyan freedom," she said.
In another glassed-in editing room, I sat with the station's creative director, Bashar al-Assad (who laughingly assured me he is not related to the beleaguered president of Syria). It's his job these days to re-imagine the station's brand, redesign its logo and retool its promotional fillers and music to reflect Libya TV's changing role in Libya.  "Even with the first branding, we did not have a lot of weapons or blood," he said. "We tried to make it calm. To say the revolution is not about killing; it's about liberation." And the second branding? "It will be even more peaceful," he said. "Now the station is for the people, to educate the people that Libya should be united. It's the same idea, but a different version for the next period."
"Before, we were freedom fighters here," he said, gesturing at the wall of editing equipment and flickering TV screens. "Now we are still fighters, but fighters in a different way."