Is This the Exact Spot of Qaddafi's Death, Charted on Google Maps?
A Twitter account linked with Libyan opposition activists posted what it says is the location where Qaddafi's convoy was hit. It can't be confirmed, but it appears to match up with photos from the scene
Early on Friday, a U.S. drone launched a missile at a four-car convoy traveling through Sirte, the small Libyan town where Muammar al-Qaddafi had been born and was now believed hiding. Rebels were crawling the town, winding down the fight against loyalists there and looking for Qaddafi. So when the drone strike landed, quickly followed by another missile from a French Rafale jet, Qaddafi had few places to go. The road was on an embankment; he crawled down the side and into one of two large concrete pipes that ran under the road.
Rebel fighters swarmed to the site, where they pulled Qaddafi out of the concrete pipe, roughed him up, and killed him. It was an historic moment not just for Libya's months-old revolution, but for the country's long and difficult tenure under dictatorial rule.
Now, someone tech-savvy possibly connected to the Libyan rebels has posted to Google maps what they say is the exact spot where Qaddafi's convoy was hit -- the beginning of the end for this 42-year autocrat. The map, copied above, was circulated by a Twitter account called Feb17Voices, named for the first day of Libyan protests that eventually became the revolution. The account, which uploaded phone messages from Libyans when that country's internet shut-down made communication in and out of the country difficult, has a reputation for being reliable.
The map can't be verified, and the open-source nature of Google maps means that it might have been posted by anyone, accurately or inaccurately. But there were plenty of people at the scene to witness it firsthand. If you zoom in, you can make out the embankment of the road and the break where the culverts run underneath it. Here's an AFP/Getty photo of the spot where Qaddafi was found, taken shortly after his death: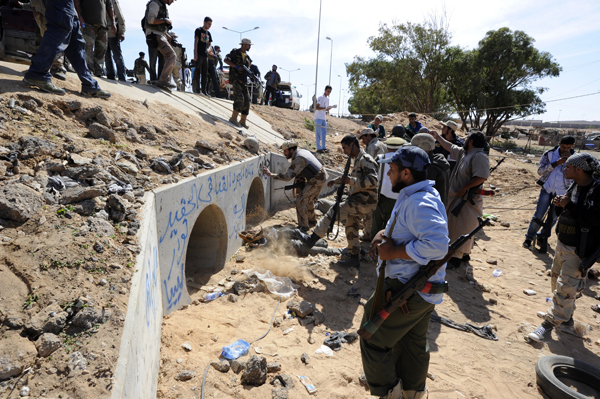 Here's another photo, taken a few hours later, that better shows the road and also appears to match up with the Google map. Note how much graffiti got added between the two photos: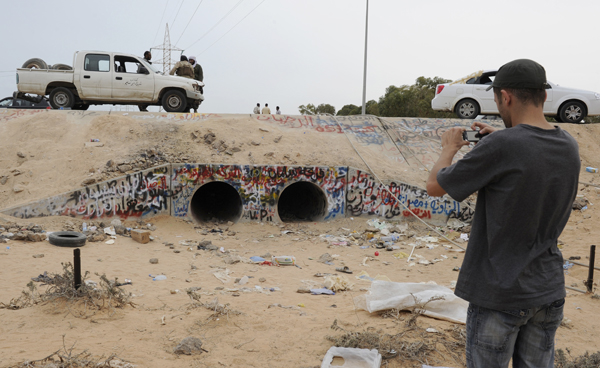 It's not clear if the rebels killed Qaddafi where they found him or transported him elsewhere first. But they couldn't have moved him far -- they shot him so soon after finding him that the photographer who first produced a photo his corpse had time to
take the shot
and upload it to Getty's website before Qaddafi had even been confirmed captured.
Don't be too surprised that a Libyan fighter or one of their friends would think to pinpoint the spot on Google Maps -- Libyans typically have access to oil-funded subsidies, and young people there are so gadget-obsessed that the black market price for an iPhone can reach beyond $1,000.


Still, there's something jarring about the fact that the spot of Qaddafi's capture and possible death -- clearly, already a big site for graffiti artists -- could be charted so precisely on a website originally built to compete with Mapquest. In the end, it wasn't a Twitter revolution -- it was a revolution of people and guns -- but its ending still got tweeted, Facebooked, and now Google mapped.