Iraq War Ends With a Whimper, Not a Bang
The Iraq War is rapidly winding down, and no one - American or Iraqi - seems inclined to talk about it

Eight years ago, U.S. paratroopers streamed into northern Iraq. Now, the U.S. is withdrawing / AP
The Iraq War began with Pentagon officials boasting about an initial offensive that would "shock and awe" the enemy, then-President George W. Bush flying a military plane to an aircraft carrier for a high-profile address to thousands of cheering troops, and round-the-clock coverage on the nation's TV networks. Eight and a half grueling years later, the deeply unpopular conflict is set to end with a whimper, not a bang.
Washington and Baghdad's failure to agree on a troop-extension deal means that virtually all of the 43,000 U.S. troops now in Iraq will stream out of the country over the next six weeks, bringing a quiet end to a conflict that began with so much bombast.
Radical Shia cleric Moqtada al-Sadr has called for public rallies on Jan. 1 to celebrate the U.S. withdrawal, but the idea hasn't gained much traction with other Iraqi political leaders.  For now, there are no formal ceremonies planned in Iraq to mark the end of the U.S.-led mission there or to commemorate the thousands of Americans and hundreds of thousands of Iraqis killed in the conflict.
Iraqi officials have also rebuffed the U.S. officers at many individual bases who have proposed low-key events in which the American flag would be lowered and the Iraqi one raised to mark each facility's passage into Iraqi control.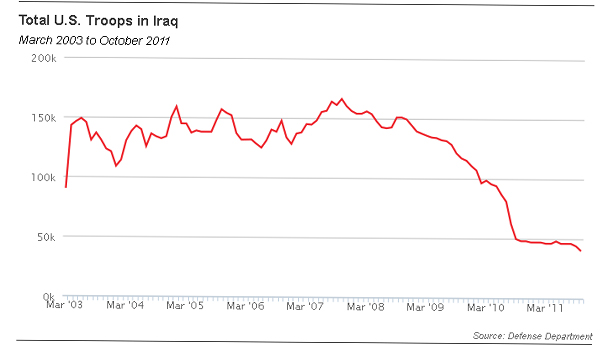 "The message we're getting, to be frank about it, is, 'Don't let the door hit you on the way out,'" a senior military official said in a conversation on Sunday.
U.S. officials publicly insist that Washington is continuing to discuss a possible troop extension with Baghdad, and it's possible - though highly unlikely at this late date - that a deal will be cobbled together to allow several thousand American troops to remain in Iraq past the end of the year.
Privately, though, U.S. military officials with direct knowledge of the informal negotiations, who asked not to be identified because of the sensitivity of the matter, say the two sides have never been close to an agreement and that the talks have effectively broken off in recent days. Two officials said in separate interviews this weekend that the most recent sticking point had been Iraq's insistence that any remaining U.S. troops receive no legal immunity from Iraqi courts -- an absolute non-starter for Pentagon officials concerned about the possibility American soldiers could be arrested and put on trial in Iraq.
But the officials told National Journal the two countries have been even further apart than has been reported. The Obama administration had expressed public and private willingness to leave 2,000-3,000 U.S. forces in Iraq as trainers beyond the end of 2011, but the officials said the conversations with the Iraqis had never advanced far enough to include discussions of specific troop levels or missions.
---
MORE FROM NATIONAL JOURNAL:
U.S. Abandoning Plans to Stay in Iraq
Biden: Iran Must Be Held Accountable
Iran Containment Casts Doubt
---
"We were still at first base in the talks," the second military official said. "The Iraqis knew what we were willing to do, but they never wanted to talk specifics or really get down to the kind of nitty-gritty details you'd need to square away before you do a deal like this."
In the absence of official word from either Washington or Baghdad, confusion about the pending withdrawal -- and the future of individual units -- is running rampant. CNN reported this weekend that the Fourth Brigade Combat Team, First Armored Division, based at Fort Bliss in Texas, was being pulled out of Iraq months ahead of schedule. But a senior U.S. commander said on Monday that only one battalion had actually received orders to withdraw to Kuwait in preparation for returning home. The officer said the rest of the brigade was continuing to conduct missions throughout the country and hadn't received final word of when it would withdraw.
The collapse of the troop-extension talks won't remove all U.S. forces from Iraq. As first reported by National Journal, hundreds of troops will remain in Iraq indefinitely as part of the enormous U.S. consulates under construction in Basra and Erbil. Each facility will ultimately house roughly 1,300 personnel, including troops from the State Department's Office of Security Cooperation, which oversees weapons sales to Baghdad and security training.
The Erbil consulate, in a tranquil city in northern Iraq's Kurdistan region, will be technically designated as a joint consulate/Office of Security Cooperation facility, which means it will have the largest concentration of American troops other than the embassy in Baghdad, which is expected to house roughly 200 troops.
State Department officials said the final size of the overall U.S. military presence hasn't been finalized but could ultimately range as high as 500 troops. Even that figure would be less than a quarter of the troop presence that the Obama administration had quietly endorsed just a few weeks ago.
Regardless of the final number, however, two things appear clearer than ever: The Iraq War is rapidly winding down, and no one - American or Iraqi - seems inclined to talk about it.