How World Media Is Covering Occupy Wall Street
European and Arab outlets see the movement as akin to their own -- but China's state-owned media isn't impressed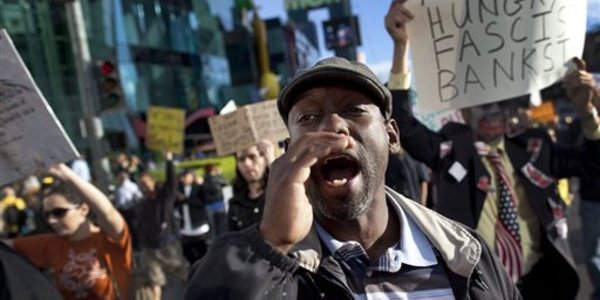 An Occupy Wall Street-sparked demonstration in Las Vegas on October 6 / AP
The Occupy Wall Street demonstrations were probably never going to stay at the level of merely "national" news. As the protests have spread, though, from Occupy Wall Street proper, in New York, to American cities as seemingly far-removed from the immediate Manhattan picture as Boise, Chicago, and Las Vegas, international interest in the story has grown. Stories in the foreign media have proliferated. And there are one or two trends in the coverage that might interest Americans.
First, there's a strong tendency in certain national presses to see Occupy Wall Street as part of a global protest trend. Much of the language of the Occupy Wall Street protests, of course, has encouraged this, and protesters might be pleased to note that the movement's invocation of the Arab Spring -- for example, on their 
website
-- hasn't been lost on Arabs; Al-Arabiya covered the protests on October 9 under the
headline
, "Wall Street Spring."
Foreign media have also tied Occupy Wall Street to protests in Europe. Aside from Al-Arabiya
reporting
on October 13 "Wall Street Protests Inspire the British to Occupy the London Stock Exchange," there's Spanish daily
El Pai­s
's "guide" to October 15 protests, in which a number of groups are mentioned in the same breath: "The angry, in fact, boast of having no leaders or defined structure,"
writes
Dry Raquel in Madrid, noting that a "global call" for protest on the 15th originated in Spain. "[Like] the promoters of the riots in Arab countries and Greece, Take the Square, Real Democracy Now, activists of Anonymous, Occupy Wall Street, citizen groups, individuals ... the 15-M [the Spanish protest movement] is a heterogenous mass."
French publication
Libération
's associated Occupy Wall Street with global trends even more explicitly. Writer Dominique Albertini
wants
to know where the French protesters are, feeling those in New York and Madrid have put French radicals to shame. "The comparison is painful," he begins, noting the Madrid protests' worldwide appeal and the spread of Occupy Wall Street to the rest of the country. "Despite mobilizing almost six months ago, our national discontents talk more on social networks than in the street."
Meanwhile, French daily
Le Monde
notes
that Occupy Wall Street has "gained emulators ... Demonstrators will ... assemble Saturday in Zurich, Geneva, and Basel to protest against the power, according to them too great, of the banking sector." The story runs under the headline "The Anti-Wall Street Movement Reaches Switzerland."
That's not to say, however, that all foreign media organizations are covering Occupy Wall Street in the context of these larger trends. Chinese government news agency
Xinhua
, for example, has left this aspect out, covering the protests under such
banal headlines
as "Occupy Wall Street protesters refuse to leave for park cleaning."
Meanwhile, Al Jazeera Arabic, perhaps still trying to bask in their 
acknowledged superiority
in Arab Spring coverage compared to American media,
reports
criticism of American news organizations for insufficient coverage of the Wall Street protestors.
A story in the German paper
Die Welt
argues
that "whoever wants to change the world must also be able to entertain. America shows [us] how it works." The article is about how attractive and media-ready the protesters are compared to German counterparts. Fascinatingly, both German and Arabic-language publications --
Die Welt
and
Al-Arabiya
-- specifically label the protests as "anti-capitalist." But another German-language paper,
Die Zeit
, pushes back a bit against the idea that Occupy Wall Street will be all that long-lived. Despite giving "American intellectuals" 
six pages
on the subject of a possible "revolution in America," it also gives Thorsten Schröder space to offer his
take
: "Why a left-wing Tea Party doesn't have much of a chance."