How Long Can the U.S. Ignore Systemic Torture in Afghanistan?
A number of reports finding torture by allied Afghan forces may finally be forcing a response, but the U.S.-led mission will have to do more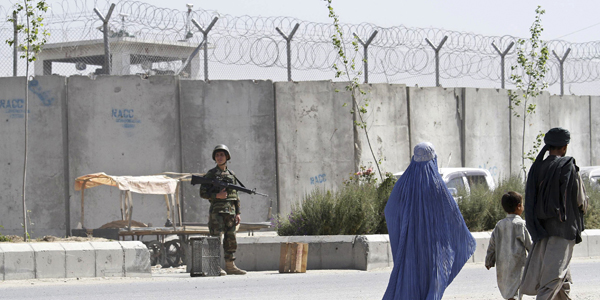 An Afghan National Army soldier keeps watch outside Kandahar's main jail / Reuters
Over the last month, there has been an unprecedented series of allegations that Afghan security forces, funded and supported by the U.S. and the international community, have been engaging in the most egregious of human rights violations, including murder, rape, and torture.
On Monday, the UN released a landmark
report
finding that torture and abuse were widespread in the Afghan prisons that its researchers visited. On September 19, a
report
from the Open Society Institute on night raids by U.S. and international forces showed that non-combatants were being captured by the thousands and funneled through that same Afghan detention system. A week earlier, Human Rights Watch published a
report
on the new U.S.-backed militia program, the Afghan Local Police, which documented a number of atrocities committed by those forces, including rape, confirming the worst fears of the program's critics. Last week, in Time Magazine, Julius Cavendish
reported
on abuses by Commander Azizullah, a security force leader in Paktika Province in the employ of the U.S. And earlier this month, I published a lengthy investigative
article
in
The Atlantic
that documented an ongoing campaign of extrajudicial killing and torture carried out by the forces of General Abdul Raziq, a key U.S. ally and the acting police chief of Kandahar Province.
Together, these reports help shed light on why the insurgency in Afghanistan has been so resilient and effective at recruiting fighters. The  UN report, in particular, raises serious questions about the U.S. night-raid program, which sweeps up a high proportion on non-combatants for intelligence-gathering purposes, as it suggests the U.S. has been funneling many of those non-combatants through a detention system where torture is widespread. As the Open Society Institute report notes:
International military typically release individuals by first handing them over to Afghan custody, where they can suffer poor conditions or even abuse rising to the level of torture.
This past month thus represents a pivotal moment in our understanding of the scale of human rights abuses in Afghanistan. And, to their credit, ISAF and the U.S. military have initiated
investigations
into these reports and are planning on instituting a series of corrective measures, including monitoring prison conditions. They've also stopped transfers to certain facilities in southern Afghanistan, after being shown a draft of the UN report last month. However, the fact remains that ISAF and the U.S. are only now taking action in response to reports from the UN, advocacy groups, and journalists, and are claiming that they had been unaware of the abuses beforehand. "I know of no one who knew about these alleged abuses as they were happening," one U.S. official
told
the
New York Times
.
It seems astonishing that that, for the last ten years, abuse on this scale could go unnoticed by the international military forces, who worked in closely partnered operations to capture many of the detainees that were later transferred and allegedly tortured -- especially given how easily a single UN team, led by the newly-arrived Georgette Gagnon, could blow the story open in less than a year's worth of investigations.
In my experience, it's been common knowledge among many aid workers, officials, journalists, and members of the military that torture and abuse were occurring in Afghan prisons. In 2010, in Kandahar, one U.S. military intelligence soldier told me that he and his colleagues would sometimes "take a cigarette break" during field interrogations and leave recalcitrant detainees alone with the Afghan National Police, with the implication they would be roughed up. Threatening detainees with transfer to the Afghan intelligence service, the National Directorate of Security, was another pressure tactic, as NDS' reputation for brutal interrogation methods was widely known to both the Afghans and many members of the U.S. military who worked in the field.
Moreover, both the Canadian and British militaries have experienced serious
scandals
back home involving the transfer of detainees who were later tortured in Afghan custody. In both countries, court orders have forced the military to respect its legal obligations by establishing programs for monitoring the detainees that they transfer to Afghan custody. In fact, according to confidential
cables
released by Wikleaks, the U.S. has been planning to emulate those programs as far back as February 2010:
In response to the President's executive order banning torture, the Washington interagency Task Force on Interrogation and Transfer Policies recommended that Embassy Kabul develop a plan to physically monitor the status of detainees transferred by U.S. forces under ISAF command to [Afghan government] custody.
Yet, nearly two years after these cables, the U.S. has yet to implement a detainee monitoring system. Moreover, as I show in my Atlantic article, U.S. government officials have known for the past five years of credible allegations that Abdul Raziq was involved in a massacre of civilians, and yet the U.S. military continued to support him at the highest level, with visits from Ambassador Karl Eikenberry and Generals Stanley McChrystal and David Petraeus. This raises the question of whether U.S. support for Raziq's forces has violated a 1997 law known as the Leahy Amendment, which forbids funding and training to foreign military units where credible allegations exist of gross violations of human rights.
It's true that torture and abuse by police forces and militaries are sadly commonplace in Central and South Asia. In India, for example, beatings in police custody and "encounter killings," where arrested suspects are framed in staged police encounters and shot, are still
widespread
. And the root causes of police abuse in Afghanistan include 30 years of traumatic conflict, poor education, extreme poverty and inequality, and systematic official corruption.
But the West's response can't simply be to do nothing and turn a blind eye. There are moral, law-abiding Afghan police officers and soldiers who deserve international support, and deserve to be able to work in a system that forbids, rather than tolerates, corruption and human rights abuses. Instead, we've thrown our support behind figures like Abdul Raziq.
The next few years will be a crucial period in the formation of Afghanistan's fledgling security forces. Our leverage, in terms of our boots on the ground and the money we spend, will only decrease from here on out. The question now is what legacy we want to leave to the people of Afghanistan.