Home From Iran, Detained Hiker Finds Warm Welcome and a Familiar Life
Friends and family of Josh Fattal describe hearing the news of his release and the joy of bringing him home after more than two years
Friends and family of Josh Fattal describe hearing the news of his release and the joy of bringing him home after more than two years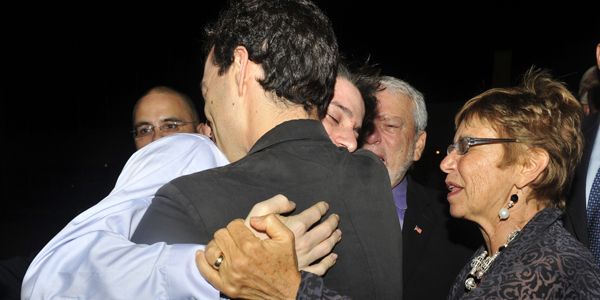 Freed American Josh Fattal, center in blue shirt, hugs brother Alex and their mother on landing in Oman / Reuters
On the menu for Josh Fattal when he arrived home after 25 months in jail in Iran: basketball and Indian food.
Fattal and fellow American hiker Shane Bauer, both 29, were released on Sept. 23 after more than two years in solitary confinement. Oman, which sometimes acts as an unofficial mediator between Iran and the U.S., paid $500,000 bail for each. Overnight, they went from hostages at Tehran's most notorious political prison to international celebrities.
"They had intimations, a general sketch of all sorts of world leaders who were involved," Josh's brother, Alex, told me. "But there's a lot of details it'll take them to get up to speed."

Josh's best friend, Farah Mawani, the social media director for the thousands-strong Free the Hikers campaign, added, "He's not an internet addict. I don't know how much he's able to grasp, the level of global support."
In prison, Fattal and Bauer were usually able to see 15 minutes of Iranian television news per day. But some aspects of the cultural zeitgeist -- like the popularity of Twitter, which constantly streamed news of the case -- will need to be learned. "I asked him, 'do you even know what Twitter is?' And he said very calmly, 'Oh yes, Alex sent me a book [about Twitter.]' Alex kept him on top of stuff."
Thirty-two year old Alex Fattal, a Free The Hikers' founder, took nearly two years away from his Harvard University doctoral studies to help free his brother. It was worth it, he said, for the moment Josh sprinted down the steps of an Omani air force jet on the night of September 23.
"Coming off the plane, there are no words for that. It's something I'd tried to imagine for a long time. The fact that Josh jumped into my arms was just amazing."
What's the thing his brother said he missed the most? Simple, Alex says. "Us."
Alex first heard that Josh would go free in a call from Bauer's mother, Cindy Hickey. "I was up in Boston touching base with my graduate program and putting together an exhibition for the Peabody Museum, and I got a call in the middle of the night from Cindy. We had been through so many false starts over the last two years that the immediate impulse was to ask, 'How real is this?'"
It had been a long summer of ups-and-downs, culminating on August 20 when the Iranian judge in Josh and Shane's trial handed down matching eight-year prison sentences on charges of espionage and illegal entry into Iran.
"Going into the summer we had three dates on our calendar -- trial, end of Ramadan [where the families had hoped for a show of mercy] and the UN General Assembly," where President Mahmoud Ahmadinejad was slated to make his annual Stateside appearance, Alex says. "There was some forward momentum on the case, so when Ramadan came and went without any movement, it was really tough to stomach. With Ahamdinejad's comments, we [knew we] were getting kind of close. The Omani envoy confirmed to us after those comments that we should get on a plane to Oman."
"We ended up having a week in Oman -- we were hoping would just have a day or two." As a battle for power raged between the Ahmadinejad and the courts, days went by. "At first it seemed like what happened when Sarah [Shourd, the third hiker and Bauer's fiancee] was released. But after we got past day three, we were like, 'What's going on here?'"
That they might be forced to leave Oman without the two men "came to our minds," Fattal said. "And that would have been just terrible. We had many disappointments. But that would have been just the worst."
He was strolling the beach outside the U.S. Ambassador's residence when word came that Josh and Shane had been handed over to Omani officials in Tehran. "I was walking with Shannon and Nicole [Shane Bauer's sisters]. And as we got back to the house, Shane's parents were outside, gesturing frantically. We started running towards them. I'd picked up seven rocks and shells on the beach, and I gave one to everyone in our party."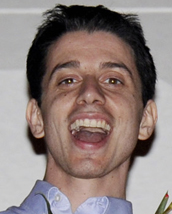 Josh Fattal / Reuters
Alex and Josh's mother, Laura, was out getting her hair done when the news came. The group surprised her when she returned. "I got some video of my mom," Alex says. "She shrieked and dropped a few 'OMGs.'"
Two days later, the Fattals and Bauers were on a commercial flight to New York's John F. Kennedy Airport. When it landed, "our whole section just erupted in applause."
His younger brother "is the same Josh." After a press conference in New York City, the families retreated upstate for a few days. The Fattal sons welcomed Josh back to nature with jogs along the Hudson River and by indulging in one of their favorite activities -- shooting hoops. "We played basketball," Alex said. "I'd been dreaming of that. It was my fantasy."
Arriving at the family home in Elkins Park, Pennsylvania, they found that their neighbors had decked out the front porch with a mass of flowers and a giant "welcome home" sign. Josh's first order of business after more than two years in jail was to see what had changed. "We'd lost a fig tree," Alex said. "The pear tree he gave me is sprouting up. We'd paved the driveway. So he was assessing what had changed in the last 25 months. He was so chuffed to be on familiar territory."
And Josh, who used to live in Bangalore, "was pining for some Indian food. We had Indian last night."
Now the family is working to return to normal. Mom Laura, who quit her job during the ordeal, is back in the office. Alex is spending "an intensive month" with his brother, then returning to Harvard and his graduate research in Colombia. "We're all working to get back to normal," he said. "Everyone is just relieved. This whole thing on our shoulders has been plucked and dropped into the ocean."
As for Josh, he's been asking about his friends and the organic sustainability programs he had started at Oregon's Aprovecho before setting out for the Middle East. "He was happy to know those programs are still going," Alex said.
His next career move remains up in the air. "He's figuring that out. I was giving him an extended briefing last night about everything that went on the last couple of months. He'll set his course once he's a little bit better oriented."
(Before we spoke, Alex had been showing his brother how to use a new higher-tech cell phone.)
Loved ones are also adjusting to having him home. "It's honestly so bizarre to me that I can email him, or call him," said Mawani, who was woken in the middle of the night by a call from Shourd with news of the release. "He was so much the same Josh, but at times I see looks on his face that I never saw in four months, living with him 24-seven."
"I couldn't believe he was really there in the flesh," she said of first seeing her friend in New York. "I just kept squeezing his arms and asking him, 'Are you real? Are you really here? Or are you just a picture?' "
"He said, 'Yes, I'm real. I'm really here.'"