For Iraq's Journalists, Few Freedoms and Many Fears
Iraqi journalism -- which Washington had hoped would ensure a democratic, transparent government -- faces an intense government crackdown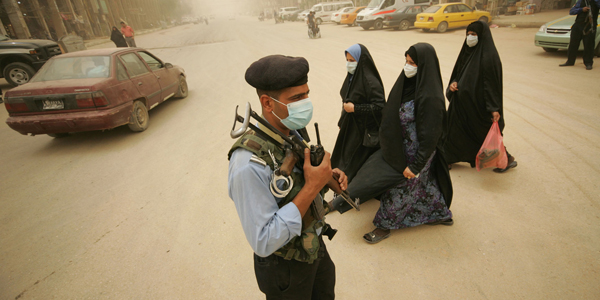 A policeman in Kerbala / Reuters
BAGHDAD--Hadi Mehdi, one of Iraq's best-known journalists, knew he was a marked man. He had been arrested and beaten by Iraqi security forces after covering a large public protest earlier this year, and he feared the worst was yet to come. "Enough--I have lived three days of terror," he wrote on his Facebook page three weeks ago. That evening, he was shot dead at home by an unknown intruder, the latest of dozens of journalists killed here in recent years. The government says it's investigating his murder, but Mehdi's friends think they already know who did it: henchmen loyal to Prime Minister Nuri Kamal al-Maliki, whose government is in the middle of an enormous crackdown on the press.
It wasn't supposed to be this way. When U.S. forces ousted Saddam Hussein, the Bush administration took particular pride in the emergence of what it described as a free and open press. It spent more than $500 million to develop new Iraqi TV and radio stations and to train young Iraqi journalists--the most money the U.S. has ever spent on such programs.
---
MORE FROM NATIONAL JOURNAL:
U.S. Military On the Ground in Libya
Libyan Mission To Rebuild Military
Libya's Frozen Assets
---
Instead, Iraq's outlook is more like China's than America's. The onslaught began on Feb. 17 with the unsolved murder of Hilal al-Ahmadi, who focused on government corruption. Seven days later, soldiers stormed the office of the Journalistic Freedoms Observatory, the country's sole media-advocacy group. "They wanted to shut us up to clear the way for what they planned to do," says Ziad al-Ajili, the group's director. The troops confiscated hard drives, cameras, and other files.
The next week, tens of thousands of young Iraqis protested the government, modeling themselves on the Arab Spring movements. First, government agents began arresting Iraqi reporters in attendance, confiscating their cameras and notebooks. Having silenced the native chroniclers, security teams swept in, beating scores of demonstrators and using tear gas, water cannons, and bullets to disperse crowds. Nineteen people were killed and several thousand arrested. Ajili estimates that 160 journalists were arrested within five days of the protest. Hundreds of other reporters have been detained or beaten in the months since, he said.
Ali al-Sumery, an editor at the state-owned al-Sabaah newspaper, was arrested on Feb. 25 as he ate lunch with Mehdi and two other Iraqi journalists. Soldiers struck the four men with wooden sticks and the butts of their rifles. The journalists were driven to a bend of the Tigris River where bodies are commonly found. "I thought they were going to kill us," Sumery says. They were interrogated for hours and accused of being Baathists. Bruised and bleeding, they were abruptly released later that evening.
Not all of the government's critics have faced such treatment. Firebrand Shiite cleric Moktada al-Sadr operates a satellite-TV station and a newspaper that regularly lambaste Maliki, but the government hasn't moved against them because of Sadr's political power and widespread support. Al-Baghdadia, a popular satellite channel that ran caustic coverage of government corruption and inefficiency, wasn't so lucky. The government said it was aiding terrorists and shut it down last November. (A pared-back office reopened this week.)
The violence has had a chilling effect. Several Iraqi journalists admitted privately that they have either dropped stories critical of the government or softened their tone. "We feel just as scared as we did during Saddam's time," says Ghada al-Amely, the general manager of al-Mada newspaper. The government raided her office in July; days later, an official from the Interior Ministry told her to be "more careful" about what the paper published. Now she is facing a $7 million libel suit, brought by Maj. Gen. Qassim Atta, the spokesman for the Maliki-controlled Baghdad Operations Command. Ali Haisen, one of four defendants, calls the suit a "clear attempt to bankrupt our newspaper and shut it down."
Despite its lofty rhetoric, the Bush administration planted the seeds for the current crackdown. The Coalition Provisional Authority, which ruled Iraq after the U.S. invasion, created the Iraqi Media Network and the Communications Media Commission in 2004 to foster a free press. Now under Iraqi government control, the two agencies are being used to spread pro-government propaganda and silence critical voices. The IMN's consistently pro-government message has earned it the epithet "Maliki TV" among Iraqis, and CMC routinely uses "its regulatory powers to shutter media operations and restrict news coverage," according to the Center for International Media Assistance, a Washington-based media support group.
The U.S. military also failed to set a good example. In November 2005, American reporters discovered a secret, military-run program that paid Iraqi media outlets to publish pro-American articles. And in 2004, American soldiers closed al Hawza newspaper, considered then to be a mouthpiece for Sadr, citing false reports that blamed much of the violence on U.S. troops. Maj. Gen. Jeffrey Buchanan, the top U.S. military spokesman in Baghdad, says he "shares the concern about what's happened with the media here" and asserts that the mistreatment of reporters is "not responsible behavior in a democracy." Still, Iraq has a freer media than most of its neighbors, he insists. "It's not fair to overstate all of this."
In the meantime, Iraqi officials say there's nothing to be ashamed of. In a rare interview, Atta--the man behind the libel suit--said that al-Mada "kept printing lie after lie about me," but that the government is committed to a free press. He said he personally apologized for the raid on the JFO's office, which he insisted was part of a broad sweep of the area for possible terrorists. He picked a blue folder off his desk and said it contained the daily briefing he receives about the status of the Mehdi murder investigation. "We will solve this crime," he said.
Mehdi's relatives and colleagues aren't holding their breath: More than 90 Iraqi journalists have been killed in the past eight years, (five in 2011), according to the JFO. So far, Iraqi security forces have yet to make an arrest in even one of the cases.
Reporting for this story was funded by the Pulitzer Center for Crisis Reporting.