"The project is an attempt to play with the creation and destruction of drama, breaking the taboo of the invisible photographer," explains Ruben Salvadori, a young Italian photographer in Jerusalem. 
He aims to reveal the complicated relationship between conflict photographers and their subjects, and this short documentary, Photojournalism Behind the Scenes, is the result. His strategy is simple but highly effective; by reframing scenes to include the photojournalists themselves, he deflates the "Hollywood" imagery that we've come to expect. 
The film opens with footage of rioters in Jerusalem. When Salvadori cuts to a wide shot of the same scene, the photojournalists crouching just out of the frame look ridiculous. In Salvadori's presentation in the second portion of the film, his audience actually laughs at the contrast between the photographs below.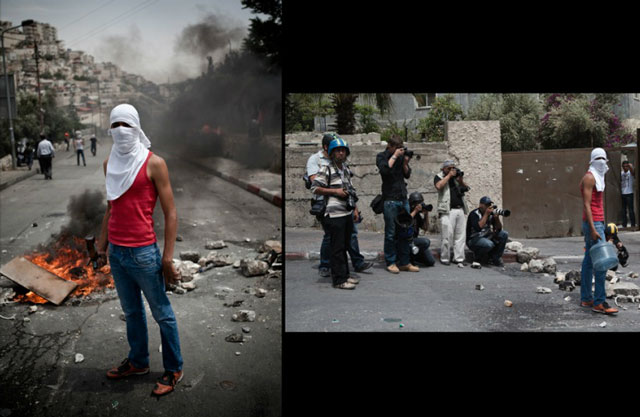 Salvadori also notes that these cameras "do not pass unnoticed," and that a group of photographers with equipment and gas masks can influence and even instigate the action they are there to document.
For more work by Ruben Salvadori, visit http://www.rubensalvadori.com/. 
Via Laughing Squid.