Despite GOP Opposition, Poll Finds Most Voters Support UN Engagement
A majority of Americans support U.S. involvement in the United Nations, a new poll finds, though some Republican leaders wish to scale down support for the international body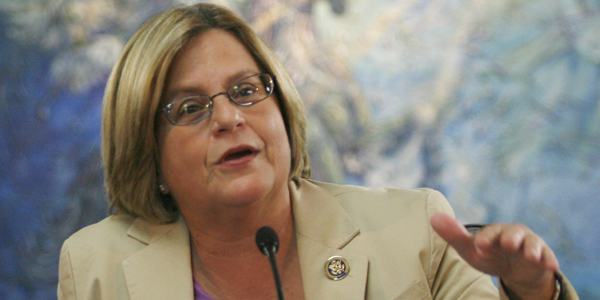 House Foreign Affairs Committee chair Ileana Ros-Lehtinen has sponsored legislation to make U.S. funding of the UN voluntary / Reuters
An overwhelming majority of voters support U.S. involvement in the United Nations, according to a bipartisan poll released on Thursday. The poll results come as the House Foreign Affairs Committee prepares to mark up comprehensive anti-U.N. legislation that could cut off 50 percent of America's contribution to the organization's budget, including funding to affiliates like the World Health Organization, UNICEF and the U.N. Development Programme.
---
MORE FROM NATIONAL JOURNAL:
Congress Approves Free Trade Pact
Biden: Iran Must Be Held Accountable
Iran Containment Casts Doubt
---
Eighty-six percent of voters believe the U.S. should take an active role within the international body, according to a poll conducted by Public Opinion Strategies and Hart Research Associates on behalf of the United Nations Foundation. The poll found that more than two-thirds of voters believe the U.N. still plays an important role in the world today, and that 64 percent support the United States paying its U.N. dues on time and in full.
Democrats overwhelmingly support U.S. involvement in the U.N., while Republicans are closely divided, the poll found. Half of Republicans support legislation that would cut U.S. funding of the U.N. and 44 percent oppose it.
Legislation sponsored by House Foreign Affairs Committee Chairwoman Ileana Ros-Lehtinen, R-Fla., would make U.S. funding of the U.N. voluntary and conditional, a change she argues would promote efficiency and accountability. The United States currently funds 22 percent of the United Nations' budget, which the body then manages.
Secretary of State Hillary Clinton sent a letter to Capitol Hill on Wednesday threatening to recommend a veto of the legislation.
Pollsters said that their results show that -- despite widespread anti-U.N. sentiment among House Republicans -- attacking the U.N. might not be a political winner for the GOP. In the House, "there has been something approaching unanimity among Republicans in siding with legislation against the U.N.," said Geoff Garin of Hart Research Associates, but "that's not reflective of the Republican electorate as measured in this poll."
The public's opinion of the U.N. improves when voters are asked to consider specific U.N. programs, the poll found. The "politics become very different" when voters are given more information, Garin said. The poll found strong support for a range of U.N. initiatives, like delivering humanitarian aid, fighting poverty, and protecting women and children.
Ros-Lehtinen's bill cites a 2011 Gallup Poll that "revealed that 62 percent of Americans believe that the United Nations is doing a poor job" and a 2006 poll by another firm that found 71 percent of Americans "think that the United Nations is 'no longer effective.'''
Wednesday's poll does reveal some concern over the U.N.'s effectiveness, said Public Opinion Strategies' Bill McInturff: 51 percent of Americans believed the body to be "only somewhat effective." But overall, support for U.S. involvement within the U.N. remains remarkably high. Pollsters noted that Congress has had its approval rating sink below 20 percent.
Poll results were compiled through a telephone survey of 900 registered voters between Oct. 1-4. The margin of error was +/- 3.27 percent.