Could Congress's Anti-Palestinian Turn Be Good News for Palestine?
One might think that the U.S. Congress would be the last place to look for a ray of hope in the long Palestinian march for freedom -- think again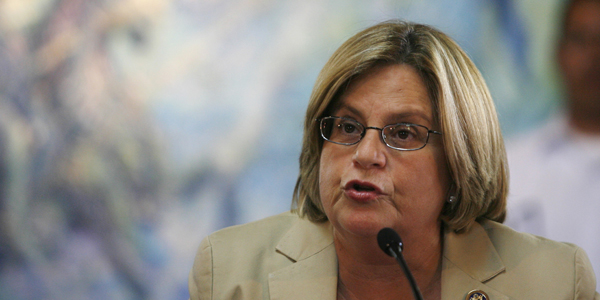 House Foreign Affairs Committee Chair Ileana Ros-Lehtinen / Reuters
Ileana Ros-Lehtinen is the Republican chair of the House Committee on Foreign Affairs, and when it comes to matters Israeli-Palestinian she tends not to mince her words. Here is but one choice example: "It's time for us to kick the PLO out of the U.S. once and for all, and move our embassy in Israel to Jerusalem, where it belongs."
Is she an outlier extremist in the Republican caucus on this issue? Far from it. One GOP colleague, Rep. Joe Walsh (R-IL) introduced a bill resolving to support "Israel's right to annex Judea and Samaria in the event that the Palestinian Authority continues to press for unilateral recognition of Palestinian statehood at the United Nations," while another, Rep. Louis Gohmert (R-TX) has lamented a situation in which, in his words "Palestinians have the Gaza Strip and they are occupying the West Bank."
Democratic members of congress, with a few notable exceptions, are only marginally more enlightened. Recently, New York Democratic Congressman Steve Israel (that's his surname, not the district he represents) introduced a bill to deny "Foreign Military Financing program assistance to countries that vote in the United Nations General Assembly in favor of recognizing a Palestinian state." And Rep. Howard Berman, ranking Democratic member of the House Foreign Affairs Committee, noted that:

I believe it is appropriate to point out that should the Palestinians pursue their unilateralist course, the hundreds of millions of dollars in annual assistance that we have given them in recent years, will likely be terminated.
Resolutions passed in both the House and Senate in July followed familiar protocol -- parroting official Israeli talking points, blaming the Palestinians, and demanding the administration use its UN veto against any Palestinian initiative. Senate resolution 185 passed by unanimous consent; the House version, resolution 268, was a little more contentious, mustering only a 407 to 6 majority.
Given all this, one would think that Congress was the last place to look for a ray of hope in the long Palestinian march for freedom. Think again.
Congress has not made itself much of a friend to Palestinians in their efforts for basic rights and freedoms. Yet the excesses of current congressional behavior are offering something that can be both refreshing and even helpful in international politics -- clarity. And Congress is offering clarity to the Palestinians by the bucket load these days. In so doing, Congress may just save the Palestinians from the diplomatic cul-de-sac into which they have maneuvered themselves.
The entire peace process of over two-decades' vintage had contained at its core the following premise or leap of faith: the U.S. might not be a totally objective broker given its special relationship with Israel, but it could be an effective one, and when push came to shove, could deliver Israel for a reasonable, viable, two-state solution. If the Palestinians would accept the premise of Israel's existence, deny their claims resulting from the 1948 war by focusing only on the 1967 occupation, and desist from terror, then the U.S. could deliver the two-state goods from Israel.
From an historical perspective, it was not an entirely preposterous notion. After all, in March of 1975 President Gerald Ford announced:
I wish to express my profound disappointment over Israel's attitude in the course of the negotiations ... Failure of the negotiation will have a far reaching impact on the region and on our relations. I have given instructions for a reassessment of United States policy in the region, including our relations with Israel.
Within months, Israel succumbed and concluded an interim agreement on disengagement from the occupied Sinai, over which it had long been dragging its feet. President Jimmy Carter oversaw the Camp David process, which had Israel's first right-wing prime minister (Menachem Begin) returning every inch of occupied Egyptian land and removing all settlers and IDF forces from the Sinai. Even the Reagan administration, during its waning lame-duck days in December 1988, publicly announced the opening of substantive dialogue with PLO representatives. This at a time when Israel still refused to engage with the PLO. The George H.W. Bush administration famously withheld loan guarantees from the then-Shamir government over the settlements issue.
Against this backdrop, the PLO made its 1993 Oslo Accords gambit -- gaining limited self-government and lots of process and timetables, but little else by way of recognition of Palestinian rights. Almost 20 years later, it's now a lot more difficult to honestly entertain a belief in America's ability to midwife Palestinian freedom. Even post-9/11, with the Pentagon increasingly outspoken as to the U.S. national security interests at stake in securing Israel-Palestine peace (then-CENTCOM chief General David Petraeus testified on this to Congress), U.S. leadership on the issue is bringing little success. This applies to Democratic and Republican administrations alike, to enthusiastic embracers of the two-state solution as well as its more reserved adherents. When they are not preemptively blinking in the face of an Israeli leader's scowl, U.S. presidents have been unable to sustain a standoff with their largest Middle Eastern beneficiary.
In the meantime, the Palestinians are made to jump through hoops just to become eligible for partial rights, which should anyway be accorded to them by dint of international law. The story of U.S. mediation has now become: take a relationship between an occupying power and an occupied people and exacerbate that asymmetry. Congress guarantees that any U.S. administration is all but condemned to playing this role. And now the 112th Congress is taking this to a new level, attaching bells and whistles and neon flashing lights to the sign reading: "Palestinian freedom seekers -- do not look to the U.S. for help."
The latest cause célèbre for Congress is the hold being placed on aid to the Palestinians and the threat to altogether defund Palestinian assistance following the Palestinian initiative at the UN. In other words, punish the Palestinians for having the temerity to pursue a largely symbolic, diplomatic, and nonviolent alternative to stagnant negotiations. Ignoring for a moment the fact that much of that Palestinian aid budget anyway stays in the U.S. (being awarded to U.S. contractors and fulfilling oversight requirements) or that PA monies still may ultimately be disbursed -- the real eye-opener should be how this debate is being framed in Washington.
Almost all of the arguments for and against aid to the Palestinians are being made in relation to what best serves Israeli interests. OK, for some that reflects a realpolitik acknowledgment of how to get things done in Washington. It is still, though, rather instructive. The list of supporters for continuing PA aid includes names hardly belonging to a who's who of the "friends of Palestine" club. Elliott Abrams, for example, testified to Congress, "I would say the best response is not to zero out all aid to the PA. Some programs are very much in our interest and Israel's, such as the security programs". And the president of The Israel Project, Jennifer Lazlo-Mizrahi, recently said, "Security cooperation should continue no matter what." Palestinians following this debate might be (belatedly) drawing certain conclusions.
Not that this should be about the Palestinians volunteering themselves for penury or divesting themselves of precious diplomatic assets. America matters, but for any freedom struggle an accurate mapping of one's strategic strengths, weaknesses, opportunities, and threats matters more. Until further notice, the Palestinians can not rely on America (influential U.S. analyst Henry Siegman has called the Palestinians' UN move their own declaration of independence from the U.S.). If U.S. aid is cut or Israeli-collected tax revenues belonging to the PA are withheld, then either alternative funding sources will be found or paying for the occupation will become the responsibility of the occupying power -- namely, Israel.
The likelihood that popular mobilization against the occupation could gain strength will also be significantly enhanced, as will the prospect of Palestinians seeking international redress. In any case, the PA and its security organs must be asking themselves how to better serve Palestinian, as opposed to Israeli, needs. Without making light of the challenges all this would pose for the Palestinians, a popular nonviolent struggle would certainly present a far greater challenge to Israel and its continuing denial of Palestinian freedom. A first step to that would require acknowledging that the U.S. is not the friend of Palestine that it perhaps once had aspirations to be.
And for good measure, a final word of my own on Israeli (and Jewish) interests -- almost anything that is non-violent is worth considering if it can divert Israel from its current trajectory toward less democracy, less morality, and less security.