Can Today's Election Heal a Divided Kyrgyzstan?
The Central Asian country's recent struggles with deep regional and ethnic divisions will inform today's vote -- the first since last year's revolution -- and violence could follow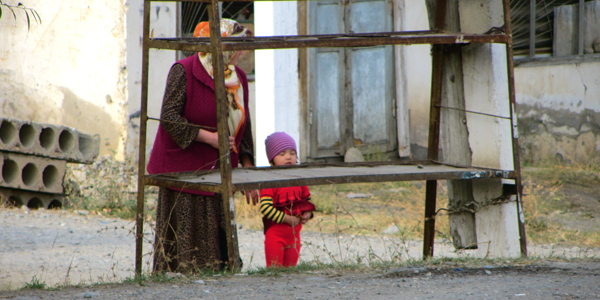 Old woman and her granddaughter wait for a bus, Osh, Kyrgyzstan / Joshua Foust
Today, Kyrgyzstan holds an election for President. It is a remarkable day for several reasons. As Central Asia's most democratic state, Kyrgyzstan actually holds competitive elections. Last April the previously elected government, led by Kurmanbek Bakiyev, had turned into such a comical farce the Kyrgyz took to the streets to remove him. It was similar to the 2005 Tulip Revolution, which overthrew the government of Askar Akaev and led to Bakiyev's rise.
Since last April, Kyrgyzstan has been run by Interim President Roza Otunbayeva, who has been active in Kyrgyz politics since the 1980s. While she was still merely the figurehead of the April Revolution, in May of 2010, Otunbayeva promised to hold elections at the end of this year. The timing was auspicious: May saw a series of violent riots in the southwestern city of Jalal-Abad, which supported ousted president Bakiyev and opposed the revolution. The announcement of elections was meant to calm the rioters.
Instead what happened was the riots escalated, getting so bad that Uzbekistan briefly deployed troops into Kyrgyzstan to try to calm things down. By June 3, the Uzbek troops withdrew, and by June 9, gangs of young Kyrgyz men were rampaging through the streets of Jalal-Abad and Osh. Over the course of 72 hours, they beat about 2,000 people to death, burned down thousands of businesses and homes, and pushed nearly 100,000 Uzbeks to flee the area.
In the 16 months or so since the pogrom -- the violence was so narrowly targeted at Uzbeks it's difficult to call it anything else -- the south of Kyrgyzstan has settled into an uneasy calm, marred by constant acts of harrassment by powerful Kyrgyz against Uzbek merchants, families, and homes.
I returned from a research trip to Osh this week, where I was trying to understand the economic effect of last year's riots. They were, in a word, devastating: thousands of Uzbeks remain out of work and unable to restart their businesses, thousands more are under virtual house arrest in their mahallahs, or neighborhoods, outside of town. The few Kyrgyz officials who would speak with me denied it was a problem, while the many Uzbeks I spoke with expressed hopelessness and a desire to either flee the area or start fighting back.
The situation in the south makes the election this weekend even more complicated than it would be if it were just an interim government handing over the reigns to a permanent government. Kyrgyz politics are more or less defined by a competition between North and South. The North is generally more pro-Russian, while the South is generally more nationalist (though that's an overly general summary). The front runner for President is current Prime Minister Almazbek Atambaev. He has very strong support among Uzbeks in the south, and many told me they'd be voting for him because of his promises to release Uzbek political prisoners. Of all the 20 or so people running for President, Atambaev has the best chance of forging a coalition between the Northern and Southern factions, however uneasy and tenuous: he was born just outside of Kyrgyzstan's capital, Bishkek, which is in the north of the country. As a northerner openly reaching out to some groups in the south, Atambaev might just be able to ratchet down tensions and prevent a future outbreak of violence.
Southern politicians might have other plans. While I was in Osh, I witnessed a political rally by the Lenin statue for Kamchybek Tashiev, a major figure in southern politics. The crowd held posters proclaiming "Kyrgyzstan for Kyrgyz" and "This is our land." Tashiev is the leader of the Ata Jurt, or Fatherland party. Interim President Otunbayeva founded Ata Jurt in 2004 in preparation for the 2005 election, which led to the rise of President Bakiyev after the Tulip Revolution. Tashiev is famous for being an ethnic nationalist and deeply divisive, and given the general attitude in Osh he just might be able to spark something.
Over the weekend, I asked a prominent Kyrgyz activist working on civil society issues in Bishkek what she thought of Atambaev's chances of overcoming men like Tashiev in forging some sort of national calm. "No one has the political capital to do much," she told me. "Dealing with the Uzbeks requires so much effort and time, the people here just won't devote much attention to it. They have to worry about making the government work, not the plight of an ethnicity few really care about."
Her eyes moistened as she was telling me this. It's been a long, frustrating struggle for her group -- Kyrgyzstan faces a lot of challenges before it can develop normal politics. They're not impossible challenges, but they are incredibly difficult and progress is slow.
There is a chance -- not a huge one, but a chance -- that Atambaev will win the Kyrgyz Presidential election this weekend and forge some sort of initial truce. He won't have much time to make real progress on the political front. The southern Kyrgyz are already making noise that they feel excluded from the political process, and the Uzbeks are running out of time and patience, trapped in their mahallahs and being driven deeper into poverty.
I have a hard time imagining a near-term future for Kyrgyzstan that doesn't involve more violence, but I really want to be wrong.