Alleged Iran Plot Would Be Latest in Clash of Spies and Assassinations
An Iranian plan to kill the Saudi ambassador to the U.S. comes after a wave of mysterious assassinations in Iran targeting suspected nuclear scientists there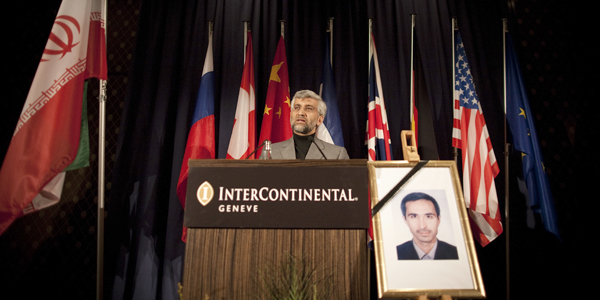 Iran's chief nuclear negotiator Saeed Jalili at a press conference in Geneva in front of a picture of Majid Shahriari, a prominent nuclear scientist killed in a bomb attack / Reuters
The indictment last week of two Iranian nationals suspected of planning a bomb attack against a Saudi diplomat, if true, would be just the latest in a number of mysterious assassinations in the ongoing intelligence activities between Iran and the outside world. The Washington plot has prompted the U.S. to announce its intentions to push the International Atomic Energy Agency to publish more explicit data on a possible Iranian nuclear weapons program in a report due out next month. A number of Iranian scientists suspected of being involved in the alleged nuclear weapons program have been killed under unusual circumstances, most recently this summer. Although the current evidence does not suggest that the Washington plot was linked to these assassinations, extrajudicial killings and the work of intelligence services infer their own story about, and are a product of, the current stand-off between Iran, the West, and Iran's rivals in the Middle East.
On 23 July 2011, Darioush Rezaeinejad was shot dead in Tehran, on his way to fetch his daughter from kindergarten, by two masked gunmen on motorcycles. Outside Iran, the most common interpretation was that Rezaienejad had been assassinated because of his work on a suspected covert Iranian nuclear weapons effort. Assassination attempts had been made on researchers connected to Iran's suspected covert nuclear weapons program before, but they had all been physicists. Rezaeinejad was different: he was young, pre-doctoral, and not a physicist.
Rezaienejad's death is part of a murky and difficult series of events that began in 2007. Much of the story is disputed and difficult to substantiate. In January of that year, Ardeshire Hassanpour, the 44-year-old founder of the Nuclear Technology Center of Isfahan, died in mysterious circumstances. According to Iranian media sources, he was killed by carbon monoxide poisoning from a faulty heater in his home. U.S. private intelligence company Stratfor received a tip that that Hassanpour had likely been assassinated by Israeli intelligence services because of his work at the uranium hexafluoride production facility at Isfahan. A French web site called Intelligence Online, however, contended that Hassanpour had been assassinated by Iranian security services because he was planning to flee abroad. Neither of these claims has been substantiated.
Three years later, a rash of assassination attempts occurred within the space of one year, in 2010. In January, Massoud Ali-Mohammadi, a physics lecturer at the University of Tehran, was killed when a bomb fastened to a motorcycle exploded outside his house as he left for work. Then, in November, nuclear engineer Majid Shahriari and his colleague Fereydoun Abassi-Davani were driving through Tehran when men on motorcycles attached explosives to the windows of their cars. Shahriari was killed, but Abbasi-Davani survived and was appointed by Mahmoud Ahmadinejad as the head of Iranian Atomic Energy Commission less than three months later.
This summer, an Iranian court sentenced a young Iranian man to death for the January murder of Ali-Mohammadi. The court alleged that the suspect, Majid Jamali Fashi, had been contracted by Israel's Mossad to kill five more Iranian scientists, but had been stopped before he could complete them. Like Hassanpour, the circumstances of Ali-Mohammadi's death are disputed. Newspapers reported that Ali-Mohammadi had signed a petition supporting opposition leader Mir-Hossein Mousavi and had urged his students to join street demonstrations.
Only Ardeshire Hassanpour is believed to have been targeted for involvement in uranium production and enrichment -- the process that produces fuel for either nuclear reactors or bombs. Based on the information available in open sources, the other four targeted scientists were not directly involved in making nuclear material. Shahriari and Abbasi-Davani conducted research in neutron transport and high-energy neutron sources and co-authored articles for academic journals. This research relates to the initiation of a nuclear chain reaction, used to start the nuclear power process or the explosion of a nuclear bomb. The Institute for Science and International Security has accused Abbasi-Davani, now responsible for heading the entire Iranian nuclear infrastructure, of participating in the Iranian nuclear weaponization program. The group says he was tasked with calculating the amount of nuclear material needed for a weapon. Rezaeinejad had technical expertise that would be useful later on in the production of a nuclear explosive.
If Iran is making clandestine push towards a nuclear warhead, production of uranium would be only the first step. A nuclear weapons program is a collaborative effort between physicists, electronics specialists, machinists, metallurgists, missile engineers, and other technicians. For all the global attention on Iran's uranium enrichment program, the real weaponization work that Iran would have to complete to obtain nuclear bombs extends far beyond enrichment.The pattern of Iranian scientists targeted for assassination suggests that foreign intelligence agencies, if they are indeed behind these strikes, have already set their sights beyond enrichment alone.
Two months before Darioush Rezaienejad's death, the International Atomic Energy Agency listed seven areas of concern regarding possible Iranian weaponization, only one of which was directly related to physics. The list noted that Iran might be manufacturing the core of a nuclear weapon and possibly designing a nuclear-compatible warhead, but the major focus of the IAEA list was explosives -- the manufacture of high explosives, detonators, and high voltage firing equipment used to test explosives. In a nuclear weapon, such conventional explosives are necessary to initiate a nuclear reaction. Shortly after his death, the Associated Press reported that Rezaeinejad had co-authored an academic article entitled, "Designing, Manufacturing and Testing a Closing Switch," presented at the Conference of Iranian Power Engineering in 2008. According to an unidentified expert interviewed by the AP, the abstract of the article suggested potential dual use application -- in other words, it could be used for peaceful purposes or for what the source called "an explosive application." An unidentified diplomatic official told the AP that Rezaeinejad had been targeted for his work on high voltage switches for a covert nuclear weaponization effort.
As Iran's nuclear program has progressed, Western intelligence agencies have broadened their interest beyond Iran's production of nuclear material.Western analysts are paying closer attention to research and experiments involving the type of work needed to physically engineer a nuclear weapon. This means -- as the death of Darioush Rezaeinejad suggests -- that the pool of potential targets for covert assassination could be broadening as well.
The recent revelation of an alleged plot to assassinate the Saudi ambassador to the U.S. has prompted the White House to announce a push for toughened sanctions, signaling the strengthening of a policy of containment towards Iran. As the U.S. pressures the IAEA to reveal further information about possible Iranian weaponization, information which is itself based on intelligence provided by member states, the IAEA will have to decide whether to do so at the risk of Iran refusing its inspectors entry in retaliation. At present, it appears that the IAEA may not have enough incontrovertible evidence of an Iranian nuclear weapons program to justify referring the case to the UN Security Council for sanctions. In either case, as long as the situation remains tense, intelligence agencies will remain important players in the interaction between Iran and its detractors.
Tehran is home to electronics departments at four different universities, in addition to academic research on electrical engineering and metallurgy. If the suspected Iranian nuclear push progresses, a whole new cohort of researchers and technicians will stand to play a prominent role in the program. There is much to speculate over, but one thing is sure -- an Iranian bomb doesn't even exist yet and it's already costing lives.