A German Idea to Break the Corporate Glass Ceiling: Gender Quotas
There's a serious debate in Germany over whether instituting legal quotas for women in upper management would help address gender inequality. But don't hold your breath for something similar in the U.S.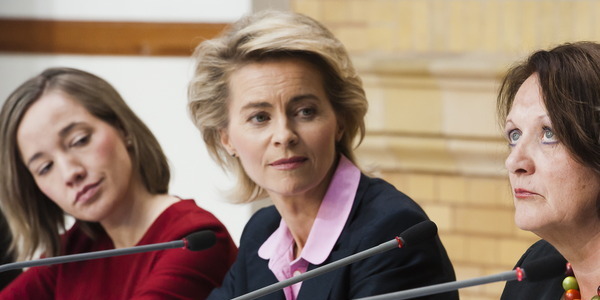 From left, Family Minister Kristina Shroeder, Labor Minister Ursula von der Leyen, and Justice Minister Sabine Leutheusser-Schnarrenberger at a press conference with representatives from the DAX companies on Monday, October 17 / AP
Last Monday, the 30 companies of Germany's blue-chip DAX stock index pledged to increase the proportion of women in management positions. That's news in itself. What's most interesting, however, is what didn't happen that day, and what some German politicians openly argue should have happened.
In the U.S., there's a lot of hemming and hawing about the scarcity of female managers on Wall Street. That's not to say there isn't some highly articulate reflection going on, the gold standard for which increasingly appears to be Sheryl Sandberg's TED talk.
Sandberg's key points are that there really is a problem, that it's not because of lack of female potential, and that women need to stop shooting themselves in the foot -- no more drawing back ten years early in anticipation of childbearing, for instance. Equally, though, she lists areas where we, as a society, need to improve. We need more equitable division of labor in the home, for example, if we want to see more equitable division of honors in the boardroom.
Most of Sandberg's musings, however, are cultural, and her calls to action are on an individual level. "I don't have the right answer. I don't even have it for myself," says Sandberg early on, noting that a mother's choices are personal and tricky. "My talk today is about what the messages are if you do want to stay in the workforce."
Right now in Germany, the talk has pole-vaulted over the personal and the cultural to the legal. What Labor Minister Ursula von der Leyen wants, and what she frankly seems pretty frustrated not yet to have gotten, going by her remarks to German television, are legally binding quotas.
It's a funny setup when, at the end of a the day, the Minister for Family and Women Kristina Schroeder is saying, "we're on the right path" -- read: "Nice work, folks, this is good for now" -- and the Labor Minister thinks the measures aren't even halfway there. It's a well-established divide between the two individuals, however: Der Spiegel's Kristen Allen notes the "conflict" is "played up by the German media as a catfight of sorts" -- a hell of a dicey term to come up on such a fundamentally feminist news story.
The fact is, though, that von der Leyen isn't the only one in favor of strict quotas. Though in the States such talk would instantly raise equal protection flags on its Constitutional legality, quota proposals are being taken quite seriously in the German media and policy debates. "I am completely convinced that it won't work without laws," von der Leyen told German network ZDF on Monday, also reported in the German papers. Der Spiegel notes that Social Democrat Andrea Nahles has also come out in favor of quota laws, while a "working draft" of what regulations might look like is said to be knocking around the Family Ministry. The topic's mere longevity tells you a lot: Chancellor Merkel was weighing in on Germany's lag in female leadership back in March, and one of the nation's top news programs, the Tagesschau, covered it, mentioning the possibility of legal quotas.
In the U.S., it's easy to look wistfully at this kind of public debate. It's worth remembering, of course, that part the greater German concern with this topic may be that Germany lags pretty far behind the world average when it comes to female representation in finance. Sheryl Sandberg's figure for the proportion of female corporate leaders worldwide was 15 or 16 percent in her TED speech. Among the German DAX companies, it's 3.7 percent.
It's not like the U.S. is doing all that well itself, however. Although the 2010 Catalyst Census found women holding 15.7 percent of board seats on Fortune 500 companies, in 2011, only 12 out of those 500 companies actually had female CEOs (and just look at the second name on that list: Yahoo's Carol Bartz, who has already been ousted).
It'd be pretty disturbing to have quota regulations discussed seriously in the States. What they really are is legally mandated gender discrimination: qualified men would be turned down because a certain number of jobs simply would have to go to women, qualified or not. For that same reason, the topic is pretty unlikely to come up, as the Supreme Court has already come down against racial quotas in university admissions. Sheryl Sandberg is also clearly right: a lot of this is cultural. That makes the problem hard to get at.
It's hard not to admire the fervor of the German debate, though. Just think of the policies we could get in place here with that kind of momentum. Better parental leave, anyone? Childcare programs? And isn't a debate that prominent exactly the right way to start addressing the underlying cultural trends?