A Foreign Correspondent's Gloomy Take on Iraq's Future
John F. Burns, one of the most respected journalists to cover the war, worries that bloody conflict and dictatorship is likely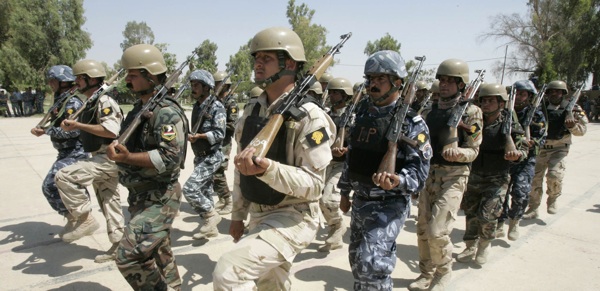 Once U.S. troops leave Iraq, the country is likely to come under the control of a strongman who seizes power, according to John F. Burns, one of the most respected and knowledgeable foreign correspondents to cover the war and occupation. Interviewed this week on Hugh Hewitt's radio show, he predicted that sometime in the near future, perhaps two years from now, perhaps five, a theretofore unknown military officer "will one day take control and knock heads together. And we'll just have to pray that it's not Saddam 2.0, that whoever it is, it's somebody who's a benign dictator, and not a brutalist, tyrannical murderer."
The Pulitzer Prize-winning New York Times reporter went on to say that there is the potential for a return to the civil war like conditions of 2006. "I think a lot of guns have been holstered, waiting for Americans to go. Everybody knew that they were going to go," he explained. "The fact that they're not going to leave a residual presence behind now, of 3,000 to 5,000 troops that the Iraqis had been talking to Washington about keeping, a sort of tripwire presence, it was certainly a question of time. Even they would have to come out, you know, 12 months, 24 months, 36 months down the road. So a lot of groups of ill intent have been waiting."
He felt less able to predict Iran's behavior.
"I mean, here's a country that had an eight year war with Iraq under Saddam Hussein. They lost a million men dead on the two sides of that war. All of a sudden, a situation develops where the Shiites take the reins, the political reins in Iraq for the first time in a thousand years. So Iran now has a Shiite-ruled, governed neighbor. Wouldn't you think that they would want to play a stabilizing role?," he said. "No, they didn't play a stabilizing role, because they wanted to frustrate the Great Satan, the United States. So that was always a puzzle. They always seemed to be spiting their own face. What they'll do now, who knows?"
If anything he is even more pessimistic about the endgame.
"I think that Americans have to brace themselves for the possibilities that the accomplishments that the United States will be leaving behind, which is a nascent constitutional system, may in time suffer the fate that, for example, the British did after their period in Iraq during and after the First World War," he warned. "The sands of Iraq will simply blow over them, and the American presence in history will amount to have accomplished, sadly, rather little."
The full interview is here -- let's hope Burns is wrong.


Image credit: Reuters