Will the Afghan Army Be Ready?
As U.S. troops draw down from Afghanistan, Afghan forces are supposed to take their place, but the training is slow going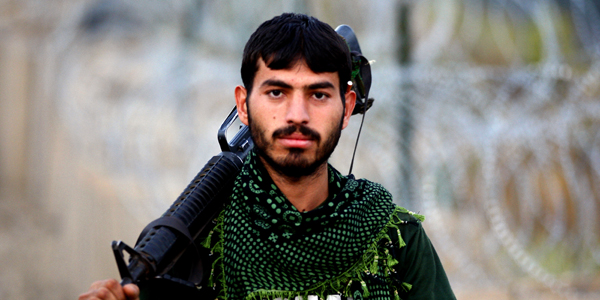 An Afghan National Army soldier carries his rifle in eastern Afghanistan Kunar province / Reuters
Nearly 10 years of training and billions of dollars spent and only two of the Afghan National Army battalions are currently able to operate 'independently' -- although they still rely on coalition partners for logistical, medical, and maintenance support.
The U.S. commander of NATO's training mission in Afghanistan, Lt. Gen. William Caldwell, defended the ability of the local security forces, in spite of recent high-profile attacks, including a 20-hour assault on the U.S. Embassy and NATO headquarters in Kabul earlier this month.
---
MORE FROM NATIONAL JOURNAL:
U.S. Military On the Ground in Libya
Libyan Mission To Rebuild Military
Libya's Frozen Assets
---
The Afghan security forces are "learning from each incident, and they're adapting," Caldwell told Pentagon reporters in a video briefing from Afghanistan on Monday. "They're getting better each and every time."
"This most recent attack [on September 13] was probably the most vivid example I saw in terms of how they handled that with a very deliberate, methodical approach ... to minimize civilian casualties," Caldwell said. "I was very impressed by their overall command and control. Did we still learn lessons from that? We sure did."
Even with this endorsement, Caldwell acknowledged that only two Afghan National Army battalions -- out of about 180 -- are operating independently, without coalition support.
He then clarified, "When I say 'independently,' I don't want to be misleading. It does not mean they have absolutely no coalition support," Caldwell said. "We keep saying that in 2014 ... when the Afghans take the lead for security here in Afghanistan, there will still be coalition enablers here. The same is true today for those two units that are 'operating independently.' "
The U.S.-led coalition has not yet developed the logistics, maintenance, or medical systems of the Afghan security forces, he said. "This is the year where we really start taking that on."
By next March, Caldwell said, an expected influx of an additional 800 trainers will help train the security forces in these "specialty" skills. "We've got two or three years now to fully get developed, get in place, partner with, so that they are much more able to operate without our support as we near 2014. But today we haven't developed their systems to enable them to do that yet."
There are about 124 other battalions that are operating effectively with what Caldwell called minimal coalition support. Others still need "tremendous amounts of coalition assistance," he said.
After 2014, some coalition forces will still be needed to provide "everything from intelligence support to air support," Caldwell said.
The U.S. exit strategy for Afghanistan depends on building Afghan army and police forces capable of battling the Taliban and holding areas of the country that NATO forces have cleared of militants. Since 2002, the U.S. and its allies have spent more than $27 billion to recruit and train Afghan security personnel, with about half of that money earmarked for rebuilding Afghanistan after decades of conflict; the coalition plans to spend billions more on the effort.
The U.S. is on track to meet its goal of growing Afghan's security forces to 352,000 personnel by November 2012. In the long term, the sustainable cost to train and equip a force that size is expected to cost about $6 billion a year in contributions from the U.S., the international community, and the Afghans themselves.
But Caldwell said he was optimistic this cost to maintain the force would be "significantly lower than that."
"We're assuming right now when we say that [$6 billion] number ... is with nothing changing from what it is today," he said. "We in fact do expect the level of insurgency to go down; we do in fact expect us to still find more efficiencies in how we do things and how we operate that can further cut the long-term costs."
Caldwell cited some examples: namely, the Afghan First initiative, in which the coalition has saved about $168 million a year by procuring its boots and uniforms and other products from local factories instead of shipping them into Afghanistan. Caldwell said he has been wearing a pair of Afghan-made boots for the past several months to ensure quality control.