Why Did Iran Announce It Will Release U.S. Hikers?
The promise could be yet another ploy to create false hope, or a diplomatic token in advance of next week's United Nations meeting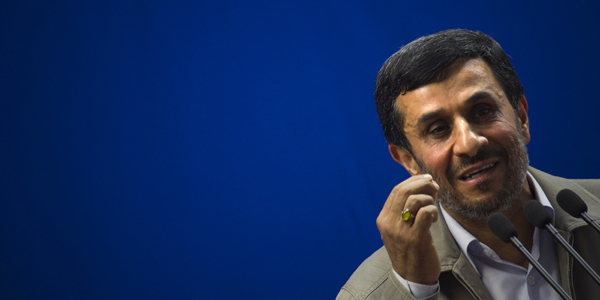 Iranian President Ahmadinejad / Reuters
Update, Wednesday 12:54 p.m. EST: Are the hikers once again on their way to release? NBC News reporter Ann Curry just tweeted that their lawyer says he is "making bail arrangements" now. This "bail" would be the $500,000 each that Iran is demanding for their release. The lawyer is Iranian Masoud Shafiei, who has publicly criticized his government's detention of the American pair. It's possible his announcement is a sign that the process is moving forward. It's also possible that he is simply hoping for the best, trying perhaps to coax the government closer to release by tempting them with the $1 million "bail."

In the two years and two months since Iran detained U.S. hikers Shane Bauer and Josh Fattal, no combination of international diplomacy, media coverage, or hunger striking, which the two young prisoners have made a regular response to mistreatment, had appeared to deter the regime from imprisoning the civilians on clearly false charges of espionage. If anything, it has seemed to delight in defying these entreaties for the hikers' release, scheduling and cancelling one "trial date" after another, occasionally hinting at their release only to slap down whatever hopes it had created. In August, Iran sentenced the two hikers to eight years in Tehran's notorious Evin prison. So why did President Mahmoud Ahmadinejad Tuesday tell NBC News, in a surprise announcement, that Iran would release Bauer and Fattal within two days?

The most pessimistic take is that the Iranian regime is once again raising false hopes so that it can crush them, a ritual of flaunting the U.S. and stirring up anti-American nationalism at home. But past such feints have typically come through intermediaries rather than Ahmadinejad himself. And the fact that he asked for U.S. $500,000 "bail" money for each -- the same Iran charged for the release of third hiker Sarah Shourd in 2010 -- is actually good news. If he merely wanted to raise false hopes, why ask for money at all, when simply promising their release on "humanitarian grounds" would better serve Iranian propaganda?

If Ahmadinejad's promise is legitimate, there are likely two sets of factors at play. The first is domestic politics: Ahmadinejad is increasingly isolated in Tehran, where his political battle with Supreme Leader Ali Khamanei has left him with few allies and a real risk of impeachment. The in-fighting among hardliners can be difficult to follow in detail, but it's possible that Ahmadinejad decided to release the hikers (or simply leaked the news of their planned release) as part of his maneuvering within the regime.

The second set of factors guiding this decision could be related to foreign policy. On Monday, Iran finally launched the long-delayed nuclear energy reactor at Bushehr, which is slumping along at 35 to 40 percent capacity. Iran is seeking to further develop its nuclear energy program (and possibly its enrichment toward an ability for weaponization), either of which will require navigating the increasingly complicated and hostile maze of international sanctions and diplomacy. But a recent report from the International Atomic Energy Agency on the Iranian nuclear program was surprisingly positive in tone, suggesting that Iran might be trying to bring its program more closely in line with international demands. A peaceful nuclear energy program, after all, would do much for the country's crumbling economy. So would escaping from underneath sanctions.

Taking Mahmoud Ahmadinejad at his word is always a risky proposition, but it could be noteworthy that he called Iran's "unilateral pardon" of the (innocent) hikers a "humanitarian gesture" to improve U.S.-Iran relations. "Is it going to solve the problems? I hope so," he told NBC News. Imprisoning and torturing civilians for two-plus years might not sound very humanitarian, but their release could be a play at garnering diplomatic goodwill. Ahmadinejad will next week travel to New York for the United Nations General Assembly, for which he has already begun what the New York Times called his "annual media blitz." If Iran hopes the visit will be a chance to scale down tensions over its nuclear program, releasing the hikers would be a logical -- if deeply cynical -- way to demonstrate its willingness to cooperate with the West.

Or maybe their planned release is the result of nothing more than back-room bureaucratic infighting, a chance for Iranian officials to move the two Americans around like chess pieces for some short-term game perceptible only to them. At least it will give Bauer and Fattal something to talk about on their flight home.

Update, Wednesday 7:24 a.m. EST: Iranian officials now say the hikers will remain imprisoned, The Guardian reports, in exactly the kind of sudden reversal their families likely feared. "The two Americans are going to stay in prison for a bit longer. Reports of their imminent release are wrong," state-run Press TV quoted an unnamed official as saying. The news comes as an embarrassment to Ahmadinejad, who had promised their release. The Iranian president has, in past months, been on the losing side of a growing rift within the regime in Tehran.