What's Ramadan Like in China?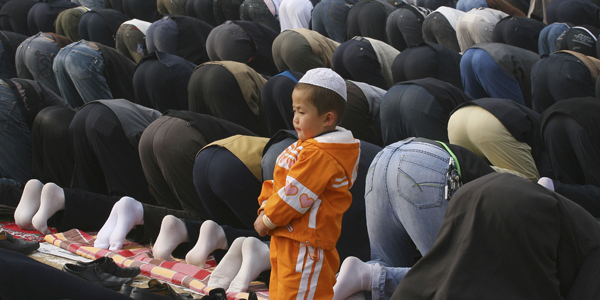 A boy watches as Muslims attend a 2008 prayer session at a mosque during Eid al-Fitr, which marks the end of the fasting month of Ramadan, in Lanzhou, Gansu province / Reuters
It's hard, if this report in The Hindu newspaper is any indication. China may be home to an estimated 21 million Muslims -- more than Syria, and just 3 million fewer than Saudi Arabia -- but the largely secular state is not always a welcoming place for believers. The ethnic minorities that make up much of the Chinese Muslim population -- Uighurs, particularly -- have also had their challenges. As the month of daily fasting winds down, here's what The Hindu's Ananth Krishnan found in Xinjiang province, home of many Chinese Uighur Muslims.
Kashgar, an ancient town in southern Xinjiang's heartland, came to a standstill this week as thousands of native Uighurs, a Turkic ethnic group that is the region's biggest, observed Ramadan along with Kirgiz, Kazakh and Hui Muslims, other minortiy groups among China's 55.

"For every Uighur, Ramadan is the most important time of the year," said Ms. Umer (76). "I have been fasting since I was very young, because my parents told me if we do this every day during the holy month, we will go to heaven."

This year, however, festivities have been muted in Kashgar, a town reeling from violence that left at least 20 people killed in two separate attacks in recent weeks.
There are largely no religious restrictions in today's Xinjiang for ordinary Uighurs, contrasting with the 1960s and 1970s, when mosques here were targeted during the Communist Party's Cultural Revolution.

However, those who work for the government or State-owned companies are discouraged from fasting, wearing traditional caps or growing beards, locals said in interviews.
Read the whole thing at The Hindu.