Wandering the Ancient Streets of Andalusia in Southern Spain
The Andalusian city of Cordoba reminds visitors that cultivating enjoyment of everyday pleasures has a lot to do with living right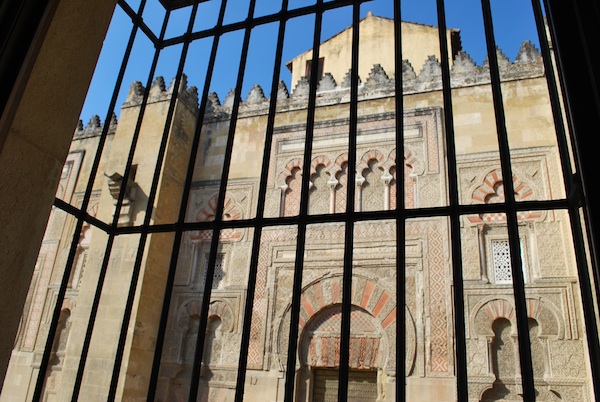 On arriving at Hotel Conquistador, where the curtains of red and gold are thick enough to block out the afternoon sun, I discovered, upon throwing open my windows, that my room looked directly out on the most famous landmark in the small Andalusian city of Cordoba, Spain. It appeared from my vantage to be a massive city wall, punctuated by ornate arches of mud red and tan.
The history of La Mezquita is that of Spain. On its site, a pagan temple originally stood, then the Christian Church of San Vicente, but it was knocked down after the Moorish invasion. Parts of the church walls were used to construct a grand mosque in the year 785. A couple of centuries later, when Cordoba was capital of the Western world, La Mezquita boasted of its current splendor: a gorgeous interior of red stone and white marble arches; an expansive courtyard of orange trees interspersed with lovely tiled fountains. Little wonder that when Cordoba was captured by King Ferdinand during the Reconquista in 1236, the mosque was preserved.The Spanish simply converted it into a Catholic Church, adorning it with the proper accoutrements.
So it remains. On Saturday, for example, a Catholic wedding party of formally dressed celebrants exited the church, briefly congregated for photographs in the courtyard, and paraded through an arch in an exterior wall, emerging on a side street. All circled around the bride and groom. A man with a guitar started strumming, the assembled sang a traditional song, and the newlyweds began to dance Sevillanas, a beloved folk dance of tight passes conducted, on this occasion, amid confetti poppers thrown by the crowd and cheers from Cordoban passersby.
I visited the city to pay homage.

After flying into Madrid, I went from the airport to the Metro to the Atoche Renfe train station, never once stepping above ground, because I wanted our first taste of Spain -- I am traveling with my girlfriend, who has never been here -- to be quintessentially Spanish. Far more than the nation's capital, Andalusia gives me that feeling. I've lived twice in Seville, as fine a city as there is in the world. And however eager I am to return it is worthwhile to pause in Cordoba en route -- for the Roman bridge spanning the Guadalquivir river, the apartment balconies brimming with flowers, the small plazas, and the salmorejo, the local answer to gazpacho, among other things.
On this visit, many windows in the city have blue banners proclaiming that, come 2016, Cordoba should be recognized as a European Capital of Culture, a designation bestowed by the E.U. after various cities compete to prove that they best "highlight the richness and diversity of European cultures." I am rooting for Cordoba, but not because of La Mezquita, or the gardens that surround the palace where royalty stayed when visiting the city, or the olive oil museum.
In fact, if your visit is short, I recommend skipping right past the "sights" section in the guidebook: better to take a cab from the train station to the labyrinthine streets of the old Jewish quarter and just start walking around.
That's what we did Saturday.
We arrived on the speed train, climbed into a cab, and before the driver said two words I knew I was back in Andalusia.
A gray haired man in late middle age, he asked where we were from, and when I said Los Angeles he responded, as so many Spaniards do, by asking about the Lakers' Paul Gasol, the most famous Spanish-born basketball player and a national hero. What's important for our purposes is the kindly enthusiasm with which he expressed himself as he asked us about Magic Johnson and Michael Jordan, and showed us he was talking about Pat Riley by miming slicked back hair and a neck tie. My girlfriend and I have been reading Iberia by James Michener to one another, and one of the words that he says is essential to understanding Spain is gracia:
This is a lovely word, which my Spanish friends use a good deal and which for a long time I was unable to understand. 'Does it mean grace?' I asked. That and much more. "Is it a sense of humor?" Without one you could not have gracia, but it would have to be a very gentle sense of humor, one that smiled quietly at the inanities of the world. "Sometimes you use the word as if it meant good judgment or breeding." It includes all of that and much more....

There is much in Spain that has gracia which cannot be found elsewhere.
Our driver had gracia, and I was grateful but unsurprised that our first encounter with a Cordoban gave us a real world example of that quality. "That's what I was talking about!" I told Courtney, a statement I'm afraid I keep repeating, for I have such affection for Andalusia. I've craved being back here ever since I last left, and often as I've talked about it, I am even more eager to share it. Visitors to this region are reminded that cultivating enjoyment for everyday pleasures has a lot to do with living life right.
Surely that is a feature of European culture that the E.U. should highlight. And Cordoba is brimming with it. Even in our brief visit, the city streets we walked and the scenes we encountered reinforced the lesson.
Perhaps photographs will help show how.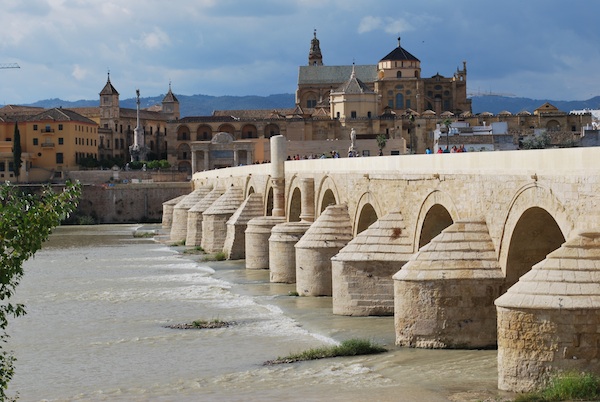 That's the city center scene from across the river -- as good a way as any to get oriented. Now into the heart of the old city.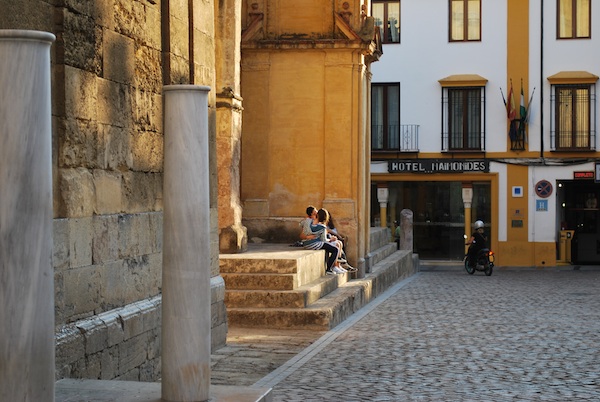 Here Spanish youths kiss on the steps of La Mezquita. Later in the evening, it's typical to find a small group of friends drinking beer or wine on the same spot.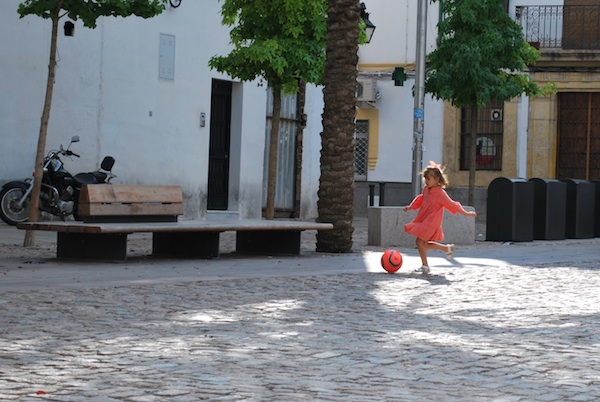 While sipping tinto de veranos at the outdoor tables of the tapas bar at the edge of this plaza, we watched this little girl kick a soccer ball. Later some playmates joined her, sometimes using the door of the nearby church as a backboard.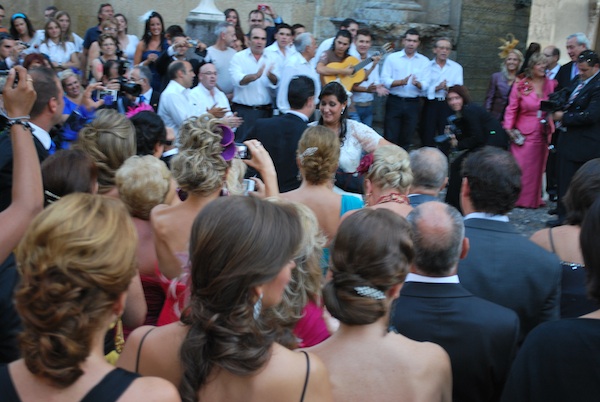 The shot I got of the aforementioned wedding is regrettably blurry, but still captures the moment.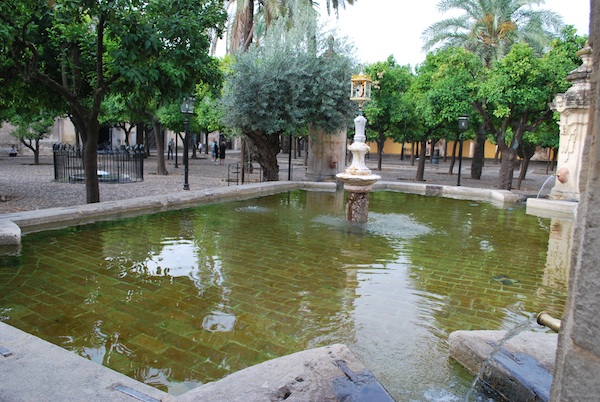 This fountain is in the courtyard near La Mezquita.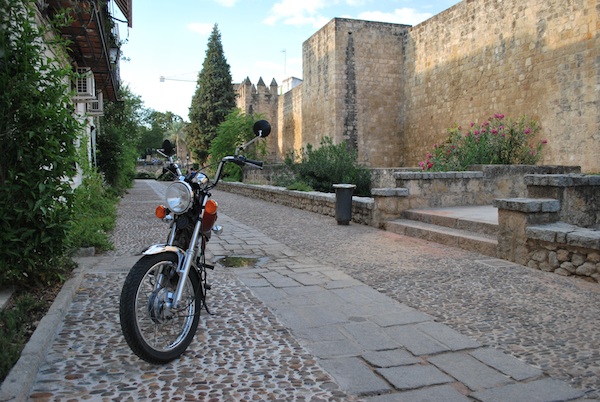 The motorcycle is parked in front of an apartment right outside the old city walls. And there is, of course, much more to the city -- I've avoided all the images you'd find on a postcard, as well as the pleasant sections built this century.
My preferred approach to traveling is always to walk, eat, and drink far more than frequenting any place that requires an admissions fee or offers an audio tour. In Spain, I've come closest to finding the country that matches what I like to see in a city. In Cordoba, as in Seville, there are lovely streets for walking, more tapas bars than one can count, and time enough for a siesta in the afternoon.
What else does one need?
Images: Conor Friedersdorf.