The Wingsuit Flying Man Made It
As mentioned last night, Jeb Corliss, the renowned wingsuit pilot, was scheduled to fly today through an also-renowned mountain gap in central China.
It was carried live on Chinese TV, and you can see the English version here, with the actual flight beginning at about time 1:45. The narration contains a number of stumpers. ("This is his second attempt, and this one is successful." Well -- what about that other one???) But the pictures tell the story.
Here's a screen grab as he shoots the gap. Corliss is the object with the silhouette of a flying squirrel.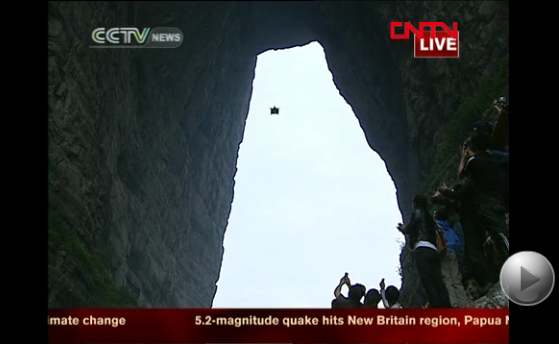 If you'd like to see a Chinese language backgrounder on the jump, it's here. If you check it out, you'll also get a look at the aesthetics of Chinese web design and see a pre-roll ad for fast food, modern Chinese style.
Congrats to Jeb Corliss and his team.