President Saleh Returns to Yemen, Defying Protesters and the U.S.
After months in Saudi Arabia, the Yemeni leader flew back to Sana'a and called for a cease-fire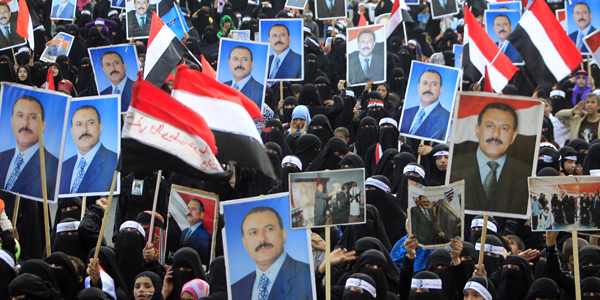 Protesters with posters of President Ali Abdullah Saleh / Reuters
Yemen's President Ali Abdullah Saleh unexpectedly returned to his country on Friday after spending months in Saudi Arabia recovering from an attempt on his life. He appears to be clinging to power despite a mass uprising and calls from the U.S. and allies for him to step down.
In his first statement since his return, Saleh called for a cease-fire, maintaining that the crisis in Yemen will only be resolved through negotiations, according to the Associated Press.
Saleh has promised to resign on several occassions, only to ultimately change his mind. He has backed out of signing an agreement brokered by Gulf states at least three times since April. It is unclear how his return -- which was marked by gunfire and explosions, according to Reuters -- will affect those talks. With more than 100 people killed just this week, violence is expected to escalate with Saleh back in the country.
---
MORE FROM NATIONAL JOURNAL:
U.S. Military On the Ground in Libya
Libyan Mission To Rebuild Military
Libya's Frozen Assets
---
"The protesters will be very angry, we thought he was done. ... We're going to see big crowds today on both sides," one protester told Reuters. "I'm actually glad he's back -- better that we have the regime here to topple."
The U.S., concerned over the escalating chaos in Yemen, has tried to persuade Saleh to stay in Saudi Arabia. White House counterterrorism chief John Brennan travelled there in July to meet with the wounded leader and called on him to transfer power. Saleh, who was in critical condition after a strike on his compound, underwent several surgeries; U.S. officials had hoped that his extended absence would kick-start the transfer of power.
President Obama, during his speech to the United Nations on Wednesday, reiterated the call. "We must work with Yemen's neighbors and our partners around the world to seek a path that allows for a peaceful transition of power from President Saleh, and a movement to free and fair elections as soon as possible."
Saleh has been an ally in battling al-Qaida, quietly allowing U.S. drone operations inside Yemen targeting the terrorist network's operatives who have found shelter in pockets of the southern part of the country. During the eight months of violence and protests in Yemen, U.S. officials had been concerned that al-Qaida in the Arabian Peninsula would have more latitude to plot attacks, and have acknowledged that the militants had in fact been able to make some tactical gains in the tribal areas.
Qaida-linked militants have managed to gain control of three towns in the southern Abyan province since May, including its capital, Zinjibar. While Yemen's army has regained control over parts of Zinjibar, violent clashes continue, and the conflicts have displaced more than 100,000 Yemenis, Agence-France Presse reported.
Earlier this summer, the State Department's counterterrorism director suggested the U.S. could maintain a strong relationship with whomever eventually succeeds Saleh. "It's important to underscore that our counterterrorism relationship goes beyond one individual,"
Daniel Benjamin said in July. "Based on our conversations with a broad cross-section of Yemenis, we are confident that it will continue once a political resolution is achieved."