On Iran's Nuclear Program, Science Contradicts Rhetoric
New data on the controversial program suggests it to be far milder than either Tehran or Washington portrays it to be
New data on the controversial program suggests it to be far milder than either Tehran or Washington portrays it to be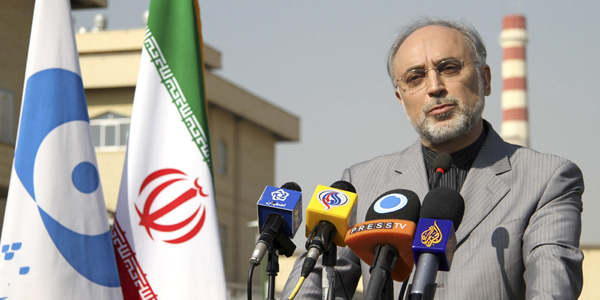 Ali-Akbar Salegi, then Iranian Atomic Energy Chief and now Foreign Minister, speaks at a December 2010 ceremony to take delivery of locally produced yellowcake, a uranium concentrate powder, at a plant in Isfahan / Reuters
September is a big month for Iran. President Mahmoud Ahmadinejad will travel to the UN General Assembly meeting next week, Iran finally launched its long-delayed nuclear plant at Bushehr this week, and on September 2 the International Atomic Energy Agency, the UN's nuclear watchdog agency, published their quarterly report on the Iranian nuclear program. The latest report has fueled the usual rhetoric from Tehran and Washington, with each side interpreting it to suit their political agendas. But Iran's boasting and U.S. hardline rhetoric both appear out of step with the actual status of Iran's nuclear program,
Describing the report as "a positive step forward," Ali Asghar Soltanieh, Iran's ambassador to the International Atomic Energy Agency, portrayed it as a testament to the peaceful nature of Iran's nuclear program. He boasted that the document demonstrated Iran's transparency and its atomic advances. In Washington, the report has fanned fears about Iran's nuclear intentions. Sections on the possible military dimension of the program and Iran's refusal to suspend uranium enrichment activities have caused particular alarm.
Once again, the UN nuclear watchdog agency has provided ammunition for those who aim to either demonize or lionize Iran and its controversial nuclear program. But the reality is more nuanced.
On the positive side, Iran has improved its cooperation with the IAEA, shifting policy from near-total opacity to something more like translucency. In an important reversal, Tehran has provided some clarifications about its formerly clandestine enrichment facility in Fordow, near the city of Qom. For the first time in six years, Iran opened the gates of its heavy-water production plant to an IAEA delegation led by Herman Nackaerts, the deputy head of the agency's Safeguards Department. The team was granted unprecedented access to tour the still-under-construction heavy water reactor in Arak and received extensive information on the country's centrifuge manufacturing and research facilities.
The bad news is that Iran is now using more advanced uranium enrichment capabilities. UN inspectors say that Iran has deployed 136 of its new IR-2m centrifuges (which might have up to triple the enrichment capacity than the antiquated IR-1 centrifuges) in Natanz and has commenced feeding 54 of them with uranium hexafluoride, the gas needed for enrichment plants. Iran has also installed 27 even more sophisticated IR-4 centrifuges but has not fed them with nuclear material yet. The Fordow facility, hardened against air attack, is also being equipped with IR-1 cascades to produce 20 percent enriched uranium, which is the dividing line between the lower enriched uranium used for energy and the more highly enriched uranium that could be used for weapons. Stockpiling 20 percent enriched uranium could significantly shorten the time it would take Iran to breakout to weapons-grade uranium, which is much more highly enriched.
For all this information, there's still much Iran refuses to do or to share with outside inspectors. Iran still ignores UN Security Council resolutions demanding it cease its nuclear fuel cycle activities, fails to provide the requested information about its additional enrichment plants, and reveals nothing about its laser enrichment technology.
But how much cause for concern is there really in the report? Despite its public boastful rhetoric, Iran still seems to be struggling with operating its centrifuges. The pace of Iranian uranium refinement has not increased since the last report in May. In fact, the declining performance of IR-1 machines, which bear the brunt of Iran's enrichment program, reveals just how slowly progress is coming for Iran. Five years after Ahmadinejad promised to deploy a new generation of indigenous centrifuges, Iran has yet to set up a complete cascade of the new devices.
For all Ahmadinejad's boasting, Iran's sole nuclear reactor in Bushehr had to be shut down in August for technical reasons, a detail that surfaced in the IAEA report. Dogged by 11 years of delay, the Russian-made reactor was supposed to come online the last week of August, during the end of Ramadan celebrations. Although it was connected to the grid at low power on September 3rd, the reactor missed its inauguration date without any explanation, only going online on Monday, operating at 40 percent capacity. Meanwhile, though the country still lacks a plant for manufacturing nuclear fuel rods, Iran brags about its supposed plans to triple its 20 percent uranium enrichment and to fabricate fuel for the Tehran research reactor.
Tehran's exaggerated nuclear bluster plays into the hands of Washington hawks who play up the Iranian threat. This American drum-beating in turn puts Iran on the defensive, increasing domestic Iranian support for nuclear development. Hence, the vicious cycle continues and the international diplomatic impasse over Iran's program persists. The maximalist policies of both sides, from Iran's zero-compromise fundamentalism to America's zero-enrichment dogmatism, have created a serious dilemma. But the actual science of Iran's nuclear program, as revealed by this latest IAEA report, looks far milder than what either side is portraying.