Oman Foots $1 Million Bail to Free U.S. Hikers
Negotiations handled through Swiss diplomats occur the day before Ahmadinejad is scheduled to address the U.N. General Assembly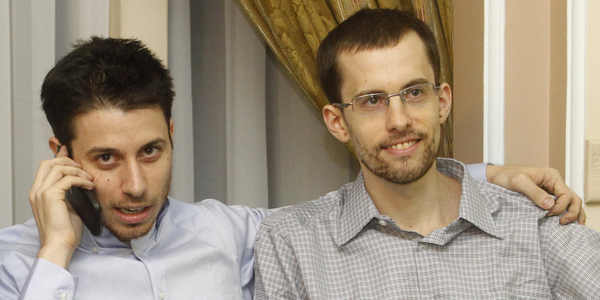 American hikers Shane Bauer and Josh Fattal sit in Tehran's Mehrabad airport
Two American hikers who had been jailed in Iran for over two years were released on Wednesday after the sultan of Oman paid their $1 million bail. Sultan Qaboos bin Said also paid for the release of a third American hiker, Sarah Shourd, last year, the Associated Press reported.
The United States has no diplomatic relationship with Iran. This means that negotiations for the hikers' release have been handled by Swiss diplomats, who act as a channel of communication between the U.S. and Iran, with help from Omani and Iraqi diplomats and the hikers' attorney in Iran, Masoud Shafiei, who has been representing the three Americans in court.
The hikers were arrested in 2009, and had been sentenced to eight years in jail on suspicion of espionage and illegally crossing Iran's borders.
Shafiei told Agence France-Presse on Wednesday that the Omani government had posted the bail for the three hikers, a comment that was confirmed by National Journal sources. A State Department official would only confirm that the United States government "didn't pay anything."
Neither Swiss nor State Department officials would comment on whether the United States had asked the Omani government to intervene, or what the sultan hopes to receive in return for his generosity. Oman enjoys a strong relationship with both the United States and its gulf state neighbor.
Josh Fattal and Shane Bauer left the Tehran prison where they had been held and traveled in an Omani jet to Muscat, the Omani capital city. Disembarking in Muscat, they ran into the arms of their families waiting on the tarmac.
Iranian president Mahmoud Ahmadinejad told NBC News last week that the hikers would be released as a "humanitarian gesture." The gesture will come the day before Ahmadinejad is scheduled to address the United Nations General Assembly.
"We are deeply grateful to His Majesty Sultan Qaboos bin Said of Oman, Iraqi President Jalal Talabani, the Swiss government, and to all our partners and allies around the world who have worked steadfastly over the past two years to secure the release of Shane and Josh," President Obama said in a statement on the hikers' release.