Iran and the Bahrain Opposition
Separating out the legitimate protest movement from the Iranian fronts who damage their cause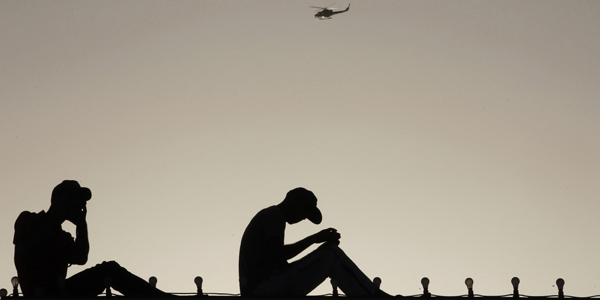 Bahraini Shi'ites take pictures on the roof top of a building as a helicopter belonging to Bahrain's Ministry of Interior monitors the area during an anti-government rally / Reuters
Defenders of the royal family in Bahrain and its suppression of protests calling for greater democracy often claim that the protests are in fact Iranian-inspired and even Iranian-run. Needless to say, the leaders of the various protest movements deny this angrily.
---

MORE FROM THE COUNCIL ON FOREIGN RELATIONS:
How Will Assad Fall?
Qatar and Bahrain
How Brave is Qatar?
Whose Brilliant Idea Was That UN Vote?
I have tended to view these Bahraini government claims as unreliable and probably false, for it is too easy simply to paint the (mostly Shia) opposition as unpatriotic and tied to the Iranian regime. But now there is evidence that in at least one case, the accusations are correct. The Evening Standard newspaper in London revealed this week that the "Bahraini Freedom Movement" in London appears to be an Iranian front organization.
The article states that:
Saeed Shehabi, 56, runs the London-based Bahrain Freedom Movement, which seeks to topple the King of Bahrain's dictatorship. But today it can be revealed that Dr Shehabi has made speeches supporting Iranian hardliners, and worked for 13 years in offices owned by the government of Iran....A Standard investigation found that the offices near Old Street where Dr Shehabi worked for 13 years are owned by the "Government of the Islamic Republic of Iran". When he started working there in the Nineties it was owned by Proudrose Ltd. Records show Proudrose's mortgage was lent by the Iranian government and one of its directors, Dr Ali Helmi, is the cultural attaché at the Iranian Embassy in London.
These facts, and others noted by the Standard, suggest that Shehabi is no human rights activist nor a genuine proponent of democracy in Bahrain. They do not, of course, discredit the Bahraini opposition nor do they justify the ways in which it has been repressed--sometimes brutally--by the government. But they are a reminder that Iran is indeed mucking around in Bahraini politics and that Bahrain has a legitimate interest in preventing this. Moreover, they should elicit strong denunciations from every genuine human rights organization in Bahrain, for Shehabi has damaged the cause.
This article originally appeared at CFR.org