In Africa, an Election Reveals Skepticism of Chinese Involvement
Zambians have voted out president seen as closely aligned with China, which has sent thousands of workers and managers here and to other Sub-Saharan countries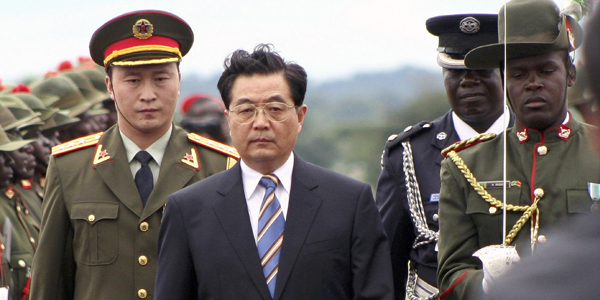 Chinese President Hu Jintao inspects a Zambian guard of honour on arrival at Lusaka International Airport in Zambia / Reuters
On the eve of Zambia's presidential elections last week, one of the most common tropes about the vote was to describe it as a referendum on China. For a long time now, Zambia has been at the leading edge of China's drive to expand its relations with the continent. Chinese have migrated to Zambia by the thousands, setting themselves up in mining, farming, commerce and small industry.
Although China is a latecomer to Zambia's decades-old copper industry, it has quickly established itself as an ambitious rival to "traditional" mining partners like Australia and South Africa. As almost everywhere in Africa these days, Chinese contractors are building highways, dams, and other large infrastructure projects. Zambia even boasts two Chinese-built special economic zones, and has recently allowed banking in the Chinese renminbi instead of the kwacha, dollar, or euro to facilitate trade with China.
But these are not the only developments that have set Zambia apart, or at least placed it ahead of the pack in terms of observable trends in its relations with China. Zambia was one of the first African countries where the role of China and of Chinese people in the country became an explicit and potent political issue. During the campaigning for elections in 2006 and 2008, the now-newly elected leader, Michael Sata, made a sport of baiting China, calling its businesspeople in the country "profiteers," not investors, and denouncing Chinese for "bringing in their own people to push wheelbarrows instead of hiring local people."
"Zambia has become a province of China," Sata thundered in one campaign rally back then. "The Chinese are the most unpopular people in the country because no one trusts them. The Chinaman is coming just to invade and exploit Africa."
Anti-Chinese sentiment was further fueled by violence against workers at Chinese-owned copper mines. In 2006, at one mine, Chinese managers opened fire on workers protesting over back pay and working conditions, injuring several employees. A year earlier, 50 Zambians had been killed at the same mine by an accidental blast at the company's explosives plant. In 2010, at another mine, two Chinese managers were charged with attempted murder after opening fire on a group of employees protesting poor working conditions. Earlier this year, before the election season got underway, the case against the Chinese was quietly dropped, feeding resentment in some circles about China's fast-growing political influence.
The widely employed line about the elections being a referendum on China can only be fully appreciated by spending time, as I did, in Zambia in the weeks prior to the election. China's presence is felt almost everywhere in the country nowadays, from the big Bank of China billboard ads that welcome visitors in Chinese and are among the first sights that any passenger arriving at the Lusaka airport sees, to the city's markets, streets, and shopping malls, where Chinese who were all but invisible just a few years ago now abound. The most politically significant aspect of this presence, though, is the high-profile projects that China rushed to complete in time for the election. These include the newly delivered and fully equipped 159-bed Lusaka General Hospital, and a striking 40,000 seat stadium in Ndola.
During my recent visit, the merits of the hospital were touted in exhausting detail every evening one week on national television, and the stadium has received similarly lavish attention. During a wide-ranging conversation with China's highly articulate ambassador, Zhou Yuxiao, a veteran of several African postings, he spoke proudly of these contributions to Zambia's developments, calling the hospital a "grant".
"Among all nations, I think China is doing the best at getting resources from countries and putting back into those countries," Zhou told me. "Can you find any other country that is doing better?" Several minutes later, when I asked the ambassador what the Americans had contributed to Zambia, he marked a long pause and then fairly sneered, "You employ local people and put them as observers at each and every polling station. What else? I haven't seen any roads being built by them, any schools, any hospitals that really touch people, that can last, that can serve society for long. Maybe training election people is your biggest contribution."
Never mind the lack of information reflected in these comments. The United States (like other Western countries) has funded a large variety of infrastructure projects in Zambia, and will spend over $400 million in foreign assistance there this year alone.  At the level of impacting lives, as I later told Ambassador Zhou, the United States was funding daily retroviral treatment for over 300,000 Zambians, effectively warding off premature death from AIDS.
What struck me most about his remarks was the infusion of a kind of creeping hubris that I've seen on numerous stops in my research among Chinese diplomats and business executives. It allowed Zhou little space to consider Zambian perceptions of his country or of their own needs. According to this mindset, whatever China does in Africa by definition falls under the catchall rhetorical rubric of "win-win." An executive at South Africa's Standard Bank who specializes in Africa sounded similar notes a couple of weeks later over dinner in Johannesburg. Since 2007, Standard Bank has been 20 percent owned by the Industrial and Commercial Bank of China. "The Western press doesn't just get it," he fairly lectured me over dinner one night. "Zambians are doing much better than they were just a few years ago, and that's mostly down to China."
Too often, thinking on China and Africa blindly obeys an ideological divide in which the author's biases are neither concealed nor inspected. China is either the new imperial power preparing to ravage a helpless continent (and snatch it from the West), or China is a benign and misunderstood giant, a transformative actor, and by that one should read for the good. Reality is much more complex than the bashers or the boosters realize, or at least admit to themselves. But the Zambian elections should particularly give the latter contingent pause. Zambians, too, have been told that China is good for them, notably by their leaders of most of the last decade, and the least one can say in the wake of their vote is that they haven't been altogether persuaded.
Some of the reasons why are obvious, and were repeated to me over and over by Zambians in every walk of life. These range from widespread perceptions of Chinese corruption -- both in dealing with political leaders and in more routine bureaucratic matters -- to the lack of respect for labor laws and the poor working conditions in Chinese industrial ventures.
But if Zambia is a leading edge in any meaningful sense, the implications of last week's elections there may go beyond issues like these, however important, raising broader questions about the entire Chinese approach to the continent. As a strategy for building business for Chinese firms and for strengthening ties with incumbent leaders, it is an undoubted success. But judged according to the Dale Carnegie standard of how to win friends and influence people, the Chinese razzle-dazzle of big, symbolic, high profile projects, from stadiums to central hospitals, to new state houses and foreign ministries, to airports, all often pegged nowadays to electoral timetables, is proving to have sharply limited returns.
In the end, Ambassador Zhou's own formula isn't a bad one. How does one make a lasting difference, touch people and serve society? In Zambia and perhaps elsewhere in Africa, China may have to rethink questions like these.