Former Al Jazeera Head on Quitting, the Arab Spring, and Qatar's Role
Wadah Khanfar's sudden resignation last week could mean a new course for the channel he led and its role in the world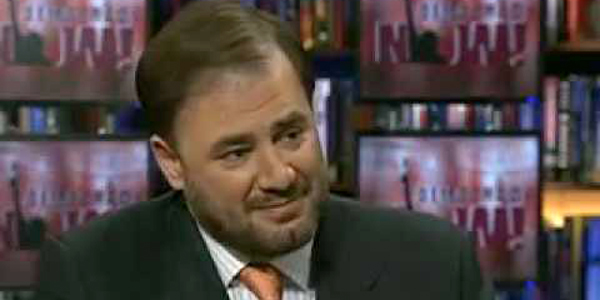 Former Al Jazeera Director-General Wadah Khanfar / YouTube
DOHA, Qatar -- It's been a rough week for Wadah Khanfar, but you wouldn't know it to see him.
Earlier this week when I caught up with the former chief of the sprawling, pan-Arab Al Jazeera news network, who abruptly resigned last Tuesday under unclear circumstances, he was slumped happily into a sofa in a glittering Sheraton suite, his hair still wet from a dip in the hotel pool.
Khanfar's resignation came just days after the release of a Wikileaks cable suggesting he'd bowed to pressure from U.S. officials in 2005 to change Al Jazeera's coverage of the Iraq war. The timing of his departure brought intense scrutiny onto Khanfar, whose direction of Al Jazeera's early and aggressive coverage of the uprisings in Tunisia and Egypt is often credited for contributing to the course of the Arab Spring.
The choice of Khanfar's successor didn't help matters. Sheik Ahmad bin Jasem bin Muhammad Al-Thani, a member of the Qatari royal family, has no experience in media, and his appointment reinvigorated long-time accusations that Al Jazeera is, or will become, merely a foreign policy tool of Qatar. This tiny, energy-rich nation hosts and funds the network, and its turbaned royals dominate the board of directors, which "is the ultimate decision making entity in the Al Jazeera network," Khanfar told me.

Critics of Al Jazeera accuse the network of aggressively covering the unrest in Syria and Libya, while all but ignoring the protests in Bahrain, Qatar's small neighbor in the gulf, which Qatar's ruling elite has an interest in seeing remain stable. Last month, Al Jazeera produced a lengthy, in-depth documentary on the events in Bahrain, but abruptly pulled it from schedules after its first airing.*
When I asked Khanfar why he resigned when he did, he responded, "The Wikileaks report has nothing to do with my resignation." He had discussed his departure with the chairman of Al Jazeera's board of directors a month earlier; the timing of his actual stepping down was merely coincidental, he said.
"These last eight years were not easy for me. It was very intense, a very condensed time," he said. "I put my vision, my whole self into Al Jazeera. My whole life was Al Jazeera, my whole life! What is much better is leaving in a predetermined time, so eight years was a I figure I thought, after that, I am afraid I will not do justice to Al Jazeera."
Khanfar's "main battle" as Al Jazeera's top chief for eight years, throughout the course of four wars in the Arab world and the ongoing Arab Spring, was to keep the news room "independent from the Americans, from the Arab governments, and from any other governments," he said.
"We do not listen to pressure from any government ever, even when they are pressurizing our bureaus, arresting our correspondents, even destroying our bureaus in Kabul and in Baghdad, even threatening to bomb our AJ headquarters in Doha like George Bush did. All that really happened!" he said, laughing. "My main battle this whole eight years was to keep the independence of Al Jazeera from the Americans and from the Arab governments and from any other governments involved. My job was to keep them far away."
Khanfar, in discussing his retirement, also talked about his wife and family. He wanted to see them more. He talked about getting two or three hours of sleep per night through most of the Arab Spring, and the horrors and injustices he had to witness daily and up-close in the wars in Iraq, Afghanistan, Southern Lebanon, and Gaza. He said they were "horrible, unjust, bloody wars" that were his life for eight years.
So what about the Wikileaks cable in question, which indicate that both the U.S. Defense Intelligence Agency and the Qatari Foreign Ministry had provided him with months of detailed American complaints about Al Jazeera's coverage of the war in Iraq?
"The Americans used to complain all the time. Not only the Americans. The Chinese, the Arabs, the Russians, everyone! They used to complain about Al Jazeera's coverage, and we always have a very simple principle. If your complaint is professionally accepted by us, we will change it. If the complaint is political, and has no professional meaning, we will not listen to you. If you bring me something wrong that Al Jazeera has done, we will remove it, we will fix it, and sometimes we will even apologize about it. That is professional. Nothing political in it," he said.
"The Americans demanded thousands of times that certain things to be removed, but we never removed anything. This one time [described by the Wikileaks cable] they were right. This particular time they came with a story that was not balanced on the Al Jazeera website. It was not balanced based on our standards. So we decided to remove it because of our professional standards, not [because of] their pressure. Their pressure is nothing." He later added. "Sometimes we do mistakes, and we correct them. But this is not corroboration with the Americans."
Since Khanfar's tenure began in 2003, Al Jazeera has grown from one television channel, broadcast only in Arabic, to a massive, international network of more than 20 channels broadcast in Arabic, English, and soon in Turkish, Swahili, and several Balkan languages. With its expansion has come unprecedented influence in the Arab world and a host of vehement new enemies. In the last eight years, Al Jazeera's bureaus have been bombed, raided, and shuttered and its reporters imprisoned and killed. Al Jazeera's headquarters in Doha now unfolds like an inner city high school campus behind cement walls, two layers of security, metal detectors, surveillance cameras and armed guards.
Khanfar described the network's editorial approach, a key part of its success, as "supporting democracy, freedom of expression, and the people." This editorial line, evident in Al Jazeera's coverage of the wars in Iraq, Afghanistan, Southern Lebanon and Gaza, reached a triumphant crescendo during the Arab Spring, which may not have unfolded as it did without Al Jazeera's aggressive and sometimes sensational broadcasts.
While Khanfar said Al Jazeera does not aspire to political activism ("We are journalists; we are not political activists!"), he acknowledged the network's role in "participating in creating the environment for the Arab Spring."

"We provided the opinion, giving people a feeling about their rights, making them confident that they can do things with out any pressure. That was Al Jazeera's role: liberating the Arab mind. We created the idea in the Arab mind that when you have a right, you should fight for it. Definitely," he said. Their role was a "matter of life and death for a lot of people. If Al Jazeera wasn't there in the street, in the march, covering the story, [it was as if] it didn't happen."
He seemed to waffle when asked for a precise definition of Al Jazeera's editorial vision under his leadership. "From the beginning we set up in our mission statement that we will stand for the people and for their right for democracy, and right for freedom of expression. If we don't stand for the people, who is going to stand for them? If the Arab World has a chance to liberate itself from authoritarian regimes and to go to the future with confidence for democracy, there is no way we could have stood indifferent," he said.
But, at another point in our conversation, he defined the network as emphasizing objectivity rather than advocacy. "We always wanted to have balanced coverage. Take Yemen for example. From the beginning, we were very keen to have a government spokesperson every time we had a Yemeni opposition," he said. "But the Yemeni government closed down our bureau, confiscated our equipment and banned our correspondents. When our only outlet to the government was shut down, we started covering the through the people, through new media, through activists on the web, through YouTube, Twitter, Facebook and so on. With all of that, we never stopped phoning representatives of the government every day."
Khanfar gestured at the images of bloodied protesters in Yemen flickering on a flat screen TV tuned to Al Jazeera Arabic on the wall of the suite. "When the government closed our bureau, they also closed a platform that could have been used by them. They were mistaken. They made a lot of mistake in dealing with media. In Syria, they stopped every correspondent from going anywhere so how are you going to cover a story like that unless you have undercover people, or you have activists providing you with YouTube or Twitter stuff like that?"
A couple of days before I met Khanfar, I met two young men at the Al Jazeera headquarters who were in charge of editing promotional advertisements for the network, which will play during breaks in news coverage this fall. The ads feature emotional montages of protesters set to triumphant music and have the intended effect of giving everyone in the room rippling goose bumps something like what you might associate with Mel Gibson yelling "freedom!" in Braveheart. Under Khanfar's leadership, Al Jazeera's coverage was perhaps not as radical as Donald Rumsfeld -- a noted Al Jazeera critic while in office -- would have you believe, but he also created a brand with a fairly clear agenda.
The irony that Al Jazeera is both covering and championing these democratic uprisings from a headquarters within, and funded by, an emir's dictatorship is not lost on Khanfar. "Democracy should come to Qatar," he said, shrugging. "I was reading yesterday about the Qatari prime minister answering this question, saying we are going to proceed with more participation of the public, more elections of the council, which is the local parliament. And I think this is a trend that will not disappear anywhere, for anyone. It is endless! You know, people who have knowledge in this region are sensing they should start changing immediately. And I think in this region, no one will be spared the ramifications of democracy."
I asked Khanfar about something that many Al Jazeera-watchers have long found curious about the network. "But have you found that sitting here in Doha, which is not a democracy, trying to help people achieve democracy -- don't you see a problem with that?" I asked.
"No, I don't actually," he answered. "I see that the Qatari society is a tiny society compared with the rest of the Arab world. There are only 250,000 Qataris that have citizenship in this country and these people so far they have their own system of ruling themselves. So we may not see a democracy like multi-party elections, but we have something like political consensus. The tribal background plus the family background has created some sort of consensus. The second issue, they are moving faster. The amount of time spent to educate the public, to educate them about their rights and open up new universities, to open up media organizations and open up think tanks from all over the world, is giving Qatari society another way of looking at its road. So slowly, slowly, yes, we are proceeding toward a democracy. But as I said, democracy which you have in the West, which has roads of hundreds of years of cultural and political and philosophical foundations are not easily achieved in societies that are conservative and have their own background in tribal way of thinking."
Khanfar denied long-running allegations that the network puts less focus on its host nation than its neighbors. "It is not true. We have principle: When there is news, we deal with the news. When there is news in Qatar, we deal with the news in Qatar," he said. "But Qatar is a small country compared to the rest of the Arab world, so therefore the Qatari news on Al Jazeera is limited. We didn't want to exaggerate the coverage of Qatar and we did not also want to undermine the coverage of Qatar. We give it the same coverage as any other country."
As for whether or not that stated policy is likely to change under the new royal chief, Khanfar demurred. Born in Palestine, he recently became a Qatari citizen -- one of the most exclusive clubs in the Arab world -- and intends to remain in Doha. A precondition of our interview was that he would discuss neither his successor, nor the future of the organization. When the topic was ever so gingerly broached, he responded, "I think it will not and I hope that it will not effect Al Jazeera's editorial policy because Al Jazeera has been going on for 15 years, and Al Jazeera today is institutionalized. We have guidelines, code of ethics, code of conduct, we have audience that is politicized and very critical of any mistakes that we may make. We have a legacy that prevents our journalists and reporters from taking any action that is not official, so I hope our editorial line is solid. We have not changed it over the last 15 years, and I hope we won't change at all in the future."
But what happens when a Qatari royal family member with close ties to the Emir, who has no experience as a journalist or an editor takes over the most influential news network in the Arab world?
Khanfar leaned forward on the couch and took a sip of his tea. "Look," he said. "Let me tell you something. Because of Al Jazeera, Qatar was placed on the map of the Arab World and internationally as a great force of soft power in the region. Of course. Al Jazeera put the name of Qatar everywhere. And I think this is the greatest. What did Al Jazeera give Qatar? Al Jazeera gave Qatar a name, branding, a position, and Al Jazeera gave Qatar a window to the world. So definitely Qatar benefitted from Al Jazeera, definitely. But all that was done without Qatar using Al Jazeera as a political tool. If Qatar were to use Al Jazeera as a tool, that's it. Al Jazeera is over, and the Qataris know that. That is why they don't push to take over Al Jazeera's editorial. Once they use Al Jazeera as a political tool, Al Jazeera is down. What we achieved in 15 years could be abolished in 15 days."
As for now, Khanfar is working on launching a new Qatar-backed organization to protect journalists, and just maybe, he said laughing, carving out a little more time in the Sheraton pool.
* -- A representative of Al Jazeera writes of the network's special report on Bahrain, "The scheduling for it changed (after the fourth airing), as happens at rolling news channels. The documentary was aired again as we said would happen, its still on the Al Jazeera website to watch anytime, and we are showing it at upcoming film festivals."