Chart of the Day: Little Change in Terrorist Threat Since 9/11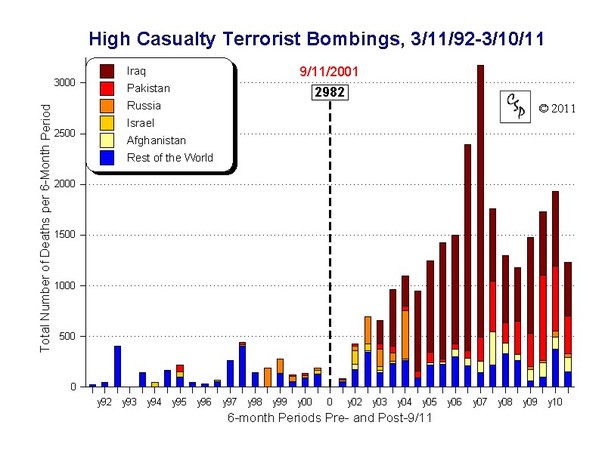 This week's anniversary of September 11 and the "credible but unconfirmed" reports of possible follow-on attacks provide a good opportunity to ask, Just how much of a threat does terrorism pose to the Western world?
Judging by this chart, produced by the invaluable Center for Systemic Peace, not all that much more than it did before the attacks of September 11, 2001. The graph measures the number of casualties per year in "high casualty terrorist bombing," which includes any incident with 15 or more casualties. (That's not to discount smaller attacks, but they often go unreported and so are impossible to measure with statistical accuracy or consistency.) The blue lines represent attacks outside of the five most terrorism-prone conflict zones. In other words, they represent most of the world. And while the rate of terrorism bombings since September 2001 has clearly increased somewhat, the number of casualties is not all that different from what it was before the attacks that supposedly "changed everything."
Of course, the attacks did change something very important to the world and its well-being: U.S. foreign policy. The retaliatory invasions of Iraq and Afghanistan, the latter of which creeped quickly and disastrously across the Pakistan border, sparked destabilizing conflicts in all three of those nations. The increase in terrorist bombings in those three wars, which we helped create in large part to battle terrorism, exceeds the rate and scale of terrorist bombings across the entire rest of the world by a factor of about ten.
The charts provide an interesting retrospective on the 9/11 decade. The terrorist threat against the West, it seems, never really turned out to be that much more harmful than it was before September 11. It was our own overreaction, and the awful violence it led to in Iraq and Afghanistan and Pakistan, that helped create the real terrorist threat of the past ten years.