Can China Manage Its Energy Consumption?
Beijing plans to put a ceiling on energy usage in an apparent attempt to control GDP growth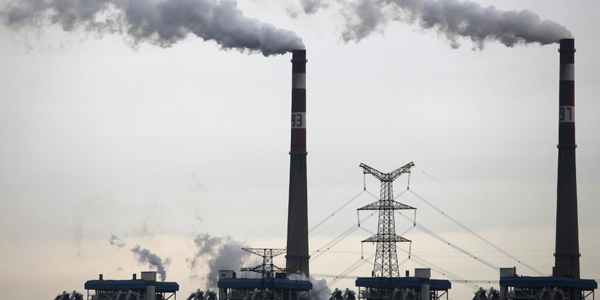 Smoke billows from chimneys of a coal-burning power plant in Wuhan / Reuters
Having strayed from energy lately, I thought it a good time to return to it. Just when you thought the whole 12th Five-Year Plan (FYP) matter was wrapping up, it turns out to have only begun. An energy-specific 12th FYP is expected to be released later this year, barring delays. The plan should offer plenty of details on how China will execute the policies to reach the energy targets it has set.
Why the delay? It has to do with the controversial measure of capping total energy consumption. That is, based on preliminary details, Beijing intends to put a ceiling on energy consumption at 4.1 to 4.2 billion tons of standard coal equivalent (STCE) by 2015. This implies that they plan for, roughly, a 10 percentage points drop in energy consumption growth from the 11th FYP period that ended in 2010. And because energy consumption is highly correlated with economic growth in China, the attempt to curb energy demand could signal an attempt to tame GDP growth. It could also be intended to force industry to dramatically improve efficiency -- a requisite if Beijing is serious about controlling energy consumption.
It is little wonder that this policy would generate controversy -- it is essentially telling the provinces that they can't grow as much as they'd like, particularly those provinces dominated by heavy industry. But China's addiction to GDP growth is a tough habit to break, and provincial officials have reportedly proposed plans that would amount to a total of over 5 billion tons STCE in energy consumption, a full 1 billion tons over what the central government is setting. The province of Jiangsu, for instance, has set its energy consumption level one-third more than in 2010. Moreover, numerous provinces have submitted their own plans that still include double-digit growth.
This mismatch between Beijing's wishes and local-level intransigence will require negotiation -- and intensify central-local politics, which is likely the reason behind the delay in promulgating the energy plan. Resistance from localities will be severe, and it is up to Beijing to overpower the provinces. Even if the central government does not give in, a national energy cap will have little impact if local governments aren't held accountable for reaching their respective targets. Those outsider observers who are perennially dazzled by Beijing's capacity for top-down execution tend to underestimate the extent to which China is a decentralized body politic. Sure, the central government has considerable resources and leverage, but the provinces aren't obsequious vassals either.
I suspect that when all's said and done, the cap won't be "politically binding" like China's other energy and carbon intensity targets. As a result, its effect in meaningfully taming energy consumption will be limited -- and in all likelihood, that 4.1 to 4.2 billion tons cap could well be surpassed. I think it's probably best to interpret the cap as an effort to push policy in the right direction rather than an iron-clad directive to constrain energy consumption.
Nonetheless, Beijing remains committed to its energy efficiency goals and, if anything, aims to rationalize its approach so that a cap will best help achieve national-level energy targets. With the cap, policymakers seem to be sending a signal that it is about time to balance overwhelming emphasis on supply-side energy security with demand-side management.

Such a rethink on energy policy, no matter how nascent, is a welcome development indeed.