As Israel-Turkey Alliance Disintegrates, Analysts Worry
The rapidly worsening fall-out between these two allies could have serious repercussions for an already fragile Middle East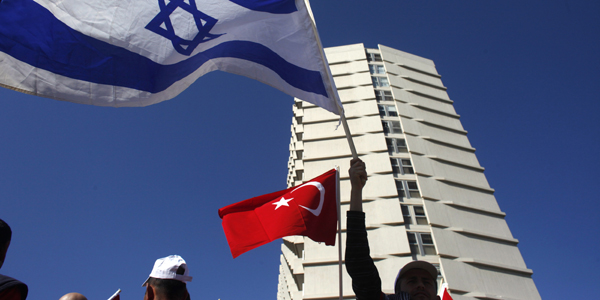 Employees from a Turkish-owned company in Israel protest against the recent tensions between the two countries outside the Turkish embassy in Tel Aviv / Reuters
After Turkey's decision to suspend military ties with Israel, expel the country's ambassador, and now possibly to apply to the International Court of Justice for an investigation into Israel's Gaza blockade -- on account of Israel's refusal to apologize for last year's lethal attack on the Mavi Marmara, a Gaza-bound Turkish aid ship -- it's difficult to decipher who, if anyone, might benefit from the current impasse. For Turkey, the breakup with Israel is another nail in the coffin of Turkish Foreign Minister Ahmet Davutoglu's vaunted "zero problems" policy that, until recently, allowed the country to keep lines open with all sides of the Middle East's conflicts. For Israel, the potential loss of a crucial regional ally only deepens the country's isolation as it scrambles to come to terms with the Arab spring and its fallout. Among experts, there is some hope that the Turkey-Israel relationship could recover, if slowly. Yet there is also fear that it will deteriorate much further -- and quickly.
Not long ago, Turkey could rightfully claim to maintain open diplomatic relationships with practically everyone in the Middle East. But, as Soli Ozel, a professor of international relations at Istanbul's Bilgi University, told me, "those times are over." "Turkey is not going to have much of a role to play. It cannot replicate the Syrian-Israeli proximity talks, which it masterminded a few years ago." Same, he said, for the Israeli-Palestinian talks. "Turkey will probably be hailed by the Palestinians but it will isolate itself from the peace process, if the process ever comes back to life."
The souring of Turkey's relationship with Israel began with Prime Minister Tayyip Erdogan's furious reaction to the 2008 to 2009 Israeli invasion of Gaza, escalated after the 2010 flotilla incident -- which saw eight Turks and one Turkish-American killed by Israeli commandoes when violence erupted on board the Mavi Marmara -- and culminated in Friday's decision. The break-up bodes poorly for hopes that Ankara could help Israel cope with the turmoil in the Middle East, particularly given the resurgence of Islamist movements in Egypt and elsewhere. "There was some hope that Turkey could play a mediating role between Israel and the forces in Egypt," said Gerald Steinberg, who teaches politics at Bar Ilan University in Tel Aviv. "That hope is now badly dented, though not altogether gone."
By downgrading its relations with Israel, Turkey might also have increased pressure on Egypt -- whose relationship with Israel is under serious strain -- to do the same. According to Shlomo Avineri, a former director general at the Israeli Ministry of Foreign Affairs, given the disquiet over the direction of the Arab spring, particularly in Egypt, "Turkey's steps ... certainly put Israel in a difficult situation." Still, Avineri believes, the military regime in Egypt understands the strategic importance of its relationship with Israel. "I don't think Egypt will retreat from its peace with Israel. It's not going to be a consequence of what the Turks do." There is, as always, some hope that the erstwhile allies might reconcile. "Turkey and Israel still share many strategic interests in the region, particularly with regard to the instability in Syria and Iraq, the Kurdish issue, and threats from Iran," said Steinberg. "I could imagine that this current clash could run its course, and would not rule out a formula expressing mutual regret. In six months, or perhaps less, relations might quietly be restored. In the long run, perhaps under a different Turkish leadership, the relationship could get entirely back on track."
Avineri is less optimistic. Turkey's attitude towards Israel, he believes, is part of a gradual shift "away from a pro-Western orientation and towards a more open relationship with Muslim countries." Turkey, he feels, is deliberately distancing itself from Israel. "It has to do with ... the Islamic nature of the regime, where it has distanced itself from the U.S. on many issues, and also from Israel."
The current mess is also of Israel's making, Avineri suggested. In an op-ed published in Haaretz a day after our interview, Avineri criticized the government of Israeli Prime Minister Benjamin Netanyahu for refusing to endorse the leaked UN report on the violence onboard the Mavi Marmara, in its entirety. While the Turkish government has dismissed the text entirely, with the country's president labeling it "null and void," Israel has taken exception to the report's findings that its commandoes used "excessive and unreasonable force" against the Turkish-led flotilla. "The damage caused by Israel's refusal," Avineri wrote, "will hound us politically, militarily and diplomatically for years. Instead of minimizing the damage that the raid of the flotilla caused Israel, the Netanyahu government managed only to exacerbate it and to cause Israel additional strategic damage."
Although he has proposed setting up a fund to compensate the Turkish victims of the Mavi Marmara, Avineri doesn't expect it to produce diplomatic miracles. The fund could have an impact on Turkish public opinion, which is very critical of Israel, he said, but not on the Turkish government. "I don't think Turkey is interested in reconciling with Israel." If they were, "they could have accepted the Palmer report, with reservations if you wish, but they have just rejected it."
As Soli Ozel sees it, however, echoing a sentiment shared by most Turkish analysts, the report is "scandalous." He paraphrased his interpretation of the UN panel's conclusions, "The bad boy of the neighborhood did something awful, but its neighbors are so bad that we understand why he had to do it." He added, "Israel got what it wanted from the report, which was the legality of its blockade against Gaza. Turkey did not." For things to improve, he argued, Turkey needs an apology, and not, as the UN report suggests and as Israel prefers, "an appropriate statement of regret."
This leaves both sides with little room for maneuver, Ozel acknowledged. The only opening that Turkish Foreign Minister Davutoglu has left, Ozel said, "is that our problem is with the current Israeli government, which implies that if the Israeli government [leaves] then we can start talking again." Still, he added, "I don't know if any other Israeli government would do what this government did not want to do."
Steinberg agreed an Israeli apology is unlikely. "As far as the Israeli side is concerned, a full-fledged apology, as demanded by Erdogan, is a non-starter, under Netanyahu or any other government."
With each side refusing any potential compromise over the apology issue, finding a way out of the stalemate has become more difficult. At the same time, Ozel warned, a single misstep could help things spiral out of control.
"The single most worrisome thing" about the Turkish reaction, said Ozel, is Davutoglu's announcement that Turkey will now take it upon itself to protect freedom of maritime movement in the eastern Mediterranean. "What is it going to do? Is there going to be another flotilla? With Turkish ships accompany that flotilla? Is the Turkish navy going to be sailing around Israeli shores? Fifty miles from those shores?" asks Ozel. "I don't know what that means and if it happens I don't know how Israelis will react. You do have a rather risky situation." While this is "a cause for concern," said Steinberg, "it's difficult to imagine Turkey carrying out this threat, sending its navy ships to the eastern Mediterranean and into direct confrontation with Israel." In any case, "this is something that the U.S. and the rest of Turkey's NATO allies would certainly wish to prevent."