A Few Upbeat Items, All Involving China
1) This is the most incredible video I have seen in a long time. It's from Outside and stars Jeb Corliss, a guy who puts on a "wingsuit" and essentially converts himself into a flying squirrel, so he can go zooming off cliffs and mountain tops. Yes, millions of people have already seen this video, but I have a news-peg reason for citing it now. If you're impatient, you can skip to about time 1:20 of the video, but really you should not be in a rush.
Here's the news peg. Tomorrow, Saturday, Corliss is planning a daring jump in China, as described this way on the Outside site:

>>The flight he's preparing for involves zipping through the cave beneath his right shoulder in the picture [below]. Tianmen Hole is a 360-foot-tall, 96-foot-wide, and 260-foot-long formation located near the city of Zhangjiajie in central China's Hunan Province. Corliss will jump from a helicopter hovering at 6,000 feet and attempt to glide through the hole. He will not be able to pull his chute for two-thirds of a mile and has a very small margin of error.<<

I've been to Zhangjiajie and have seen this cave, and I can barely believe what he is trying to do. It's the gap to the left of Corliss's helmet in the picture below.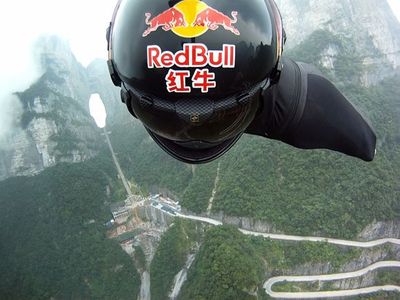 Allegedly CCTV will carry this live tomorrow. 加油 ! And thanks to Robin Heid.
2) From Jonah Kessel in Beijing, a charming video about a guy who has created an automatic Chinese-character-writing tricycle. You'll have to check it out to see what that means.
Just Because: Tricycle Calligraphy 水书法器 from Jonah Kessel on Vimeo.
3) As I've mentioned before, China Daily is facing ever-tougher competition from Global Times for the coveted title of My Favorite Newspaper. This latest editorial from Global Times illustrates what it's capable of. It's about the attention that Gary Locke, the new U.S. Ambassador in Beijing, is winning in China for his modest, man-of-the-people style. He took an economy-class flight to China, he carries his own bags, etc. Global Times urges people in China not to be fooled:

>>It would not be bad if these actions were covered by the [Chinese] media, whilst keeping a level head. It loses value when Locke's every move is packaged by the media as being part of the class of US officials. Some journalists like to romanticize what they see out of a lack of knowledge and may hold Locke up as a mirror for Chinese officials....

It is bizarre and twisted to regard these acts as evidence of cleanness in US politics. <<

Indeed! And well put. Thanks to JG in Beijing. [I see that Elizabeth Economy has an item on Locke-mania.]
4) I'm scheduled to be on the Charlie Rose show this evening, discussing related Chinese matters.