A Conversation With Pierre-Yves Cousteau, Conservationist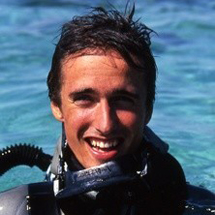 The youngest son of the renowned explorer, author, and filmmaker Jacques Cousteau -- who he says belongs in a sustainability Hall of Fame -- Pierre-Yves Cousteau is following in his father's footsteps. While there may not be one definitive way to recognize those who change human activity so that it might endure, Jacques Cousteau was not without honors. Awarded the National Geographic Society's Special Gold Medal in 1961, Cousteau would go on to join the French Academy and earn the title of commander in the French Order of Arts and of Letters (Ordre des Arts et des Lettres). These honors and others came about largely because of his conservation work, which grew out of a desire to expose the general public to otherwise unknown and inaccessible places. To do this, Jacques Cousteau made significant improvements to the very first aqua-lung prototypes, improvements that would lead to the open-circuit scuba gear that is widely used today. With this technology, Cousteau took to the seas, filming them, writing about them, and monitoring them. Before his death in 1997, Cousteau's Cousteau Society, founded in 1973, had tens of thousands of members worldwide and was contributing significant scholarship to the study of underwater ecosystems.

Today, Pierre-Yves plays a large role in not only preserving his father's legacy, but continuing the work that he left behind. In addition to serving as president of Cousteau Divers, a branch of the Cousteau Society that gets individuals to actively participate in the study and protection of the environment, Pierre-Yves is a goodwill ambassador for the International Union for Conservation of Nature. Here, the conservationist discusses the need for revolutions, his passion for photography, and why it's time to stop blaming consumers for our ecological woes.

What do you say when people ask you, "What do you do?"
I am CEO and founder of Cousteau Divers, a non-profit organization dedicated to uniting divers around the world to protect marine life.
What new idea or innovation is having the most significant impact on the sustainability world?
Without a doubt, in my opinion, the Internet and social networks.
What's something that most people just don't understand about your area of expertise?
Protecting the ocean and the environment is not a matter of sentimental charity. It is a matter of survival for our species, and a matter of well-being for humanity.
What's an emerging trend that you think will shake up the sustainability world?
Revolutions -- using social networks and Internet communications. Revolutions that will overthrow the profit-only-minded and open an era of sustainable management of Earth's resources and social peace for humanity.
What's a sustainability trend that you wish would go away?
I wish we would stop pointing fingers at the consumers. The companies, and the governments, and the banks behind them, are the ones who are responsible for our wasteful world. Of course we can all make a difference in our everyday life, but the only really significant difference we can make is to re-think our societies altogether.
What's an idea you became fascinated with but that ended up taking you off track?
Photography almost took me off the track of studying science and conservation, but, in the end, it blends well with my activities and fuels my passion.
Who are three people or organizations that you would put in a Hall of Fame for your field?
My father, Jacques-Yves Cousteau; Albert I, Prince of Monaco; and Jules Verne.
What other field or occupation did you consider going into?
Photography, music, literature, astrobiology, extremophile microbiology, marine ecology....
What website or app most helps you do your job on a daily basis?
Social networks.
What song's been stuck in your head lately?
"1979" by the Smashing Pumpkins.
Image: The Cousteau Society.