A Benefit for the Children of Anton Hammerl, Killed in Libya
The South African photojournalist was shot by troops loyal to Qaddafi
The South African photojournalist was shot by troops loyal to Qaddafi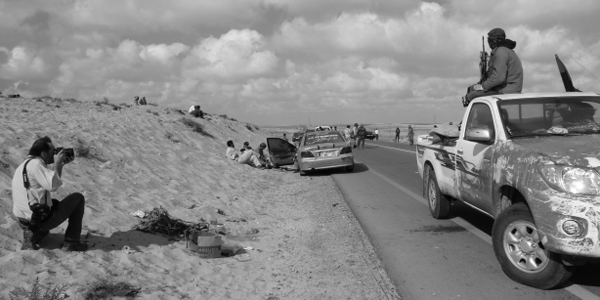 South African photographer Anton Hammerl at work east of Brega, March 31
I never knew Anton Hammerl, who went missing along with our own Clare Gillis and two other journalists on April 5 a few miles outside of Brega, then the front line of fighting between Libyan rebels and Muammar Qaddafi's regime, the latter of which claimed to have detained the group for some arbitrary offense. But I would think of him often over the next 45 days, asking after his status in our many frustrating, fruitless conversations with regime representatives and intermediaries, relaying what snippets of rumor and hearsay I had onto his family, which found itself mostly in the dark.
Though enormously talented, he had traveled to Libya on his own, planning to send his photos back to his wife in London, who would in turn sell them to news agencies as she cared for their three children. Without a formal organization back home looking after him, and with the government of his native South Africa too indifferent, incompetent, and increasingly supportive of Qaddafi to bother pestering their Libyan counterparts, Hammerl had few advocates. His family lobbied relentlessly, sometimes aggressively, driven by a clear sense that something was wrong. The other three journalists had been allowed to call home at least once. Why hadn't Anton? In early May, they organized a rally on his behalf in Johannesburg.
We tried as best we could to adopt his family's cause as our own, urging such allies as the U.S. State Department to do the same, but there was only so much to be done. What few scraps of information or assurance we could wring out of the Libyan government were maddeningly inconsistent. Sometimes we were told they had no such man, but more often that the senior-most levels of government were reviewing his case and pushing for quick release. The message we got over and over, repeated for more than a month, was that he was safe and would be released imminently, perhaps in the next day or two.
When Clare and three other journalists were finally released into Tripoli's Rixos Hotel on May 18, it took some time before we realized that the fourth in their group was not Hammerl at all but a British man named Nigel Chandler. They crossed into Tunisia the next day and unloaded what must have been a terrible burden: he had been dead all along, shot by regime troops on April 5 during their capture, left to die on the desert floor. "We all instinctively and immediately and univocally just knew that we couldn't talk about it until we were free," Clare explained.
I don't know how Hammerl's wife Penny took the news, but I have to imagine that in her grief she also thought of their three children and what they had lost. Eleven-year-old Aurora and 7-year-old Neo had only just welcomed Hiro, born two months earlier, into the family. The children will grow up asking difficult questions -- why did troops shoot their father, swaddled in cameras and clearly no threat? why did the Libyan government lie about having him? why did he die when so many other survived? -- that have no answers. But some of the more practical questions can be answered, or at least addressed, which is why a group of sympathetic journalists and activists have set up FriendsofAnton.org. The site accepts donations, which are tax deductible and handled by the deeply experienced Reporters Without Borders, toward an education fund for Aurora, Neo, and Hiro.
FriendsofAnton.org is also raising money by selling high-quality prints donated by some of the world's preeminent news photographers. A number of the photos, such as this piece of history, are stunning and quite hard to find. The website says they are "the photographers' way of remembering the vibrant and talented life of a fallen colleague."
Not long after the news of his death, Ryan Calder wrote for TheAtlantic.com about the experience of traveling through Libya with Hammerl. You can view Hammerl's photography here.