With Rebels in Tripoli, Qaddafi's Grip on Libya Is Nearly Broken
Rebels say they've captured two of the leader's sons and surrounded his compound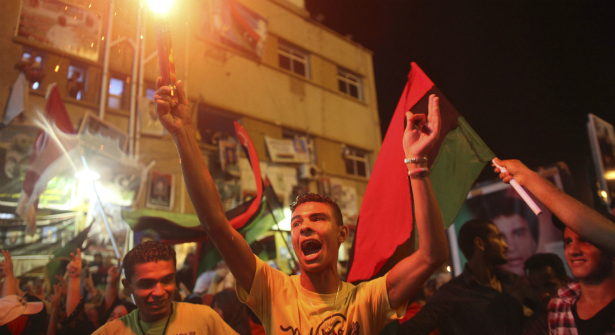 AP
Joyful Libyans tore down posters of Muammar el-Qaddafi, taking over Tripoli's main square Sunday night and celebrating what they call the end of his 41-year dictatorship.
Libyan rebel forces say they control most of the capital, have captured two of Qaddafi's sons and have surrounded his compound in the capital of Tripoli, news reports say.
Members of Qaddafi's personal security unit have surrendered, the rebels say.
From National Journal:

Rebels March on Tripoli
Will Perry, Bachmann Divide the Voters Most Resistant to Romney?
U.S. Tells Assad To Go, But Has Few Ways of Forcing Him Out
PICTURES: Biggest Super PAC Contributors in 2011
VIDEO: Bachmann Spins Tax-Attorney Experience
Tripoli's main Green Square, once the site of pro-Qaddafi rallies, was renamed Martyrs Square for the victims of Qaddafi's brutal rule. Live feeds showed pure joy as Libyans took to the streets to celebrate his defeat.
Qaddafi's fall, hastened by NATO and U.S. support for the rebels, would follow the ouster of longtime dictators in Egypt and Tunisia as a wave of discontent has swept North Africa and the Middle East. Late last week, the Obama administration and allies also called for the departure of Syria's Bashir Assad, who has unleashed deadly force to quell efforts
"The change in Libya will help immensely'' efforts to stabilize Tunisia and Egypt and add to the momentum to eject dictators in Syria and Yemen, Hisham Melhem, Washington bureau chief of the Al Arabiya television network, told CNN on Sunday night.
In Tripoli, rebel leaders said that Muhammad Qaddafi surrendered soon after his brother Seif al-Islam Qaddafi had been captured and that the compound of Bab al Aziziya, where the rebels believe Muammar el-Qaddafi is staying if he is still in the city, had been surrounded.
"Tonight it's over," rebel leader Mohamad al-Akari told ABC News.
The rebels advanced quickly into the heart of Tripoli on Sunday, Britain's Sky News reported. They "had been expecting much more resistance, but there has been very little," said Sky News reporter Alex Crawford.
With the rebel advance and new protests erupting Sunday in the capital, Qaddafi's time as Libya's leader could be measured in hours, Sen. John McCain, R-Ariz., said earlier in the day.
The rapid advance of the insurgents in the past few days "absolutely" shows that this is Qaddafi's last stand, McCain said on CBS's Face The Nation, adding that his departure could be measured "in a matter of hours, if not days."
While he spoke, reports had emerged of new, large-scale anti-Qaddafi protests in several Tripoli neighborhoods, and a rebel commander said hundreds of anti-regime insurgents were advancing on the capital in pickup trucks and on foot from less than 15 miles away.
President Obama was briefed on Libyan developments on Sunday morning and the United States was communicating closely with allies, said Josh Earnest, White House deputy press secretary.
"We believe that Qaddafi's days are numbered, and that the Libyan people deserve a just, democratic, and peaceful future,'' Earnest said.
The Associated Press quoted opposition leaders as saying "sleeping cells" were activated on Saturday night inside Tripoli, Qaddafi's stronghold throughout the six-month-old civil war.