As rebels take over Tripoli, Col. Muammar el-Qaddafi's choices dwindle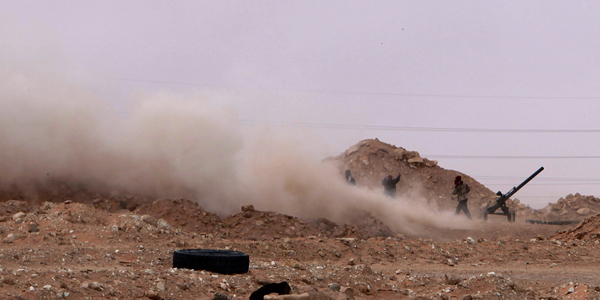 Anti-Qaddafi forces fire mortars near Tripoli / Reuters
As rebels win more and more control of Tripoli, the campaign to oust Col. Muammar el-Qaddafi will begin to shift toward a new question: Where will he go if he survives? While some officials, including Italian Foreign Minister Franco Frattini, believe Qaddafi has no choice but to surrender, he has yet to give up the fight.
If Qaddafi manages to escape capture, here are some of his most likely destinations.
Algeria: Qaddafi was allegedly "near the Algerian border" on Sunday, as rebels flooded into Tripoli's Green Square, which was renamed Martyr Square. Despite these reports, however, the Algerian Foreign Ministry denied on Monday that Qaddafi is in the country.
Equatorial Guinea: Qaddafi's links with the African Union make it all the more likely that he will stay in Africa. Equatorial Guinea is not a member of the International Criminal Court, which indicted Qaddafi in June, meaning that he would remain outside the reach of prosecution. It remains to be seen whether Teodoro Obiang Nguema, the second-longest-serving African leader after Qaddafi, will extend the Libyan despot an asylum offer.
South Africa: A history of hosting deposed leaders--including Madagascar's Marc Ravalomanana and Haiti's Jean-Bertrand Aristide--suggests that South Africa could be a destination for Qaddafi's exile. President Jacob Zuma has visited Libya to urge a cease-fire agreement, while Qaddafi counts Nelson Mandela as an old friend. However, foreign minister Maite Nkoana-Mashabane claimed that he had not asked for aslyum, nor would South Africa offer it.
Saudi Arabia: The Middle Eastern oil giant has also played host to a variety of exiled heads of state, including Idi Amin, Nawaz Sharif, and Zine al-Abindine Ben Ali. (Yemen's Ali Abdullah Saleh, who is not technically exiled, is currently recovering in Saudi Arabia from an assassination attempt.) But strained relations between Libya and Saudi Arabia make an asylum offer questionable--Qaddafi was accused of plotting King Abdullah's assassination in 2004, and in 2009, told him, "You were made by Britain and protected by the U.S."
Tunisia: As the latest push into Tripoli began over the weekend, U.S. officials told NBC News that Qaddafi was preparing to leave Libya with his family for possible exile in Tunisia. With his sons Mohammed, Seif al-Islam, and Saadi captured--and the worrisome influence he might exert by staying so close to Libya--it's unclear whether Tunisia is still an option for Qaddafi.
Venezuela: President Hugo Chavez has a close relationship with Qaddafi and has been an outspoken defender of his rule. (The friendship is reciprocated; a soccer stadium in Libya is named after Chavez.) While Venezuela seems a destination for Qaddafi, Chavez's own tenuous hold on power throws a wrench into any exile plans.
Zimbabwe: Qaddafi's role in the African Union gives him clout within the continent, which he could use to seek protection within Robert Mugabe's dictatorship. Nonetheless, Mugabe's advanced age--and the rapid changes that Zimbabwe will undergo when he dies--make that protection less than guaranteed.