What Happens to Libyan Oil After Qaddafi?
The country's "sweet" oil reserves have a disproportionate effect on world supplies and European economies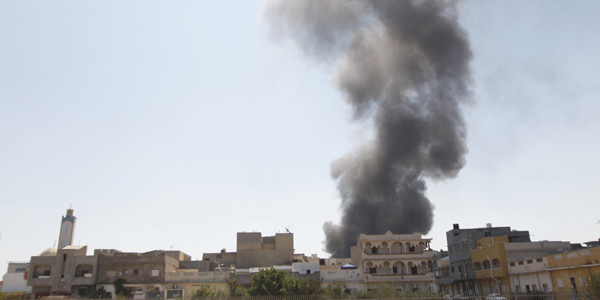 Smoke rises above following a fight at Souk Bouslim / Reuters
As Libyan rebels continue to hunt for Muammar el-Qaddafi, the future of Libya hangs in the balance. But so does the future of Libyan oil.
Although a victory by rebel forces would remove an oppressive regime, it would simultaneously remove a unifying principle from the highly tribal coalition of rebel forces, and would potentially endanger what in 2010 made up 92 percent of the nation's government revenues: oil and gas.
"The early days of transition could go well--or not," said Kevin Book, managing director at ClearView Energy Partners, a Washington-based policy-analysis firm. "If they go poorly, oil infrastructure could be harmed."
"If 'Libya-ration' ends like Iraq's withdrawal from Kuwait in 1991, it will be a Pyrrhic and pyrotechnic victory, bullish for oil and bearish for [President] Obama," Book told National Journal."If 'Libya-ration' ends like U.S. drawdowns in Iraq, the results could still create an overhang that gooses oil prices up, rather than down."
When Iraqi forces withdrew from Kuwait in 1990, they left behind damage to more than 80 percent of Kuwait's 950 operating oil wells. The most severe damage had been dealt to the production facilities, according to an assessment by the Federation of American Scientists.
In 2010, the U.S. drawdown from Iraq left that country's vast network of oil and gas pipelines vulnerable to damage. Some pipelines were sabotaged, leading to supply disruptions and requiring the burial of some above-ground pipelines to decrease their vulnerability to attack.
---
MORE FROM NATIONAL JOURNAL:
For Obama, Nuanced Victory in Libya
Libya's Draft Constitution
Rebels March on Tripoli
---
It's not yet clear what damage the six-month uprising has done to Libya's oil and gas infrastructure, but a post-Qaddafi Libya might not ensure its safety, Book said. "The pipelines will be the most vulnerable point," should there be significant fighting among rebel factions.
With Libya's economy reliant on its high-quality oil and gas reserves, the North African nation's next government undoubtedly will utilize its lucrative natural resources. "Whoever is in power is going to want to bring the [oil] companies back," Frank Verrastro, senior vice president and director of the Energy and National Security Program at the Center for Strategic and International Studies, told National Journal.
While "just getting Libyans to get along with Libyans" will be one hurdle, another will be to reassure foreign companies that the nation is stable enough for them to resume working in Libya.
Major oil companies from Italy, France, Germany, and Spain have drilling operations in Libya, with 85 percent of the country's oil and gas going to those countries, according to the International Energy Agency. Those operations were suspended earlier this year when Libya's civil war broke out.
Italian oil company Eni SpA, the largest foreign producer in Libya, and other firms will be asking themselves: "Is this a place you can send people to work?" Book said. Thirteen percent of Eni SpA's revenue came from Libya before the conflict began in February. In July, the company cut its full-year production target because of the disruption in Libya.
Energy consultant Wood MacKenzie said this week that even after hostilities end, it could take three years for Libyan oil production to return to pre-conflict levels.  But others are more optimistic.  
Verrastro predicted that Libyan production could come back up by 400,000 to 500,000 barrels a day within six months.
And Samuel Ciszuk, senior Middle East and North Africa energy analyst with IHS Energy, said that barring any serious damage to infrastructure--and assuming some degree of political stability--Libyan production could be up to 1.2 million barrels a day by this time next year. Depending on policies and infrastructure, the country could potentially produce 250,000 to 300,000 barrels a day within three months, he added. "It will surely ease a lot of the worries" over crude supply, Ciszuk said.
Before February, Libya exported about 1.6 million barrels of oil a day. While that's only about 2 percent of the world's oil production and a virtual pin drop compared with production from its 11 partners in the Organization of Petroleum Exporting Countries, the value of Libya's oil lies in its quality, not its quantity.
Libyan oil is referred to as "sweet" crude oil, which can be used with very little refinement.
Most oil from Saudi Arabia and other countries is of a lesser quality. It costs more for U.S. refineries, among the most advanced in the world, to turn that oil into gasoline, while some European and Asian refineries are not even equipped to refine the "sour" lower quality crude.
"Libya's oil is oil that refineries today can use today," Book explained.
That makes European and Asian markets much more reliant on the high-quality crude coming from countries such as Libya, Nigeria, and Algeria. With Libya almost entirely out of the equation for the time being, refiners in Europe end up turning to Nigeria and Algeria, putting them in direct competition with the U.S., which gets most of its sweet crude from those two countries.
That's why Libyan oil production--or lack thereof--can have such a disproportionate effect on international gas prices. As companies shut down production and evacuated staff in Libya and markets feared the spread of unrest in the region in February, world oil prices hit their highest levels since 2008.