U.S. Plans for Securing Qaddafi's Weapons Stockpile
Libya still has about 11.5 metric tons -- or more than 25,000 pounds -- of mustard gas stockpiled in the country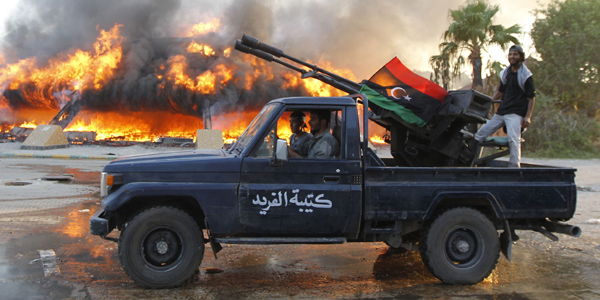 Reuters
After Muammar el-Qaddafi falls, a key challenge for Washington and its allies will be working with the rebels to secure Libya's arms depots to prevent smuggling and proliferation throughout the region--and to ensure that the rebels turn in the weapons they've looted from Qaddafi's stockpiles. The international community will also look to the rebels to ensure the destruction of the remaining tons of mustard gas stockpiled in the country.
Once the rebels take full control of Libya, Sen. John McCain, R-Ariz., told National Journal their "highest priority" must be securing "the arms depots so that the weapons don't spread and fall into the wrong hands." McCain did not offer any details on how the rebel leadership could accomplish that, however. The rebels themselves will soon be embroiled in the challenge of national reconciliation and transition to democracy.
Since the outbreak of fighting, U.S. officials have been concerned about the proliferation of weapons -- especially Qaddafi's shoulder-fired surface-to-air missiles -- and worried that small arms, ammunition, and explosives could be smuggled out of the country and fall into the hands of those planning terrorist attacks.
After months of NATO bombings, the challenge for the United States and its allies is to figure out how to help the rebels remake their country into a credible member of the international community. The international community will pressure the rebels to show how they will secure the remaining weapons depots under Qaddafi's control and prevent infighting that could lead to an even longer civil war.
The bloody months of fighting -- and NATO attacks -- has left much of the country's ammunition storage areas unsecured and open to looting, the Obama administration said in a notification to Congress to May; it announced at that time it was obligating $1.5 million to collect, destroy, and reestablish control of Libyan surface-to-air missiles, small arms, and light weapons. "It is critically important not only to [protect] the Libyan population, but to counter the threat of proliferation into neighboring regions that work begin immediately to collect, control, and destroy conventional weapons and munitions, and reestablish security at these storage sites," the notification said, according to a report by the Congressional Research Service. "Terrorist groups are exploiting this opportunity, and the situation grows more dangerous with each passing day, a situation that directly impacts U.S. national security."
The U.S. is working with its allies and partners to help prevent the proliferation of these MANPADS, or man-portable air-defense systems, according to a State Department spokesperson who declined to speak on the record because of ongoing policy discussions.
The administration funneled the funds to two European mine-clearing groups that were working in Libya before the uprising: the Mines Advisory Group, based in Britain, and the Swiss Foundation for Mine Action.
The shoulder-fired anti-aircraft missiles are "very concerning to us, because they're so easy to get legs and walk away," Rep. Mike Rogers, R-Mich., chairman of the House Intelligence Committee, said on Tuesday. "Al-Qaida has expressed an interest in trying to take advantage of the chaos. We know that for a fact. We know that some of those weapons systems have been attempted to be moved," Rogers said on MSNBC's Morning Joe.
Gen. Carter Ham, commander of U.S. Africa Command, testified on Capitol Hill that as many as 20,000 surface-to-air missiles were in the country when the operation began. "Many of those, we know, are now not accounted for," Ham, who was once in charge of the military operation in Libya, testified in April.
The "only thing" that unites the rebels, who are from various ethnic and tribal groups, is their fight against Qaddafi, Rogers said. Once the embattled leader is captured or killed, this cohesion could dissipate. "I'm very concerned about some of those weapons systems being sold on the black market, [or] being taken for advantage for one group over another group," he said.
Options exist for ensuring security that don't include "big boots on the ground," Rogers said, adding that securing Qaddafi's remaining anti-aircraft weapons systems must be a joint effort by the rebels, NATO, and the United States. "We shouldn't be bashful in saying, 'Look, we may have to put some of our American people through diplomatic means and others to make sure that those weapons systems don't start walking away.' "
Even McCain, one of the most outspoken advocates of American military intervention in Libya, said he would not consider supporting an international peacekeeping force or foreign boots on the ground unless the rebels asked for it.
Years after Qaddafi signed a treaty banning chemical weapons, Libya still has about 11.5 metric tons - or more than 25,000 pounds--of mustard gas stockpiled in the country, according to Michael Luhan, a spokesman for the Organization for the Prohibition of Chemical Weapons. In 2004 Tripoli destroyed -- with bulldozers -- thousands of munitions that could be used to deliver the mustard agent, Luhan said.
Libya destroyed just over half its stockpile of mustard gas within a year, but the security situation at the start of the protests in February made it impossible for the inspectors to finish the job, Luhan said. The OPCW inspectors won't be able to continue their work -- or even have direct contact with the rebels -- until the United Nations officially recognizes the Libyan rebel council.
"We are having a number of informal discussions and consultations with a variety of actors who are engaged in one way or another in the situation in Libya, so that when the time comes for us to move, we will be prepared for that," Luhan said in a telephone interview from the Hague.
Even though the inspectors sealed the depot containing the vats of mustard agents and sealed the destruction facility, Luhan said, OPCW has no way of knowing if the security has been compromised until its staff members can get back in the country.
"There should be no doubt that U.S. and NATO security officials have been keeping a close eye on Libya's chemical-weapons stockpiles during this crisis," a U.S. official said in an e-mail to National Journal. "Especially during this tumultuous time, maintaining vigilance on this issue is a priority. The stockpiles at this point appear to be well guarded. It's worth keeping in mind that Qaddafi did in fact destroy many of his most dangerous weapons, and that much of what remains is outdated or difficult to make operational."
As the rebels storm Qaddafi's compound and take over the streets of Tripoli, the strongman's four-decade rule never looked so precarious. The rebels' recently accredited ambassador to Washington, Ali Suleiman Aujali, said they are concerned about the remaining weapons - but more concerned about the arms still under Qaddafi's control. "Qaddafi's people are still hanging around; they still have these weapons; they're killing people randomly -- this is a problem," Aujali told National Journal. "As long as Qaddafi is hiding, this is a great concern."
In Benghazi on Monday, Transitional National Council leader Mustafa Abdel Jalil called on the rebels to refrain from looting and acts of "revenge," as fighting intensifies in what he called the final stages of ousting Qaddafi. The rebel fighters, Jalil said, "will put down their arms as soon as this conflict ends, and they will go back to being productive civilians."